Sculpture, concept
Necessity brings him here, not pleasure - but does it float
Necessity brings him here, not pleasure - but does it float
Agnes Denes Works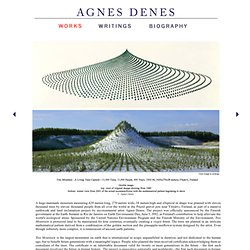 A huge manmade mountain measuring 420 meters long, 270 meters wide, 38 meters high and elliptical in shape was planted with eleven thousand trees by eleven thousand people from all over the world at the Pinziö gravel pits near Ylöjärvi, Finland, as part of a massive earthwork and land reclamation project by environmental artist Agnes Denes. The project was officially announced by the Finnish government at the Earth Summit in Rio de Janeiro on Earth Environment Day, June 5, l992, as Finland's contribution to help alleviate the world's ecological stress. Sponsored by the United Nations Environment Program and the Finnish Ministry of the Environment, Tree Mountain is protected land to be maintained for four centuries, eventually creating a virgin forest.
Cement People Holding Umbrellas 'Float' Uneasily Over A Street
Artist Michal Trpak has recently installed a piece of thought-provoking public art titled "Slight Uncertainty II" above a street in Ceske Budejovice, Czech Republic. Featuring several cement-made people holding umbrellas who seem to be floating in mid-air, the installation is part of the Mesto Lidem cultural festival and is meant as a statement about the financial crisis that has affected many countries over the world. At first glance, the artwork seems to have a whimsical nature, but a look at the figures' uneasy faces would change that perception—they appear to be holding on to their levitating umbrellas for dear life, for fear of dropping from their elevated height. View more images of this installation below.
Fuzzy, green and amazing to look at up close, moss are essential to Earth's ecosystems and guard against soil erosion. They not only cover forest floors and rocks but even gritty urban walls too, if given a little help . Hailing now from Brooklyn, Japanese landscape designer and artist Mineo Mizuno turns the man-made forms of ceramics into a host for the soft textures of moss, creating a series of stunning, minimalist sculptures that are truly living. © Mineo Mizuno
Artist creates symbiotic sculptures of ceramic and living moss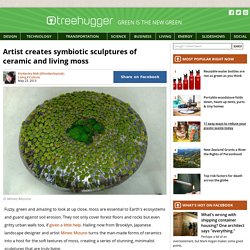 HildenDiaz
This site combines text-based instructions with video clips (.wmv files). It is best viewed with Internet Explorer. To view the video clips you must have Windows Media Player installed on your PC. Firefox/Safari running on a Windows platform requires a plug-in.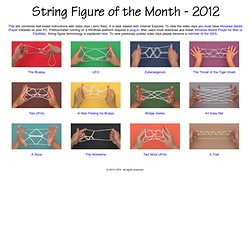 String Figure of the Month
Quantum potentiality of the Manifested Self
To live a life of material simplicity and spiritual complexity
Technological Mandalas Leonardo Ulian
Cecilia Paredes Wallpaper Camouflage.
Lori Nix: The City
Posted by ScrapHacker.com on fredag, december 30, 2011 · 3 Comments Polish artist NeSpoon combines lace-making, ceramics and street art. The result are stunning pieces in which the innocent beauty and intimacy of old-fashioned lace is contrasted to rugged and not-so-innocent urban decay. The City Stadium gates in Grottaglie, Italy, is one of her projects, made during the Fame Festival 2011 (all pics in this post via NeSpoon) Another project, also in Grottaglie and during the Fame Festival) was executed the abandoned monastery of Convento dei Cappuccini.
- ScrapHacker
My Little Pony By Mari Kasurinen
~ the rose is red ~ / 'Reincarnation' light installation by Li Hui
The Time Keepers
Austrian artist Manfred Kielnhofer's light sculptures "Time Keepers" have landed in Berlin for the 2012 Festival of Lights. During the 12-night tour (October 10 – October 21, 2012), these five red hooded figures will appear at various locations in the city, giving Berliners a chance to look upon these glowing mystical beings who seem to hold the key to the ultimate secrets of the universe. Visit here for information and tour dates.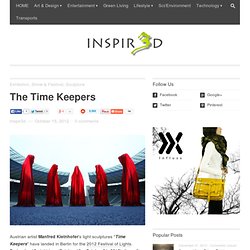 Nick Georgiou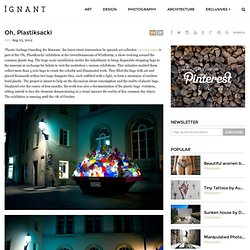 Oh, Plastiksacki
'Plastic Garbage Guarding the Museum', the latest street intervention by spanish art collective Luzinterruptus is part of the 'Oh, Plastiksacki' exhibition at the Gewerbemuseum of Winthertur, a show evolving around the common plastic bag. The large-scale installation invites the inhabitants to bring disposable shopping bags to the museum in exchange for tickets to visit the institution's various exhibitions. This initiative enabled them collect more than 5,000 bags to create the colorful and illuminated work. They filled the bags with air and placed thousands within two large dumpster bins, each outfitted with a light, to form a mountain of rainbow hued plastic. The project is meant to help on the discussion about consumption and the reality of plastic bags. Displayed over the course of four months, the work was also a documentation of the plastic bags' evolution, sitting outside to face the elements demonstrating in a visual manner the reality of this common day object.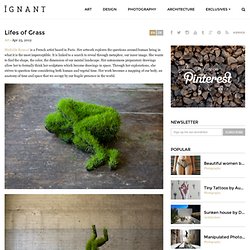 Mathilde Roussel is a French artist based in Paris. Her artwork explores the questions around human being in what it is the most imperceptible. It is linked to a search to reveal through metaphor, our inner image. She wants to find the shape, the color, the dimension of our mental landscape.
Lifes of Grass
Dutch Invertuals is a collective of individual designers. Together they present their work in which their contemporary viewpoints are expressed in images, objects, materials, insights and stories. For the 3rd time this group will present themselves during the Dutch Design Week.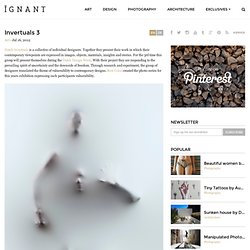 Invertuals 3
Kate MacDowell
The House as a Metaphor
Shaun Kardinal
Beth Hoeckel
Mathias Kiss
About
Mountains of Books Become Mountains
Amira Fritz
Nick Cave – Soundsuits: wearable mixed-media sculptures « OPEN STUDIOS
Maria Rubinke
Jin Young Yu's transparent sculptures
Penelope by Tatiana Blass
Giant Fish Sculptures Made from Discarded Plastic Bottles in Rio
Glitch Textiles « Phillip Stearns
Legge Lewis Legge Ultimate Pulse.html
Shira Richter | MAMA
Art | Diana Scherer
Taking it into the Third Dimension: New York's Sculptural Street Art
Banksy - Guerilla art wrapped in mystery and controversy [35 pics
Drowning Beautiful |
Mr. Brainwash
Street Art | Photography, Design & Inspiration
More Than Meets The Eye
Tory Folliard Gallery - Ron Isaacs
Antony Gormley
Cathedral by Lulu Wolf
Shaun Kardinal
Augustina Woodgate's Animal Skin Rugs Are Made from Stuffed Teddy Bears!
Henrique Oliveira's Powerful Recycled Wood "Tridimensional" Sculptures Burst Through Gallery Walls Henrique Oliveira – Inhabitat - Green Design Will Save the World
Dumpster Transformed Into a Trashtastic Portable Mini Pool
Michelle Taylor Knits and Sews Together Broken Ceramic Tea Sets Anew Michelle Taylor fixes ceramics to connect emotionally with her mother – Inhabitat - Green Design Will Save the World
Artist Valerie Buess Twists and Turns Paper Into Magical Underwater Creatures Valerie Buess's paper sea creatures sculptures – Inhabitat - Green Design Will Save the World