Sculpture, concept
Martin Klimas - Photograpy - Works. Angelika Arendt. Eliza Bennett by Churchill July 18, 2014 ELiza Bennett is a London based artist who recieved a BTEC National Diploma in art, focusing on textiles.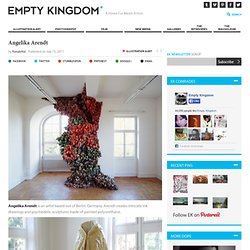 She then continued to pursue a BA in Fashion Design at Middlesex University. Eliza creates visual narratives with her pieces. Abstract sculpture. 2nd Grade - Abstract Sculptures. This lesson is a great experience in problem solving and creating in 3-D space.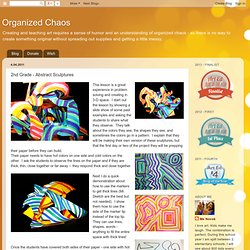 I start out the lesson by showing a slide show of some past examples and asking the students to share what they observe. They talk about the colors they see, the shapes they see, and sometimes the colors go in a pattern. Cardboard, Unpacked. "I'm interested in rela­tionships," says Ann Weber.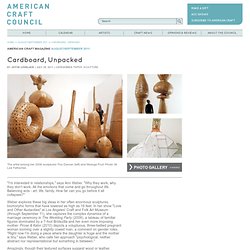 "Why they work, why they don't work. All the emotions that come and go throughout life. Balancing acts - art, life, family. Heads på Pinterest. A New Art Project You Can "Like To Death" Jean Baudrillard, the French philosopher whose ideas inspired The Matrix, didn't live long enough to sign up for a Facebook account.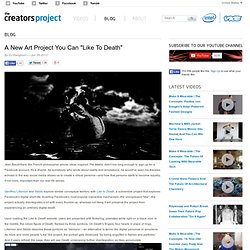 It's a shame. As somebody who wrote about reality and simulations, he would've seen his theories echoed in the way social media allows us to create a virtual persona—and how that persona starts to become equally, if not more, important than our real life selves. Geoffrey Lillemon and Stööki explore similar conceptual territory with Like to Death, a subversive project that explores Facebook's digital shelf-life.
Inverting Facebook's most popular interactive mechanism--the omnipresent "like"--the project actually disintegrates a bit with every thumbs up, whereas not liking it will preserve the project from experiencing an untimely digital death. Emma Hack - Body Artist. Mais um post construído através de um e-mail que recebi.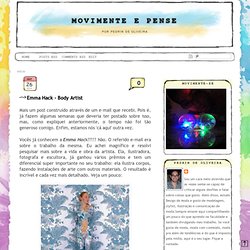 Pois é, já fazem algumas semanas que deveria ter postado sobre isso, mas, como expliquei anteriormente, o tempo não foi tão generoso comigo. Enfim, estamos nós 'cá aqui' outra vez. Vocês já conhecem a Emma Hack??!!! Não. O referido e-mail era sobre o trabalho da mesma. New Art Piece Moving To Brooklyn Museum. Streetart: Adbusting von Vermibus - Webtapete. Ein für mich bisher unbekannter Streetart-Künstler ist der Spanier Vermibus, welcher im besten Jahrgang (1987) geboren ist und aktuell in Berlin sein Bettchen macht.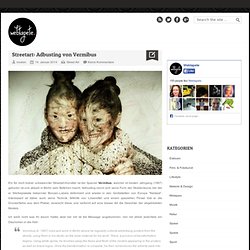 Adbusting nennt sich seine Form der Straßenkunst, bei der er Werbeplakate bekannter Bonzen-Labels deformiert und wieder in den Großstädten von Europa "freilässt". Interessant ist dabei auch seine Technik. Mithilfe von Lösemittel und einem speziellen Pinsel löst er die Druckerfarbe aus dem Plakat, verwischt diese und verformt auf eine klasse Art die Gesichter der abgebildeten Models. Ich weiß nicht was ihr davon haltet, aber bei mir ist die Message angekommen. Necessity brings him here, not pleasure. Necessity brings him here, not pleasure. Agnes Denes Works. A huge manmade mountain measuring 420 meters long, 270 meters wide, 38 meters high and elliptical in shape was planted with eleven thousand trees by eleven thousand people from all over the world at the Pinziö gravel pits near Ylöjärvi, Finland, as part of a massive earthwork and land reclamation project by environmental artist Agnes Denes.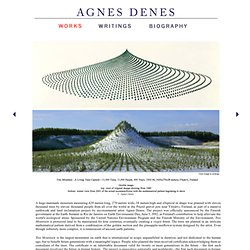 The project was officially announced by the Finnish government at the Earth Summit in Rio de Janeiro on Earth Environment Day, June 5, l992, as Finland's contribution to help alleviate the world's ecological stress. Sponsored by the United Nations Environment Program and the Finnish Ministry of the Environment, Tree Mountain is protected land to be maintained for four centuries, eventually creating a virgin forest. Cement People Holding Umbrellas 'Float' Uneasily Over A Street. Artist Michal Trpak has recently installed a piece of thought-provoking public art titled "Slight Uncertainty II" above a street in Ceske Budejovice, Czech Republic.
Featuring several cement-made people holding umbrellas who seem to be floating in mid-air, the installation is part of the Mesto Lidem cultural festival and is meant as a statement about the financial crisis that has affected many countries over the world. At first glance, the artwork seems to have a whimsical nature, but a look at the figures' uneasy faces would change that perception—they appear to be holding on to their levitating umbrellas for dear life, for fear of dropping from their elevated height. View more images of this installation below. Artist creates symbiotic sculptures of ceramic and living moss. Fuzzy, green and amazing to look at up close, moss are essential to Earth's ecosystems and guard against soil erosion.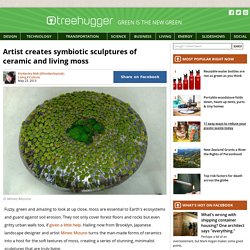 They not only cover forest floors and rocks but even gritty urban walls too, if given a little help . Hailing now from Brooklyn, Japanese landscape designer and artist Mineo Mizuno turns the man-made forms of ceramics into a host for the soft textures of moss, creating a series of stunning, minimalist sculptures that are truly living. © Mineo Mizuno. HildenDiaz. String Figure of the Month. This site combines text-based instructions with video clips (.wmv files).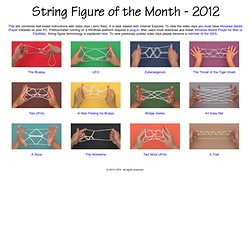 It is best viewed with Internet Explorer. To view the video clips you must have Windows Media Player installed on your PC. Firefox/Safari running on a Windows platform requires a plug-in. Quantum potentiality of the Manifested Self. To live a life of material simplicity and spiritual complexity. Technological Mandalas Leonardo Ulian. Cecilia Paredes Wallpaper Camouflage. Lori Nix: The City. - ScrapHacker. Posted by ScrapHacker.com on fredag, december 30, 2011 · 3 Comments Polish artist NeSpoon combines lace-making, ceramics and street art. The result are stunning pieces in which the innocent beauty and intimacy of old-fashioned lace is contrasted to rugged and not-so-innocent urban decay. The City Stadium gates in Grottaglie, Italy, is one of her projects, made during the Fame Festival 2011 (all pics in this post via NeSpoon) Another project, also in Grottaglie and during the Fame Festival) was executed the abandoned monastery of Convento dei Cappuccini.
My Little Pony By Mari Kasurinen. ~ the rose is red ~ / 'Reincarnation' light installation by Li Hui. The Time Keepers. Nick Georgiou. Oh, Plastiksacki. Lifes of Grass. Invertuals 3. Kate MacDowell. The House as a Metaphor. Shaun Kardinal. Beth Hoeckel. Mathias Kiss. About. Mountains of Books Become Mountains. Amira Fritz. Nick Cave – Soundsuits: wearable mixed-media sculptures « OPEN STUDIOS. Maria Rubinke. Jin Young Yu's transparent sculptures. Penelope by Tatiana Blass. Giant Fish Sculptures Made from Discarded Plastic Bottles in Rio. Glitch Textiles « Phillip Stearns.
Legge Lewis Legge Ultimate Pulse.html. Shira Richter. Art | Diana Scherer. Taking it into the Third Dimension: New York's Sculptural Street Art. Banksy - Guerilla art wrapped in mystery and controversy [35 pics. Drowning Beautiful | Mr. Brainwash. Street Art | Photography, Design & Inspiration. More Than Meets The Eye. Tory Folliard Gallery - Ron Isaacs. Antony Gormley. Cathedral by Lulu Wolf. Shaun Kardinal. Augustina Woodgate's Animal Skin Rugs Are Made from Stuffed Teddy Bears!
Henrique Oliveira's Powerful Recycled Wood "Tridimensional" Sculptures Burst Through Gallery Walls Henrique Oliveira – Inhabitat - Green Design Will Save the World. Dumpster Transformed Into a Trashtastic Portable Mini Pool. Michelle Taylor Knits and Sews Together Broken Ceramic Tea Sets Anew Michelle Taylor fixes ceramics to connect emotionally with her mother – Inhabitat - Green Design Will Save the World. Artist Valerie Buess Twists and Turns Paper Into Magical Underwater Creatures Valerie Buess's paper sea creatures sculptures – Inhabitat - Green Design Will Save the World.
---