Jewelry
HOLIDAY SALE Gold and Silver Pebble Set by ColbyJuneJewelry
Eduard Oganov - Energetically Enhanced Jewelry - Gallery 6
YELLOW STATEMENT NECKLACE geometrical pendant wood by Kookooloores
Gold Layered Statement FeatherNecklace Scalloped Lace by noemiah
Rings | Jewels Arts
BOUVIER Jewellery Online Shop
Lao Jewelry, Laos Jewelry, Handmade Jewelry, Silver Jewelry - Orijyn
Eva DeCarlo
Beautiful Collection of Nature Inspired Jewelry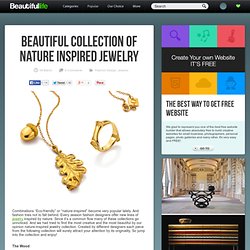 Combinations "Eco-friendly" or "nature-inspired" become very popular lately. And fashion tries not to fall behind. Every season fashion designers offer new lines of jewelry inspired by nature.
Dramatic Photos by Carlos Gotay
Neiman Marcus - Fashion's premier designers, plus beauty's best brands
About Nest Jewelry: The Dallas, Texas based designers of Nest, sisters Janette Wilkinson and Jana Erwin, attribute their love of repurposing to their artist grandmother. Just as birds collect twigs for a nest, the aptly named Nest jewelry collection gathers vintage finds and organic materials—including natural stones, horn, and leathers—from all over the world and juxtaposes them with sleek, modern metals. Bangles, cuff bracelets, earrings, and necklaces are designed to shine in every setting: work to weekend, black tie and casual.
Nest Rose Gold Hoop Earrings
Shop | Justine Justine
Jewels Arts
Long Migration Necklace || Fair Trade Beaded Necklace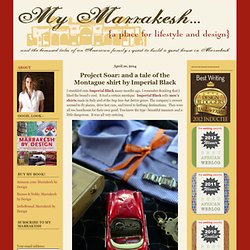 We left it all behind: Marrakesh and its hustle. The restaurants, the clubs, the bars.
My Marrakesh
Artist: Marguax Lange |
Niloufar Afnan
Beaded Cuff Bracelets,handmade Bracelets,delica Beads Jewellery on Luulla
Paw Print Studs, Sterling Silver Earrings, Cats Or Dogs Paws, Hand Cut on Luulla
Tribal Chic Earrings Accentuated By Red Antique Vinyl Disc Beads on Luulla
Silver Stud Earrings Pyramid Like Cube-cube Stud Earrings-pyamid Studs-silver Stud Earrings-small Cu on Luulla
I ship worldwide from Poland, EU.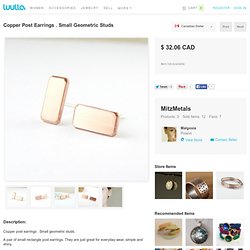 Copper Post Earrings . Small Geometric Studs on Luulla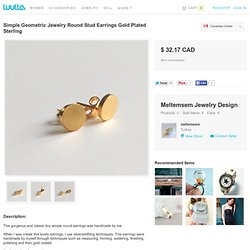 Simple Geometric Jewelry Round Stud Earrings Gold Plated Sterling on Luulla
This gorgeous and classic tiny simple round earrings was handmade by me. When I was create this lovely earrings, I use silversmithing techniques.
I ship worldwide from Poland, EU.
Brass Rectangle Studs . Geometric Earrings on Luulla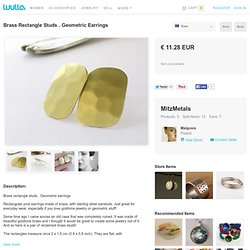 Rustic Copper Studs - Textured Ovals With Silver Earposts on Luulla
I ship worldwide from Poland, EU.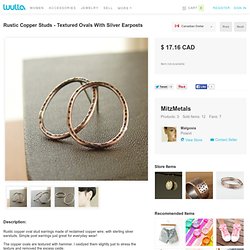 Together, Crochet Knot Necklace. Nautical Knot Necklace. Cypress Green And Coral Pink Cotton Yarn on Luulla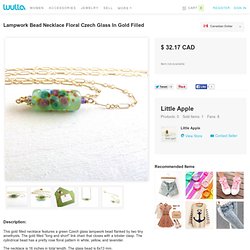 Lampwork Bead Necklace Floral Czech Glass In Gold Filled on Luulla
This gold filled necklace features a green Czech glass lampwork bead flanked by two tiny amethysts. The gold filled "long and short" link chain that closes with a lobster clasp. The cylindrical bead has a pretty rose floral pattern in white, yellow, and lavender.
Kate -- Swirls Abound ... A lariat style necklace for you to play dress up with.
Kate -- Swirls Abound on Luulla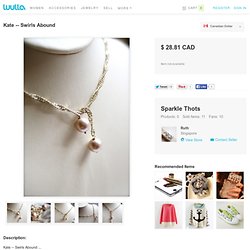 Chunky Necklace In Yellow, Black And White Lake Shells And Wood Beads. Pendant Necklace. Wood Neckla on Luulla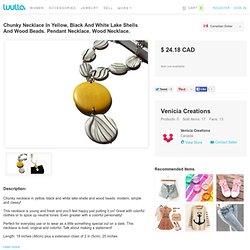 Chunky necklace in yellow, black and white lake shells and wood beads: modern, simple and classy!
Brown Chunky Bead Necklace. Oval Wood Beads. on Luulla
A perfect summer accessory, this brown chunky necklace features 5 colorful wood beads.
An amazing modern handmade statement necklace.
Statement Necklace In Shades Of Orange, Yellow And Aqua, Spring Fashion, Ceramic Jewelry on Luulla
Branch Ring. Simple Minimalist Sterling Silver Ring. on Luulla
Sterling Silver And Copper Circle . Simple Delicate Ring on Luulla
Purple Ring, Giant Glass Cats Eye, Oxidized Silver, Flash & Glow on Luulla
Chevalier Ring on Luulla
Wire Wrapped Sky Blue Czech Glass Earrings on Luulla
Handmade jewelry textile vintage leather metal by OrangeistheSun
juli by iuliachifelea on Etsy
Hand embroidered jewelry by soStudio on Etsy
Owl head Necklace by HandyMaiden on Etsy
The Tumble Series in Deep Navy Minimal Seed Bead by ISWASANDWILLBE
The Story of a Jeweler: Verena Schreppel
Art
Mineralogy | Dearest Nature
The Shop
Rough Uncut Diamond Ring Rustic Sterling by wwcsilverjewelry
Citrine Oval Rock FETISH in Argentium Sterling by onegarnetgirl
Specimental Custom Raw Diamond and Rough Gem by Specimental
Of a Kind - MERCURY COLLAR by less
Wendy Mink Curb Chain Link Earrings - Max & Chloe
Exhibition - Julieta Odio Bernardi
New Necklace Designs from The Dancing Cat ENTER TO WIN!