N' ideas
Attributes. Our newest installment of "Attributes" comes from Hila Shachar, a freelance writer and the woman behind Le Projet D'Amour.
I always gobble up Hila's work, whether it be poetry, film critiques, or just general observations on art and culture. Hila has a new book coming out in August on the cultural extensions of classic literature, which I am equally eager to read. I'm thrilled that Hila has agreed to share her portrait-on-objects with us, and she describes her cherished mementos with her usual thoughtful, articulate prose. Formafantasma's Natural Botanica Vessels Look Like Archaeological Artifacts. We recently showed you Formafantasma's crafty vessels made from flour, agricultural waste and limestone, but the design studio has developed another amazing set of archaic-looking objects.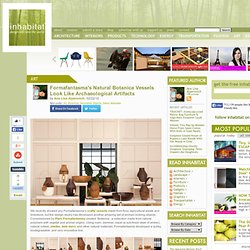 Commissioned by Plart, Formafantasma created 'Botanica', a collection made from natural polymers with vegetal and animal origins. Using rosin, dammar, copal (a sub-fossil state of amber), natural rubber, shellac, bois durci, and other natural materials, Formafantasma developed a quirky, biodegradable, and very innovative line. Another project from Design Academy of Eindhoven's graduates, Botanica was commissioned by Plart, an Italian foundation dedicated to scientific research and technological innovation for the recovery of works of art in plastic.
Designed as if the oil-based era never existed, Formafantasma researched methods dating back to the 18th and 19th century, when scientists started experimenting with animals and plants in search of plasticity. Israeli Designer Talia Mukmel Makes Funky Objects from Earth, Flour, Sand and String Talia Mukmel's ephemeral earth, water, flour, sand and string Terra-cotta containers – Inhabitat - Green Design Will Save the World. Inspired by the crafts and basic materials used by African tribes, Israeli designer Talia Mukmel created a series of the funky, bumpy containers seen above.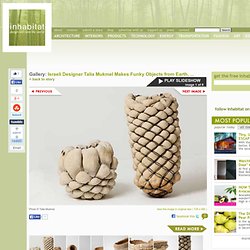 Made using knotting techniques like macramé and materials like earth, flour, sand and water, the decorative objects actually look more like bread or mozzarella than home decor. Quirky, biodegradable and ephemeral, Mukmel's innovative "terra-cotta" containers mix old traditions, easily available materials and experimental new techniques. To make these fantastic objects, the young designer first crafted macramé containers using a heat-proof tough string. Then she mixed and rolled the sand, water and earth with flour, which helps bind everything together, and wrapped the string basket with the dough. African Textiles. In Focus: How to use "Furoshiki" [MOE] The Blog: CONFETTI SYSTEM. Okay, I have to admit - I have a slight obsession with the color gold and all things that shine and sparkle.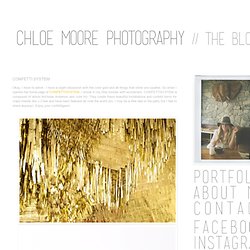 So when I opened the home page of CONFETTISYSTEM, I shook in my little booties with excitement. CONFETTISYSTEM is composed of artists Nicholas Andersen and Julie Ho.
---