Wiki
Join Demand Progress As We Encourage Wikipedia To Protest The Internet Blacklist Bills (PIPA and SOPA) By Going Black Next Week Wikipedia is considering "going black" to protest Internet censorship legislation pending before Congress. Wikipedia is a non-profit organization, and if enough Internet users pledge to donate at least $1 to Wikipedia, it will reduce the burden on them if they choose to join the protests. Demand Progress -- the organization running this campaign -- will update you once Wikipedia makes a final decision.
Wikipedia BLACKOUT: Protest the Internet Blacklist Bills (PIPA & SOPA)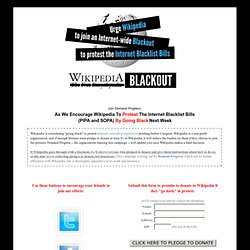 Instiki
Instiki is a basic Wiki clone so pretty and easy to set up, you'll wonder if it's really a wiki. Runs on Rails and focuses on portability and stability. Supports file uploads, LaTeX export, Atom feeds, S5 slideshows, multiple users and password protection.
Ruby on Rails
Wiki: Welcome to the pfSense Wiki!