DIY
How to cut glass. I posted a picture about 1 week ago on Instagram, Facebook and Twitter of me cutting glass using just string.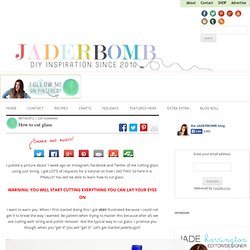 I got LOT'S of requests for a tutorial on how I DID THIS! So here it is. FINALLY! Ask Umbra: What can I do with old CD cases? Q.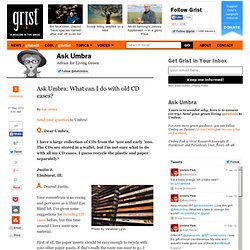 Dear Umbra, I have a large collection of CDs from the '90s and early '00s. The CDs are stored in a wallet, but I'm not sure what to do with all my CD cases. I guess recycle the plastic and paper separately? Wine cork bath mat. Inspired by CB2's bamboo bath mat I'm evidently on a hot-glue kick lately.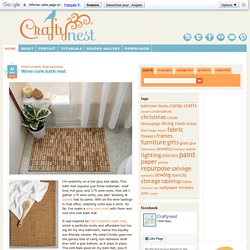 This bath mat requires just three materials: shelf liner, hot glue, and 175 wine corks. Kool-Aid Dyed Playsilks – Tried and True. A couple months ago I came upon a tutorial on The Artful Parent for Kool-Aid Dyed Playsilks.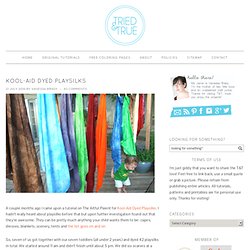 I hadn't really heard about playsilks before that but upon further investigation found out that they're awesome. They can be pretty much anything your child wants them to be: capes, dresses, blankets, scenery, tents and the list goes on and on. So, seven of us got together with our seven toddlers (all under 2 years) and dyed 42 playsilks in total. We started around 11 am and didn't finish until about 5 pm. We did six scarves at a time, with the other mothers pitching in to watch the child of whoever was working on their playsilks. Tutorial: Homemade Sidewalk Chalk. By Michelle Vackar, Modern Handmade Child One of our favorite outside activities at our home is drawing with chalk on the driveway.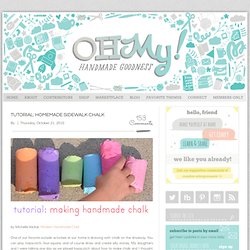 You can play hopscotch, four-square, and of course draw and create silly stories. DIY Wrap Bracelet. You should all know by now that we are all about stacking bracelets on our wrists.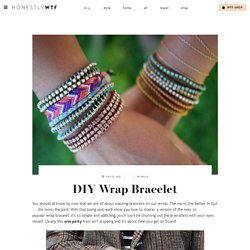 The more, the better. In fact . . . the most, the best! Mod Podge Shoes. My husband jokes every time I get the bottle of Mod Podge out that I'm going to Mod Podge fabric to our computer keys or Mod Podge our kids clothing to their bodies.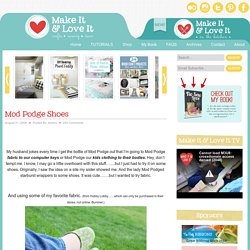 Hey, don't tempt me. I know, I may go a little overboard with this stuff…….but I just had to try it on some shoes. Originally, I saw the idea on a site my sister showed me. And the lady Mod Podged starburst wrappers to some shoes. It was cute…….but I wanted to try fabric. Headband Refashion. Our headband had a flower that was starting to look a little tired and worn so we made it new again!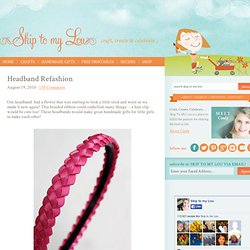 This braided ribbon could embellish many things— a hair clip would be cute too! These headbands would make great handmade gifts for little girls to make each other! Woven Ribbon Headband. How To Mix Chalkboard Paint in Any Color. We love using chalkboards as backdrops for displays and parties (like this one here!).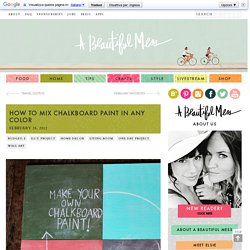 So we were super excited to learn that you can create your own custom colors-and it's really easy! We first learned how from Martha Stewart whose tutorial you can read here. She recommends that you use latex paint, but we tried it out with acrylic paints with much success. Woven paracord bracelet/watchband. For this project, you'll need approximately 10 feet of paracord, scissors, lighter, tape measure, hemostats, watch, and a 5/8" side release buckle.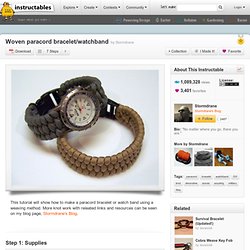 I used a 5/8" ITW Nexus contoured side release buckle, but you can use other less expensive ones like those found at Creative Designworks. Paracord can be found at local Army/Navy stores or from various online sources: Supply Captain, Lighthound, Cool Glow Stuff! 25 Handmade Gifts Under $5. If your gift list is long and your budget is small here are some great Handmade Gifts that you can make. Keep in mind that handmade items are not just beautiful but special… I love to give them and I love to receive them. In my opinion they are the best! Jersey Knit Bracelet. 21 Household Uses For Vodka [Infographic] SMN_NEW_DandelionWineMAY10.gif (1288×754) Blog. May 27th, 2012 Lace inserts are a popular denim DIY this summer.
Usually done with white lace and light denim I wanted to mix it up and try it with black! Sources: (Top Left – Right) 1. Clones 'N' Clowns 2. Refinery29 3.
---