Corpus de textes
WeBiText
WebCorp Live lets you access the Web as a corpus - a large collection of texts from which examples of real language use can be extracted. More... Have you tried WebCorp LSE? Our large-scale search engine with more search options, part-of-speech tags and quantitative analyses.
WebCorp: The Web as Corpus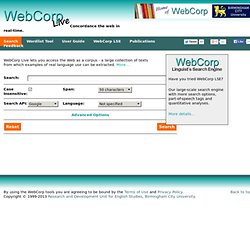 Willkommen auf der Webseite der Niederländischen Philologie Auf dieser Webseite finden Sie Informationen über das Studium, Forschung, Service und aktuelle Veranstaltungen der Niederlandistik an der Freien Universität. Die Niederlandistik bietet momentan zwei Studiengänge: den Bachelorstudiengang Niederländische Philologie und den neuen Masterstudiengang Niederlandistik im internationalen Kontext. In der Niederlandistik werden verschiedene Forschungsprojekte durchgeführt, sowohl in der Sprach- als auch in der Literaturwissenschaft.
WebCONC - Matthias Hüning