Writing
102 Resources for Fiction Writing « Here to Create. UPDATE 1/10: Dead links removed, new links added, as well as Revision and Tools and Software sections.
Are you still stuck for ideas for National Novel Writing Month? Or are you working on a novel at a more leisurely pace? Garth Nix. National Novel Writing Month. Europe :: England :: Portsmouth. 3 months ago This region could use a Municipal Liaison!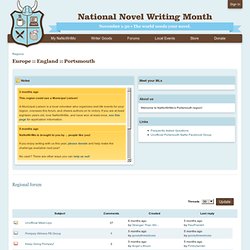 A Municipal Liaison is a local volunteer who organizes real-life events for your region, oversees this forum, and cheers authors on to victory. If you are at least eighteen years old, love NaNoWriMo, and have won at least once, see this page for application information. 5 months ago. NaNoWriMo- Portsmouth Region.
Own work
Unleash Your Imagination. Oxenstierna D. Yuki-Rin. Author has written 56 stories for One Piece, Touhou Project, Hetalia - Axis Powers, Baccano!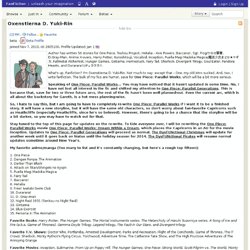 , Sgt. Frog/ケロロ軍曹, D.Gray-Man, Anime X-overs, Harry Potter, Kuroshitsuji, Vocaloid, Inception, Puella Magi Madoka Magica/魔法少女まどか★マギカ, Fullmetal Alchemist, Hunger Games, Gintama, Homestuck, Fairy Tail, Sherlock, Divergent Trilogy, Soul Eater, Pandora Hearts, and Durarara!! /デュラララ!!. What's up, Fanfiction? One Piece: Parallel Works Chapter 1: We Are the Capricorn Pirates!, an one piece fanfic. Author's Note (3/18): Hey, guys, Oxenstierna D.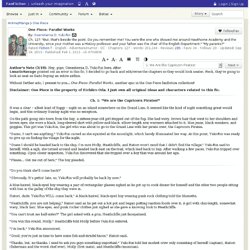 Yuki-Rin here. After LunaticSavage pointed out an error in this fic, I decided to go back and edit/revise the chapters so they would look neater. Heck, they're going to look as neat as Saito buying an entire airline. Without further ado, I present to you... Novicestar. Author has written 12 stories for Bleach, Fairy Tail, Skip Beat!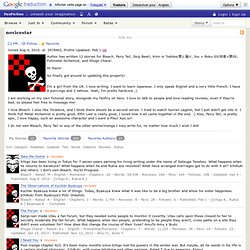 , Kimi ni Todoke/君に届け, Inu × Boku SS/妖狐×僕SS, Fullmetal Alchemist, and Shugo Chara!. Hi there! So finally got around to updating this properly! Ri2. Sort: Category .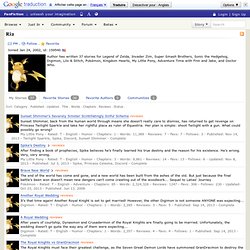 Published . Updated . Title . KingConnor. Author has written 4 stories for Legend of Zelda, and Pokémon.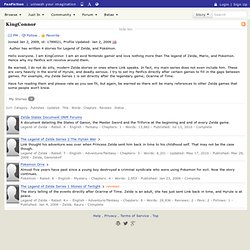 Hello everyone. I am KingConnor. I am an avid Nintendo gamer and love nothing more than The legend of Zelda, Mario, and Pokemon. The Legend of Zelda Series 1 Stones of Twilight Chapter 1, a legend of zelda fanfic. (Title under construction) Part 1 Zelda fell to her knees.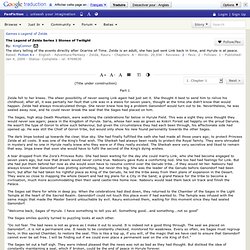 ---