Writing
UPDATE 1/10: Dead links removed, new links added, as well as Revision and Tools and Software sections. Are you still stuck for ideas for National Novel Writing Month ? Or are you working on a novel at a more leisurely pace?
Garth Nix
National Novel Writing Month
Europe :: England :: Portsmouth
NaNoWriMo- Portsmouth Region
Oxenstierna D. Yuki-Rin
Author has written 64 stories for One Piece, Hetalia - Axis Powers, Touhou Project, Baccano!, Sgt. Frog/ケロロ軍曹, D.Gray-Man, Anime X-overs, Gintama, Harry Potter, Kuroshitsuji, Vocaloid, Inception, Puella Magi Madoka Magica/魔法少女まどか★マギカ, Fullmetal Alchemist, Hunger Games, Homestuck, Fairy Tail, Sherlock, Soul Eater, Bleach, Pandora Hearts, and Durarara!!/デュラララ!!.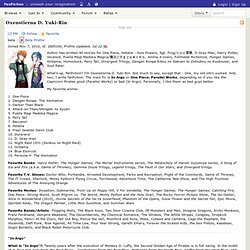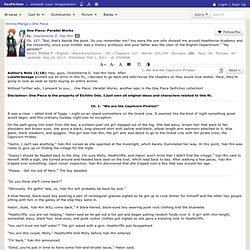 One Piece: Parallel Works Chapter 1: We Are the Capricorn Pirates!, an one piece fanfic
Author's Note (3/18): Hey, guys, Oxenstierna D. Yuki-Rin here. After LunaticSavage pointed out an error in this fic, I decided to go back and edit/revise the chapters so they would look neater. Heck, they're going to look as neat as Saito buying an entire airline. Without further ado, I present to you... One Piece: Parallel Works , another epic in the One Piece fanfiction collection!
Author has written 12 stories for Bleach, Fairy Tail, Skip Beat!, Kimi ni Todoke/君に届け, Inu × Boku SS/妖狐×僕SS, Fullmetal Alchemist, and Shugo Chara!. Hi there!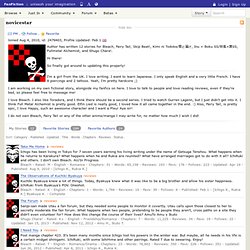 novicestar
Ri2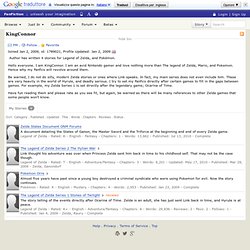 KingConnor
Author has written 4 stories for Legend of Zelda, and Pokémon.
(Title under construction) Part 1 Zelda fell to her knees. The sheer possibility of never seeing Link again had just set it. She thought it best to send him to relive his childhood; after all, it was partially her fault that Link was in a stasis for seven years, thought at the time she didn't know that would happen.
The Legend of Zelda Series 1 Stones of Twilight Chapter 1, a legend of zelda fanfic