Programs
Network Calculators - StumbleUpon. Data Structures and Algorithms with Object-Oriented Design Patterns in C++ Cool Open Source Games you should contribute to | Shinnok's Rants. [Update1 20-07-2011] As per numerous requests, the games list has been updated with some more cool games that I've missed.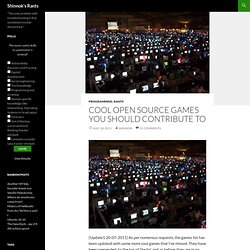 They have been prepended to the top of the list and as before, they are in no particular order. While the popular conception when it comes to games for Linux is that they are almost non-existent, this is only true when it comes to big and popular commercial franchises that are backed up by giant video game studios and publishers like EA Games, Blizzard and Konami.
On the other hand, Linux(and other platforms like *BSD) benefits from a myriad of open source and free games, some smaller for casual gaming and others more impressive like MMORPG's and FPS's that could compete with some of the commercial games out there in their branch either in the current state or given some fresh amount of contribution. 100+ awesome free and open source applications - Software - Seopher.com. Posted on Tuesday 27th of September 2011 at 13:05 in SoftwareIt has always amazed me quite how many incredible, varied and useful applications are available for free on the Internet.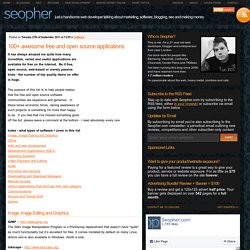 Be it free, open source, web-based or merely passive trials - the number of top quality items on offer is huge. The purpose of this list is to help people realise that the free and open source software communities are expansive and generous. In these tense economic times, raising awareness of such projects is something I'm more than happy to do. If you feel that I've missed something good off the list, please leave a comment at the bottom - I read absolutely every one.
Free 3D Software and 3D Model Providers. Unleash the Artist Within Everything you need to start creating your own stunning artwork is waiting for you right here $249.00Free Design amazing digital art with this popular 3D figure customization, posing, and animation tool.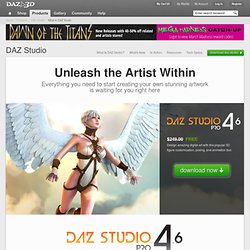 ---