Fitness
Fitness Advice, Workout Videos, Health & Fitness | Bodyrock.tv
30 Day I Real Time Challenge #12 – Ass, Thighs, & Legs Hi BodyRockers, Day 12 is the final day before we get two rest Days yyeeyyy !!! Its Legs & Ass … Keep Reading » 30 Day I Real Time Challenge #11 + Total Body Blast Hi BodyRockers, Day 11 – Can you believe we are here already ??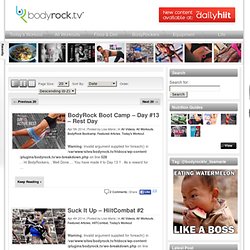 Calorie counter chart >> how much cardio to lose weight | bmi equation
Shedding pounds With the Unidentified Calorie Counter Chart A very good calorie counter chart could possibly be exactly the merchandise you will have to must be capable to last but not least lose weight. Once it all depends upon that, burning off excess weight can be quite straightforward. Not necessarily simple, even though straightforward, just simply just like excavating a dump build nevertheless, not easy. However that is certainly certainly not the simple fact that almost all diet guides probably will explain to you.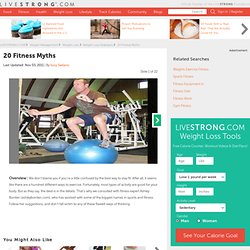 20 Fitness Myths Slide Show
If you have a consistent training regimen, and once in a blue moon you have a week where you train only one time in a week, it's not a big deal. However, if this is your training mantra, then you will fail. It might be tough to accept, but it's the truth. The key to losing weight and keeping your weight in check is a mixture of hard work and consistency.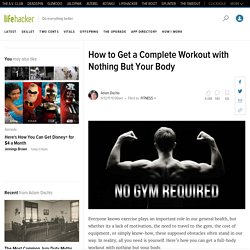 Everyone knows exercise plays an important role in our general health, but whether its a lack of motivation, the need to travel to the gym, the cost of equipment, or simply know-how, these supposed obstacles often stand in our way. In reality, all you need is yourself. Here's how you can get a full-body workout with nothing but your body.
Click below to see contributions from other visitors to this page... tabata = muscle gains, fat loss, and explosiveness? If I train like this will i gain muscle, lose fat, and become more explosive?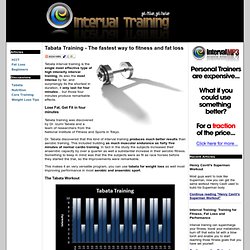 Tabata Training - The fastest way to fitness and fat loss
Hi BodyRockers, Today Freddy and I are starting to pack for our move and we are crazy busy. With everything that we have to do today, I didn't have time for a full workout, but don't worry because I put together this savage little 6 minute full body routine that will rock you out. I think that it is always better to do something than to skip your training completely, and this workout may come in a small package, but as you can see in the video, if you are pushing it at your max effort – full throttle – you won't have anything left after 6 minutes. This is a perfect solution if you find yourself really busy and pressed for time – and you can also extend the torture by doing this 2 times back to back.