Illustration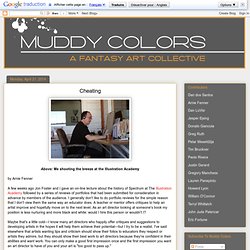 Above: Me shooting the breeze at the Illustration Academy by Arnie Fenner A few weeks ago Jon Foster and I gave an on-line lecture about the history of Spectrum at The Illustration Academy followed by a series of reviews of portfolios that had been submitted for consideration in advance by members of the audience. I generally don't like to do portfolio reviews for the simple reason that I don't view them the same way an educator does. A teacher or mentor offers critiques to help an artist improve and hopefully move on to the next level. As an art director looking at someone's book my position is less nurturing and more black and white: would I hire this person or wouldn't I?
Cheating
Jean "Moebius" Giraud on drawing from the work of other artists, from life, and from photos… | Ragged Claws Network
— via — [KIM] THOMPSON: You attended art school, right?[JEAN] GIRAUD: Yes.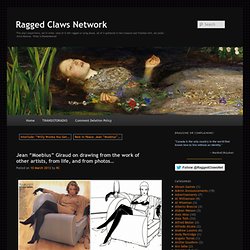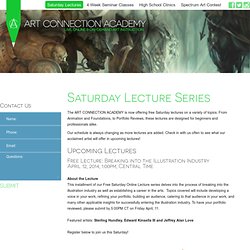 The Art Connection Academy - Saturday Lectures
The ART CONNECTION ACADEMY is now offering free Saturday lectures on a variety of topics. From Animation and Foundations, to Portfolio Reviews, these lectures are designed for beginners and professionals alike. Our schedule is always changing as more lectures are added. Check in with us often to see what our acclaimed artist will offer in upcoming lectures!
Let's Get Organized — Part 1 of 2
This is a cross-post with Muddy Colors — An Illustration Collective I have in my possession an artifact of great historical importance to myself and no one else: my digital calendar. Beginning on Monday, February 28, 2005, it records nearly every event of my life, both personal and professional (including the hours required to write this blog post). If accurate, during the course of that initial week I spent 6 hours at the gym, cleaned the bathroom for 1.5 hours (filthy, I'm sure), went to Costco, a friend's book signing, and Drew's party (I can't recall who Drew is at the moment). The vast majority of the week, however, was spent making comics. I finished painting 2 covers, varnished and photographed 2 others, and began painting the 4th page of an X-Men book — all in all, 68.5 hours of work. I know this because I used iCal, Apple's default calendar app, not like an appointment book, but as a time log and to-do list.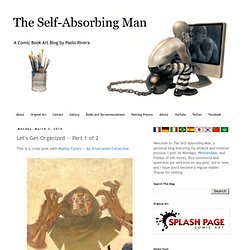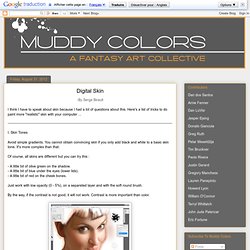 -By Serge Birault I think I have to speak about skin because I had a lot of questions about this. Here's a list of tricks to do paint more "realistic" skin with your computer ... I. Skin Tones
Digital Skin
For somebody who drew a rather popular comic extolling the virtues of "Quitting Your Day Job and Doing What You Love," I've come to understand that this idea is fairly problematic. I'm not even necessarily referring to the classist implications like those that are presented in this well written piece on Slate, but the issues that "Doing What You Love" causes for the people who've followed that advice, or have at least attempted to convince ourselves we did. I don't want to speak for others so I'll try not to generalize (much) and instead focus on my own experiences.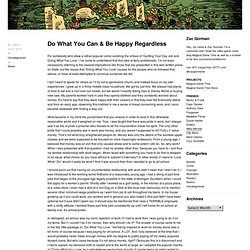 Do What You Can & Be Happy Regardless | Zac Gorman
Why "The Process" is the Most Crucial Aspect of Achieving Your Goals
Having a common vocabulary is essential in any field of study. Reilly used some common art terms like "local" and "value" for his teaching program, and modified or invented other terms like "wash-in" (imprimatura), "lay-in" (block-in), and "poster" (averages without the details). Wash-in: A thin, translucent underpainting, usually made with Raw or Burnt Umber. An imprimatura.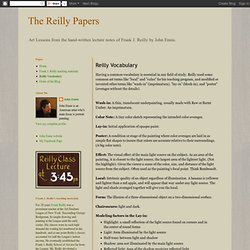 Reilly Vocabulary
Order of the Blog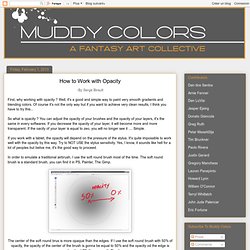 -By Serge Birault First, why working with opacity ? Well, it's a good and simple way to paint very smooth gradients and blending colors. Of course it's not the only way but if you want to achieve very clean results, I think you have to try this...
How to Work with Opacity
How to Work with Opacity
I've written many art orders over the last two decades. From a game designer point of view, an art order is a series of text descriptions for art that I want to see accompany the game text I've written. Every piece of art in a game product has to be commissioned from an artist. That process begins with the designer figuring out what each of those illustrations should generally look like. While that sounds fun (and it is), sitting down and actually writing the order can be a big job if the product in question is large.
Ordering Art for Games | Monte Cook Games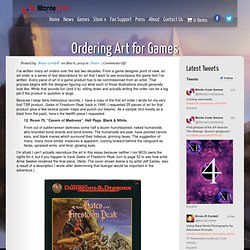 10 Things...Evaluate Your Painting
Greg Manchess I used to put my head down and plow through a piece, waiting for it to turn up some magic. Wanting it to be exactly like the picture in my head. The one I saw soclearly.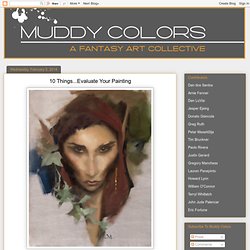 10 Things...Finding Your Audience
Portrait of Leonard Bernstein, during his final concert Greg Manchess You're the student everybody pointed to in grade school and said "she's the artist in the class." You grew up drawing and making things.
The Science of Vision and the Emergence of Art
Using images from the Web: A Guide to "Fair Use" | Shake
By Anna Wang, Legal Researcher at Shake People commonly repost images to flesh out their text, point out something cool, or serve as a good backdrop to their website. Some even do it as a way to gain popularity online. The Twitter account @HistoryInPics has gained nearly a million followers by using this strategy, often using copyrighted images.
Creating Form – With Planes – Enliighten
Breaking an organic complex form down into shapes can help you understand what the different planes are doing and how they create form. Daarken takes you through the process of doing a study from an Asaro head and explains how planes can help you create paintings from your imagination. Update – I just want to clarify a bit further about the oval technique.
Mischief | Sketching & Drawing & Painting Software | 61 Solutions
Infinite Definition. Infinite Canvas. Infinite Possibilities.Sketching, Drawing, and Painting Software for the Mac and PC Mischief Features
photoshop sketch process on Vimeo
▶ Chaos&Evolution - Digital Painting 1h30 open tutorial
Alla Prima: Everything I Know About Painting
The Best Ways To Make Your Photos Black & White
Trendgraphy
ROBERT FAWCETT'S PATTERN OF LIGHTS AND DARKS
Three important rules for painting
Quick Tips on Photographing Your Works of Art - How to Photograph Paintings, Drawings and Sculptures
How Did You Become A Freelance Artist?
Pricing: The Key To Not Destroying Everyone's Career |
Photoshop For Noobs • ImagineFX hosts an epic Photoshop...
Noah Bradley Painting Study
photoshop sketch process on Vimeo
Hovering Art Directors
45 Markets of Illustration
Summer School for Freelancers : The Institute of Awesome
Color Theory Crash Course by ~pronouncedyou on deviantART
Photoshop For Noobs • Adobe Kuler or Adobe's Badly Named Colour Wheel
Rogue Warden
Art History Timelines: View Artwork: Caravaggio, David
Lois van Baarle on Vimeo
How to Start a Painting by Noah Bradley
Muddy Colors: College Portfolio - 1992
KTB.net :: We are not done yet...
Know your Allies
Eyecager: Gradients
video: greyscale to color
Coloring with Layer Effects