Illustration
I've written many art orders over the last two decades.
Ordering Art for Games | Monte Cook Games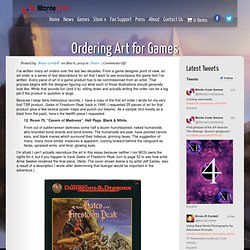 10 Things...Evaluate Your Painting
Greg Manchess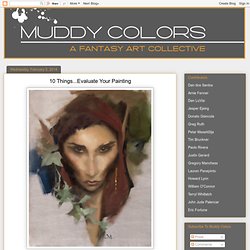 10 Things...Finding Your Audience
Portrait of Leonard Bernstein, during his final concert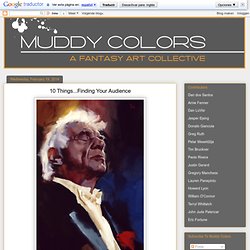 The Science of Vision and the Emergence of Art
Using images from the Web: A Guide to "Fair Use" | Shake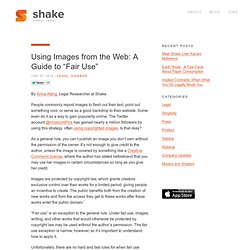 By Anna Wang, Legal Researcher at Shake
Creating Form – With Planes – Enliighten
Breaking an organic complex form down into shapes can help you understand what the different planes are doing and how they create form. Daarken takes you through the process of doing a study from an Asaro head and explains how planes can help you create paintings from your imagination. Update – I just want to clarify a bit further about the oval technique.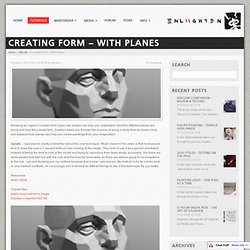 Mischief | Sketching & Drawing & Painting Software | 61 Solutions
photoshop sketch process on Vimeo
▶ Chaos&Evolution - Digital Painting 1h30 open tutorial
Alla Prima: Everything I Know About Painting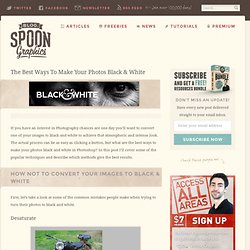 The Best Ways To Make Your Photos Black & White
If you have an interest in Photography chances are one day you'll want to convert one of your images to black and white to achieve that atmospheric and intense look.
Trendgraphy
In the 1950s, Robert Fawcett visited the instructors working at the Famous Artists School in Connecticut and talked with them about his method of constructing pictures. He sketched three examples of how one might depict "a knock at the door":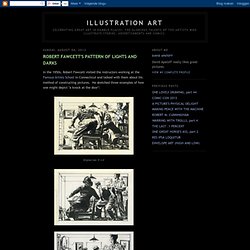 ROBERT FAWCETT'S PATTERN OF LIGHTS AND DARKS
Three important rules for painting
Three important rules for Painting and digital painting. These rules apply to beginners and novice alike, they are simple but if you apply them correctly your painting, concept, and illustration will be awesome.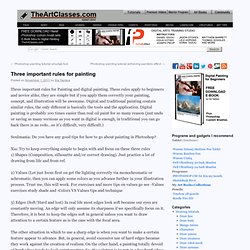 There are numerous reasons that a work of art's owner might require a photograph of the painting, drawing or object in question. Aside from having the ability to email one's entire address book a digital image of a cool new (expensive) etching, a visual record may also be required for homeowner insurance purposes.
Quick Tips on Photographing Your Works of Art - How to Photograph Paintings, Drawings and Sculptures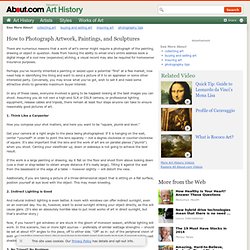 How Did You Become A Freelance Artist?
Pricing: The Key To Not Destroying Everyone's Career |
Photoshop For Noobs • ImagineFX hosts an epic Photoshop...
Noah Bradley Painting Study
photoshop sketch process on Vimeo
Hovering Art Directors
45 Markets of Illustration
Page 1 of 2 < 1 2 > 45 Markets of Illustration A Passion to Illustrate by John Roman
Summer School for Freelancers : The Institute of Awesome
10 It feels like your clients treat you like a warm body who'll do their bidding, not an expert to be trusted.
Color Theory Crash Course by ~pronouncedyou on deviantART
Photoshop For Noobs • Adobe Kuler or Adobe's Badly Named Colour Wheel
Rogue Warden
Best Practices For Effective Design Of "About me"-Pages
Art History Timelines: View Artwork: Caravaggio, David
Lois van Baarle on Vimeo
How to Start a Painting by Noah Bradley
A good start is always better than a mediocre finish. By learning to start well, you're setting yourself up for making much better paintings down the road. You can render something till the end of the time, but if it didn't start well it's likely not going to finish well. In this 2 hour, 30 minute video I create 6 different sketches in Photoshop while answering a wide range of audience-contributed questions. From theoretical topics to more technical details, we cover it all.
Muddy Colors: College Portfolio - 1992
by Donato The college graduation season is upon us, ushering thousands of newly minted professionals into the marketplace from accountants to doctors, engineers to artists.
KTB.net :: We are not done yet...
Sorry, but the page you were looking for can not be found.
Know your Allies
Eyecager: Gradients
video: greyscale to color
Coloring with Layer Effects