Typo
"Cure for the Common Font" — A Web Designer's Introduction to Typeface Selection | Typography Commentary. Now that web designers suddenly face the challenge (and delight) of choosing fonts from an ever-growing selection, we thought it's a good time to recommend some basic principles for making wise type choices.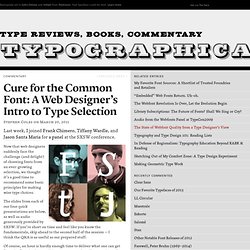 The slides from each of our four quick presentations are below, as well as audio generously provided by SXSW. If you're short on time and feel like you know the fundamentals, skip ahead to the second half of the session — I think the Q&A is as useful as our prepared stuff. Of course, an hour is hardly enough time to deliver what one can get from the first day in a good Type 1 course, and as I listen to the audio I cringe at all the crap I missed or said poorly, but I think we did a decent job of introducing some concepts that will launch young designers more confidently into the new typographic web. Typography-Based Designs of Music Album Covers – Inspiring Examples. Often, all that's needed to create a killer album cover is unique and inspired typographical elements.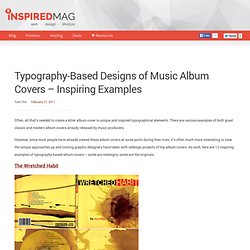 There are various examples of both great classic and modern album covers already released by music producers. However, since most people have already viewed these album covers at some point during their lives, it's often much more interesting to view the unique approaches up and coming graphic designers have taken with redesign projects of top album covers. As such, here are 12 inspiring examples of typography-based album covers – some are redesigns, some are the originals.
The Wretched Habit The combination of grunge-inspired typography and great texturing are what make this such a great album cover design. 30 New Free High-Quality Fonts - Smashing Magazine. Advertisement Every now and then we look around, select fresh high-quality free fonts and present them to you in a brief overview.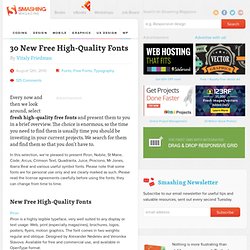 The choice is enormous, so the time you need to find them is usually time you should be investing in your current projects. We search for them and find them so that you don't have to. Type Tips—short, quick tips on all things web typography from Harry Roberts of CSS Wizardry. Fonts. Vector Graphics on the Web Using Fonts. Typetester – Compare fonts for the screen. The Problem with Web Fonts. The problem with web fonts is that nobody wants to use the 'safe' fonts and you need as much live text on your site as possible.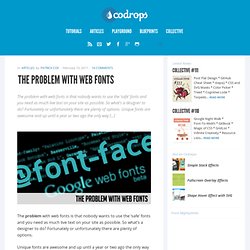 So what's a designer to do? Fortunately or unfortunately there are plenty of options. Unique fonts are awesome and up until a year or two ago the only way […]
---