Ressources Jquery
The most popular topic of discussion at the moment is undoubtedly responsive layouts in web design.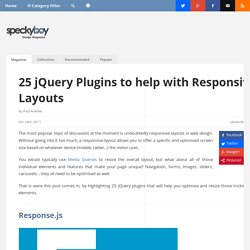 Some JavaScript Resources Worth Checking Out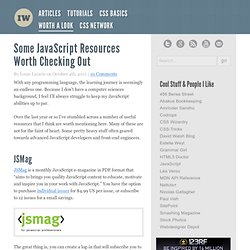 With any programming language, the learning journey is seemingly an endless one.
Collection of 30+ new and useful jQuery plugins and scripts for web designers. This set contains jQuery sliders, image galleries, slideshow plugins, jQuery navigation menus, interactive maps, image rotators, plugins for tabs, accordion menus, user interface elements, web contact forms, modal windows, tooltips and many other fresh jQuery solutions collected in one place.
30+ jQuery Plugins and Scripts for Web Designers 2011 | Web Design Zo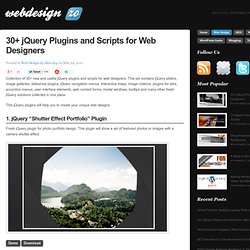 Expanding Image Menu with jQuery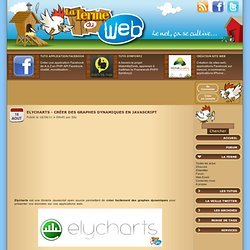 Elycharts - Créer des graphes dynamiques en Javascript
Elycharts est une librairie Javascript open source permettant de créer facilement des graphes dynamiques pour présenter vos données sur vos applications web. Cette librairie très simple d'utilisation vous permettra de créer des graphes et diagrammes de différents types:
Cameron McEfee | New Media Designer
June 2, 2011 After doing the parallaxing illustrations for GitHub's 404 and 500 pages, I decided it might be fun to put together some kind of jQuery plugin to make it easier to do parallax stuff in the future. I finally had a chance to get around to it while parallaxifying the illustration on the about page .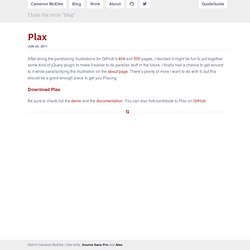 Today we're going to take a look at sprite animation. There's been a lot of talk this year about the future of technologies like Adobe's Flash and for good reason – with the performance of JavaScript frameworks having come so far since they were first conceived, it's now possible to create equally as powerful animations and effects without needing to use any third party plugins.In today's screencast I'm going to show you what a sprite is and just how easy it can be to create an entire animated scene using jQuery, CSS & Sprites. You'll also get to see some pretty cool out-in-the-wild examples of jQuery Sprite Animation in action, so why not check it out in my screencast below!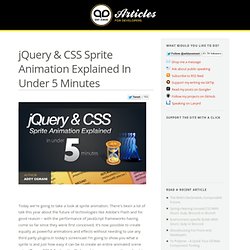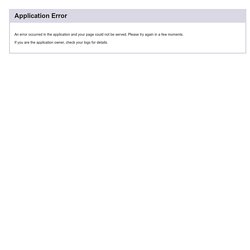 Flip is a jQuery plugin that will flip easily your elements in four directions. Try it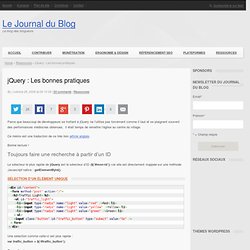 jQuery : Les bonnes pratiques
Parce que beaucoup de développeurs se frottant à jQuery ne l'utilise pas forcément comme il faut et se plaignent souvent des performances médiocres obtenues, il était temps de remettre l'église au centre du village.
8 ressources Jquery pour sites fullscreen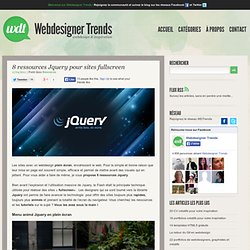 Les sites avec un webdesign plein écran , envahissent le web. Pour la simple et bonne raison que leur mise en page est souvent simple, efficace et permet de mettre avant des visuels qui en jettent.
jQuery : la sélection écrémée #2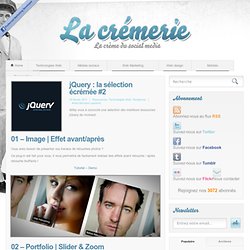 jQuery : la sélection écrémée #2
Zoomy is a quick and easy to integrate plugin that will zoom into any picture. Zoomy is a flexible zoom plugin and can be used with either, two copies of the same image, or one image linked to its self.
jQuery has really simplified the work flow for web designers.
60 Useful JQuery Tutorials From 2010
Only a few years ago, if something was animated on a website it was automatically assumed to be Flash.
Adding interactivity and animations to a design doesn't have to be complicated or make the website inaccessible when you use modern Web standards.
Bringing Interactivity To Your Website With Web Standards - Smashing Magazine
Overlay Effect Menu with jQuery
Building Large-Scale jQuery Applications