Ressources Jquery
25 jQuery Plugins to help with Responsive Layouts. The most popular topic of discussion at the moment is undoubtedly responsive layouts in web design.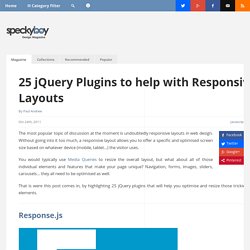 Without going into it too much, a responsive layout allows you to offer a specific and optimised screen size based on whatever device (mobile, tablet…) the visitor uses. You would typically use Media Queries to resize the overall layout, but what about all of those individual elements and features that make your page unique? Navigation, forms, images, sliders, carousels… they all need to be optimised as well. Some JavaScript Resources Worth Checking Out. With any programming language, the learning journey is seemingly an endless one.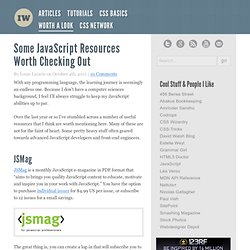 Because I don't have a computer sciences background, I feel I'll always struggle to keep my JavaScript abilities up to par. Over the last year or so I've stumbled across a number of useful resources that I think are worth mentioning here. Many of these are not for the faint of heart. Some pretty heavy stuff often geared towards advanced JavaScript developers and front-end engineers. 30+ jQuery Plugins and Scripts for Web Designers 2011 | Web Design Zo. Collection of 30+ new and useful jQuery plugins and scripts for web designers.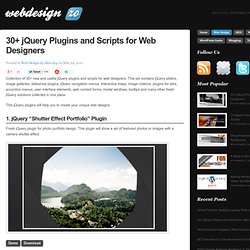 This set contains jQuery sliders, image galleries, slideshow plugins, jQuery navigation menus, interactive maps, image rotators, plugins for tabs, accordion menus, user interface elements, web contact forms, modal windows, tooltips and many other fresh jQuery solutions collected in one place. This jQuery plugins will help you to create your unique web designs. 1. jQuery "Shutter Effect Portfolio" Plugin Fresh jQuery plugin for photo portfolio design. This plugin will show a set of featured photos or images with a camera shutter effect. Expanding Image Menu with jQuery. Elycharts - Créer des graphes dynamiques en Javascript.
Elycharts est une librairie Javascript open source permettant de créer facilement des graphes dynamiques pour présenter vos données sur vos applications web.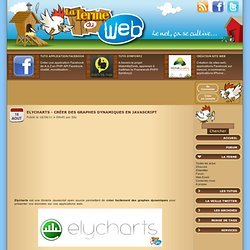 Cette librairie très simple d'utilisation vous permettra de créer des graphes et diagrammes de différents types: Graphes courbe et lignesDiagrammes d'airesDiagrammes en barres / ColonnesGraphes combinés en barres + lignesCamembertsEtc L'intérêt de la librairie est l'interactivité avec l'utilisateur. En effet, au survol des légendes peuvent être affichées, des effets dynamiques sur les parties du camembert etc. sans flash ! Le design de vos graphes est personnalisable à souhait. jVectorMap. Cameron McEfee | New Media Designer. jQuery & CSS Sprite Animation Explained In Under 5 Minutes. Today we're going to take a look at sprite animation.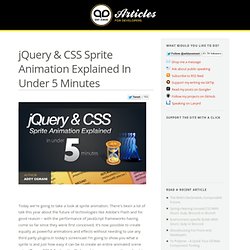 There's been a lot of talk this year about the future of technologies like Adobe's Flash and for good reason – with the performance of JavaScript frameworks having come so far since they were first conceived, it's now possible to create equally as powerful animations and effects without needing to use any third party plugins.In today's screencast I'm going to show you what a sprite is and just how easy it can be to create an entire animated scene using jQuery, CSS & Sprites. You'll also get to see some pretty cool out-in-the-wild examples of jQuery Sprite Animation in action, so why not check it out in my screencast below! Flip! A jQuery plugin v0.9.9. Flip is a jQuery plugin that will flip easily your elements in four directions.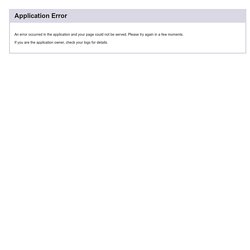 Try it How to use? Like every jquery plugin, just chain it: How to change content? Add content params in this way: jQuery : Les bonnes pratiques. Parce que beaucoup de développeurs se frottant à jQuery ne l'utilise pas forcément comme il faut et se plaignent souvent des performances médiocres obtenues, il était temps de remettre l'église au centre du village.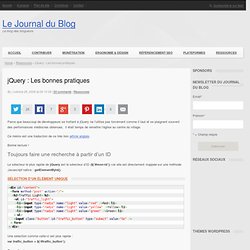 Ce mémo est une traduction de ce très bon article anglais. Bonne lecture ! Toujours faire une recherche à partir d'un ID Le sélecteur le plus rapide de jQuery est le sélecteur d'ID ($('#mon-id')) car elle est directement mappée sur une méthode Javascript native : getElementById(). 8 ressources Jquery pour sites fullscreen. Les sites avec un webdesign plein écran, envahissent le web.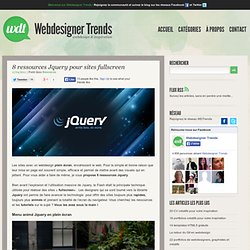 Pour la simple et bonne raison que leur mise en page est souvent simple, efficace et permet de mettre avant des visuels qui en jettent. Pour vous aider a faire de même, je vous propose 8 ressources Jquery. Bien avant l'explosion et l'utilisation massive de Jquery, le Flash était la principale technique utilisée pour réaliser des sites « fullscreen« . Les designers qui se sont tourné vers la librairie Jquery ont permis de faire avancer la technologie pour offrir des sites toujours plus rapides, toujours plus animés et prenant la totalité de l'écran du navigateur.
Vous cherchez les ressources et les tutoriels sur le sujet ? jQuery : la sélection écrémée #2. jQuery : la sélection écrémée #2 Milky vous à concocté une sélection des meilleurs ressources jQuery du moment. 01 – Image | Effet avant/après Vous avez besoin de présenter vos travaux de retouches photos ?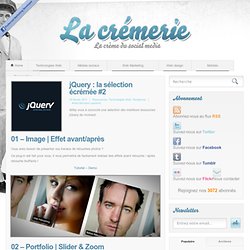 Ce plug-in est fait pour vous, il vous permettra de facilement réaliser des effets avant retouche / après retouche bluffants ! Zoomy | jQuery Plugin | E-Magnification. 15 Handpicked Fresh and Useful jQuery Tutorials. jQuery has really simplified the work flow for web designers.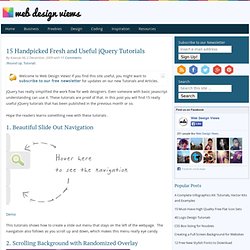 Even someone with basic javascript understanding can use it. These tutorials are proof of that. In this post you will find 15 really useful jQuery tutorials that has been published in the previous month or so. Hope the readers learns something new with these tutorials . 1. 60 Useful JQuery Tutorials From 2010. 60 Useful JQuery Tutorials From 2010 Posted by Prakash on December 7th in Tutorials. Web developer created some great jQuery tutorials and today we just want list some of the 2010 tutorials which really stand out from the tradition javascript effect tutorials. In today's post we have compiled 60 the best and useful jQuery tutorials from 2010.
13 Excellent jQuery Animation Techniques | Tutorials. Only a few years ago, if something was animated on a website it was automatically assumed to be Flash. However, this is not the case today. With the growing popularity and wide spread use of JavaScript frameworks, sometimes you have to take a closer look to find out what is powering all of those smooth animations. With several JavaScript frameworks available, jQuery is quickly becoming a favorite. jQuery lightbox for images, videos, YouTube, iframes | Stéphane Caron. To open inline content, simply: Create a link (<a href="#">). Add the rel attribute "prettyPhoto" to it (rel="prettyPhoto").
Change the href of your link so it is the ID of the inline content you want to open with the ID CSS selector (#). This is inline content opened in prettyPhoto. Overlay Effect Menu with jQuery. In this tutorial we are going to create a simple menu that will stand out once we hover over it by covering everything except the menu with a dark overlay. The menu will stay white and a submenu area will expand. We will create this effect using jQuery. So, let's start! Building Large-Scale jQuery Applications. Today we're going to look at the end-to-end tools and options you have for building large-scale enterprise jQuery applications.
Although jQuery is an excellent JavaScript library and provides a well-designed set of tools for development, it's focus on staying compact and making the DOM easy to use has meant that it doesn't provide a significant infrastructure for building large-scale apps. jQuery does however normalize things across browsers and serves as a great way of doing DOM manipulation. Using it to it's strengths, you can select some excellent tools to use along-side it as a toolkit for your larger-scale app development. Some developers have argued in the past that building RIAs using Dojo, MooTools or YUI may be more suitable for large-scale JavaScript applications than simply opting for jQuery, however, I believe you can implement a solution using it that is equally as good without too much extra effort. Framework javascript - documentation en francais et actualités.
---