Ressources Integration
Browser CSS hacks
I don't use CSS hacks anymore. Instead I use IE's conditional comments to apply classes to the body tag .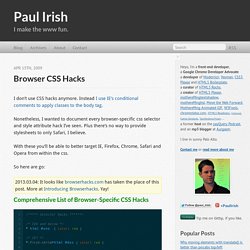 Web browser hacks, Css hacks - ie, firefox, chrome, safri, Opera - Webdevelopertut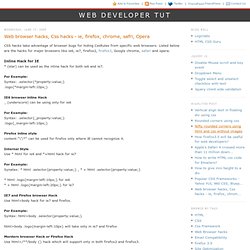 CSS hacks take advantage of browser bugs for hiding CssRules from specific web browsers. Listed below are the hacks for major browsers like ie6, ie7, firefox2, firefox3 , Google chrome, safari and opera. Inline Hack for IE * (star) can be used as the inline hack for both ie6 and ie7.
When applying CSS3 inset box-shadow or border-radius directly to the image element, the browser doesn't render the CSS style perfectly. However, if the image is applied as background-image, you can add any style to it and have it rendered properly. Darcy Clarke and I put a quick tutorial together on how to use jQuery to make perfect rounded corner images dynamically.
Published by Chris Coyier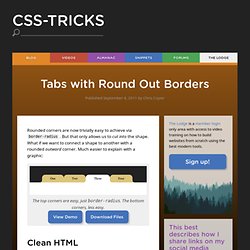 Tabs with Round Out Borders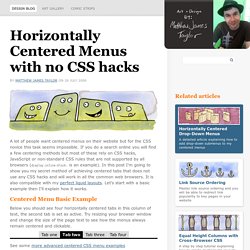 by Matthew James Taylor on 26 July 2008
Beautiful Horizontally Centered Menus/Tabs/List. No CSS hacks. Full cross-browser.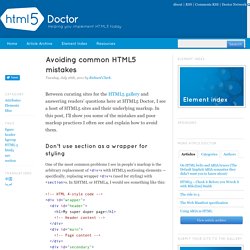 Between curating sites for the HTML5 gallery and answering readers' questions here at HTML5 Doctor, I see a host of HTML5 sites and their underlying markup. In this post, I'll show you some of the mistakes and poor markup practices I often see and explain how to avoid them. Don't use section as a wrapper for styling
Stacked Slideshow
20th March 2011 Updated 13th February 2013 For IE7, IE8, IE9, IE10, IE10 touch screen, Firefox, Safari, Chrome and Opera
La spécification CSS3 Media Queries définit les techniques pour l'application de feuilles de styles en fonction des périphériques de consultation utilisés pour du HTML.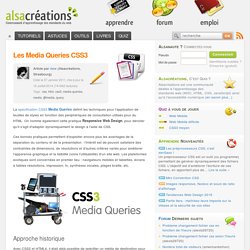 CSS Switch v.0.3 | Creative Design
Demo: Pure CSS folded-corner effect
HTML, CSS et les problèmes de navigateurs
Toute personne ayant tenté de coder ne serait-ce que la plus simple des pages Web a forcément rencontré le cauchemar absolu en matière de Webdesign : les différences de rendus entre les navigateurs. Cet article présente les diverses techniques pour résoudre ce problème par la détection du navigateur.
ie6fixer - onderhond.com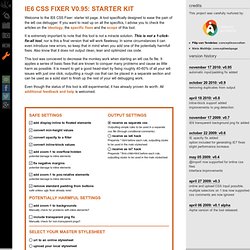 Welcome to the IE6 CSS Fixer: starter kit page. A tool specifically designed to ease the pain of the ie6 css debugger. If you want to read up on all the specifics, I advise you to check the articles on the ideology , the specific fixes and the scope of this tool. It is extremely important to note that this tool is not a miracle solution. This is not a 1-click-fix-all tool , nor is this a final version that will work flawlessy. In some circumstances it can even introduce new errors, so keep that in mind when you add one of the potentially harmfull fixes.
Une Feuille de style et des « hacks CSS » pour cibler IE6, IE7 ou IE8