Wikileaks
By Robert Stevens 10 March 2011 WikiLeaks: Inside Julian Assange's War on Secrecy, by David Leigh and Luke Harding, published by the Guardian newspaper, is now being paraded as the "official" account of WikiLeaks and its founder Julian Assange. It is in reality a politically-motivated hatchet job aimed at discrediting Assange and facilitating his persecution by the Obama administration and its allies in the UK and Sweden. The Guardian was the first of the five print media partners WikiLeaks worked with to assist in the publication of secret US diplomatic cables, beginning in late November of last year. Within a month of their initial publication, the newspaper had broken off relations with Assange. The new book by Leigh and Harding is in line with the Guardian's campaign of character assassination against Assange, including its public declaration in favour of his extradition to Sweden.
The Guardian's hatchet job on Julian Assange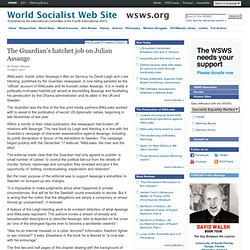 Right now, Wikileaks whistleblower Bradley Manning is being tortured in a US military prison. Manning is subjected to utter isolation that can drive many people insane, with short periods each day where he is stripped naked and abused by jeering inmates.
Stop Wikileaks Torture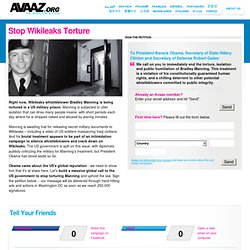 Wikileaks - Wikileaks
WikiLeaks
WikiLeaks | Media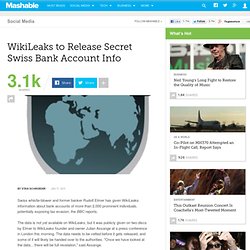 WikiLeaks to Release Secret Swiss Bank Account Info
Swiss whistle-blower and former banker Rudolf Elmer has given WikiLeaks information about bank accounts of more than 2,000 prominent individuals, potentially exposing tax evasion, the BBC reports.
The Liberal Curmudgeon: Clinton Embodies Contradictions Of Administration Opposition To WikiLeaks
Australian Politician Compares Attempts To Silence Assange With Catholic Church Silencing Galileo
Kevin Zeese: Bradley Manning and the Rule of Law
The case of Private Bradley Manning raises legal issues about his pre-trial detention, freedom of speech and the press, as well as proving his guilt beyond a reasonable doubt. Putting aside Manning's guilt or innocence, if Bradley Manning saw the Afghan and Iraq war diaries as well as the diplomatic cables published by WikiLeaks, what should he have done?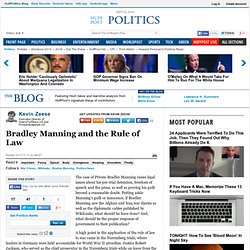 Michael Brenner: Lessons of WikiLeaks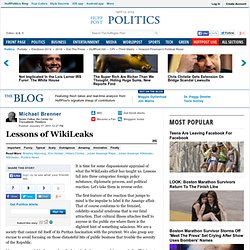 It is time for some dispassionate appraisal of what the WikiLeaks affair has taught us. Lessons fall into three categories: foreign policy substance, diplomatic process, and political reaction. Let's take them in reverse order.
WikiLeaks has finally made good on a months-old pledge to contribute financially to the defense of 23-year-old Bradley Manning, according to a group raising money for the imprisoned Army private suspected of providing WikiLeaks its most important U.S. releases. But the sum, $15,100, is less than half the $50,000 WikiLeaks originally promised. It's also less than the group pledged in December, when WikiLeaks spokesman Kristinn Hrafnsson said WikiLeaks would immediately transfer $20,000 to Manning's defense fund.
WikiLeaks Contributes $15,000 to Bradley Manning's Defense | Threat Level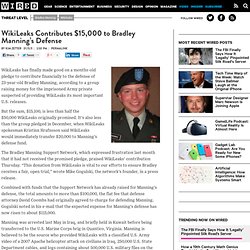 (updated below – Update II – Update III) Last night, Birgitta Jónsdóttir — a former WikiLeaks volunteer and current member of the Icelandic Parliament — announced (on Twitter) that she had been notified by Twitter that the DOJ had served a Subpoena demanding information "about all my tweets and more since November 1st 2009." Several news outlets, including The Guardian, wrote about Jónsdóttir's announcement.
DOJ subpoenas Twitter records of several WikiLeaks volunteers - Glenn Greenwald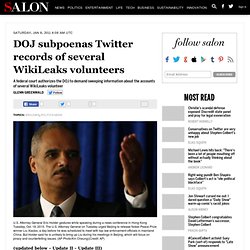 wiki leaks - Google Search
WIKILEAKS from Dec. 2010 till Feb. 2011
Why Journalists Aren't Defending Julian Assange - Newsweek
If you think prosecuting journalists is the province solely of the sort of authoritarian governments in the developing world and the former communist bloc, think again. In the wake of WikiLeaks's late-November dump of thousands of diplomatic cables, American provocateurs are urging the prosecution of the site's founder, Julian Assange, and others who were involved in bringing the cables to the public's attention. Of course, the alleged leaker, U.S. Army intelligence analyst Pfc. Bradley Manning, will face prosecution for giving away state secrets. Reporters and publishers who receive material from a government leaker, however, are typically considered protected from prosecution under the First Amendment.