Wikileaks
The Guardian's hatchet job on Julian Assange. By Robert Stevens 10 March 2011 WikiLeaks: Inside Julian Assange's War on Secrecy, by David Leigh and Luke Harding, published by the Guardian newspaper, is now being paraded as the "official" account of WikiLeaks and its founder Julian Assange.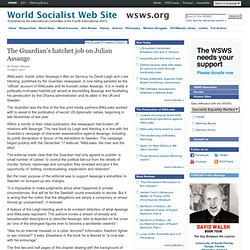 It is in reality a politically-motivated hatchet job aimed at discrediting Assange and facilitating his persecution by the Obama administration and its allies in the UK and Sweden. The Guardian was the first of the five print media partners WikiLeaks worked with to assist in the publication of secret US diplomatic cables, beginning in late November of last year. Within a month of their initial publication, the newspaper had broken off relations with Assange. The new book by Leigh and Harding is in line with the Guardian's campaign of character assassination against Assange, including its public declaration in favour of his extradition to Sweden.
Stop Wikileaks Torture. Right now, Wikileaks whistleblower Bradley Manning is being tortured in a US military prison.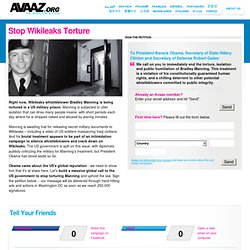 Manning is subjected to utter isolation that can drive many people insane, with short periods each day where he is stripped naked and abused by jeering inmates. Manning is awaiting trial for releasing secret military documents to Wikileaks – including a video of US soldiers massacring Iraqi civilians. And his brutal treatment appears to be part of an intimidation campaign to silence whistleblowers and crack down on Wikileaks. The US government is split on this issue, with diplomats publicly criticizing the military for Manning's treatment, but President Obama has stood aside so far. Obama cares about the US's global reputation - we need to show him that it's at stake here.
Wikileaks. Wikileaks - Wikileaks. WikiLeaks. WikiLeaks | Media. WikiLeaks to Release Secret Swiss Bank Account Info. Swiss whistle-blower and former banker Rudolf Elmer has given WikiLeaks information about bank accounts of more than 2,000 prominent individuals, potentially exposing tax evasion, the BBC reports.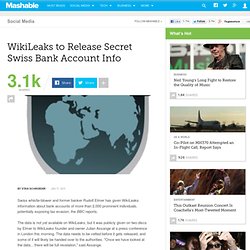 The data is not yet available on WikiLeaks, but it was publicly given on two discs by Elmer to WikiLeaks founder and owner Julian Assange at a press conference in London this morning. The data needs to be vetted before it gets released, and some of it will likely be handed over to the authorities. "Once we have looked at the data... there will be full revelation," said Assange. The freshly leaked data covers the period from 1990 to 2009 and concerns companies and individuals from many countries, including the UK, U.S. and Germany, Swiss newspaper Der Sonntag reports. The Liberal Curmudgeon: Clinton Embodies Contradictions Of Administration Opposition To WikiLeaks.
Australian Politician Compares Attempts To Silence Assange With Catholic Church Silencing Galileo. Kevin Zeese: Bradley Manning and the Rule of Law. The case of Private Bradley Manning raises legal issues about his pre-trial detention, freedom of speech and the press, as well as proving his guilt beyond a reasonable doubt.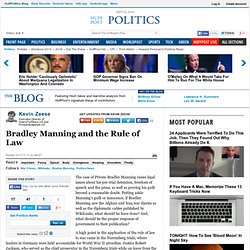 Putting aside Manning's guilt or innocence, if Bradley Manning saw the Afghan and Iraq war diaries as well as the diplomatic cables published by WikiLeaks, what should he have done? And, what should be the proper response of government to their publication? A high point in the application of the rule of law to war came in the Nuremberg trials, where leaders in Germany were held accountable for World War II atrocities.
Justice Robert Jackson, who served as the chief prosecutor in the Nuremberg trials while on leave from the U.S. Michael Brenner: Lessons of WikiLeaks. It is time for some dispassionate appraisal of what the WikiLeaks affair has taught us.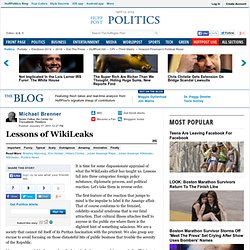 Lessons fall into three categories: foreign policy substance, diplomatic process, and political reaction. Let's take them in reverse order. WikiLeaks Contributes $15,000 to Bradley Manning's Defense | Threat Level. WikiLeaks has finally made good on a months-old pledge to contribute financially to the defense of 23-year-old Bradley Manning, according to a group raising money for the imprisoned Army private suspected of providing WikiLeaks its most important U.S. releases.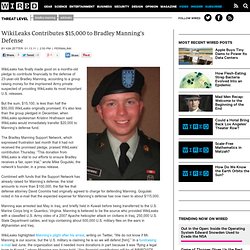 But the sum, $15,100, is less than half the $50,000 WikiLeaks originally promised. It's also less than the group pledged in December, when WikiLeaks spokesman Kristinn Hrafnsson said WikiLeaks would immediately transfer $20,000 to Manning's defense fund. The Bradley Manning Support Network, which expressed frustration last month that it had not received the promised pledge, praised WikiLeaks' contribution Thursday. "This donation from WikiLeaks is vital to our efforts to ensure Bradley receives a fair, open trial," wrote Mike Gogulski, the network's founder, in a press release. DOJ subpoenas Twitter records of several WikiLeaks volunteers - Glenn Greenwald. (updated below – Update II – Update III) Last night, Birgitta Jónsdóttir — a former WikiLeaks volunteer and current member of the Icelandic Parliament — announced (on Twitter) that she had been notified by Twitter that the DOJ had served a Subpoena demanding information "about all my tweets and more since November 1st 2009."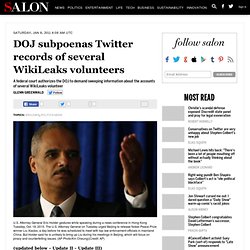 Several news outlets, including The Guardian, wrote about Jónsdóttir's announcement. Wiki leaks - Google Search. WIKILEAKS from Dec. 2010 till Feb. 2011. Why Journalists Aren't Defending Julian Assange. Wikileaks.
---