Week of 2010-12-27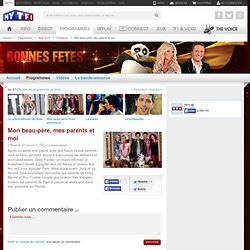 Mon beau-père, mes parents et moi – Émission Site de Noël 2010 du dimanche 2 janvier 2011
Après un week-end passé avec ses futurs beaux-parents, Jack et Dina, pendant lequel il a accumulé les déboires et les maladresses, Greg Focker, un brave infirmier, a finalement réussi à gagner leur confiance et obtenu leur feu vert pour épouser Pam. Mais auparavant, Jack et sa femme Dina souhaitent rencontrer les parents de Greg. Bernie et Roz Focker, couple aux mœurs très libérales, invitent les parents de Pam à passer le week-end dans leur propriété en Floride...
Meet the Fockers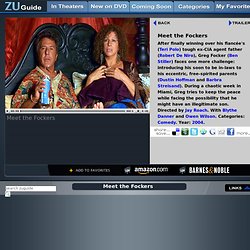 What is zuguide? Welcome to Zuguide, your new guide to movies and movie trailers. Zuguide is dedicated to providing a huge selection of high quality movie trailers with the best user experience possible.
So will it be tragedy, farce or tourism? Obama's a tourist, so says the Davy Crockett of the American journalistic frontier and philosopher king of The New York Times (aka T Friedman, Esq), but he's wrong. The winner of the Nobel Prize for Public Speech-making will be at least a super-tourist – with 10,000 armed Israeli and American tour guides in Jerusalem alone. Now that, Mr President, is the wall. No, not That Wall, we're talking about the Ottoman palisade on each side of the city's Damascus Gate.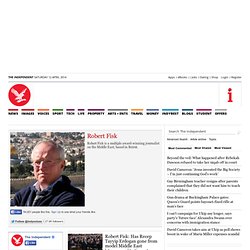 9º Today, 05:00 Overcast 6º Tomorrow, 08:00 Cloudy 7º Saturday, 08:00 Mostly clear - Feels like 3º
Weather in Uzès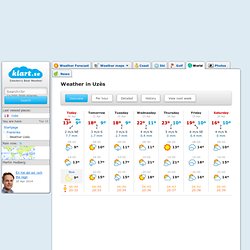 Sanity check 2010: The most important tech stories of the year | Tech Sanity Check | TechRepublic.com
The list shows that the features we read the most are about technology directly affecting us personally.6 out of 10 of the most heavily traffic'd stories deal with apps a personal user would use, not... Read Whole Comment + The list shows that the features we read the most are about technology directly affecting us personally. 6 out of 10 of the most heavily traffic'd stories deal with apps a personal user would use, not the tech industry as a whole, or one particular device. However, looking at devices, Google is the King. Not Microsoft which is in danger of becoming an also-ran. As long as Apple innovates, it has strength.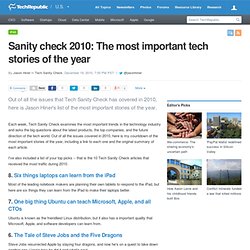 With the rise of Android, the reboot of BlackBerry, and the redesigned iPhone, 2010 can rightly be called the year of the smartphone. After reviewing nearly all of the top devices, here is my countdown of the best devices of the year. Slideshow Slideshow: The 10 best smartphones of 2010
The 10 elite smartphones of 2010 | Tech Sanity Check | TechRepublic.com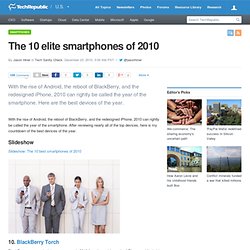 December 30, 2010, 11:04 AM PST The tech industry revved up its innovation engine in 2010 and released an important set of new products that continue to push the boundaries of computing. As in recent years, most of the momentum in tech in 2010 was focused around mobile computing.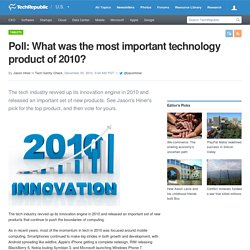 Poll: What was the most important technology product of 2010? | Tech Sanity Check | TechRepublic.com
Featuring questions and answers that come entirely from users, Quora is competing for the title of one of the biggest knowledge bases on the Internet. The team responsible for Quora actually compares it with a cache for the research people do when trying to find information online, and for all the questions and answers that go with one such process. All the data that is consigned to Quora becomes instantly findable and usable by others. And it also becomes further expandable.
Quora.com - Get Answers To Your Every Question | Visit quora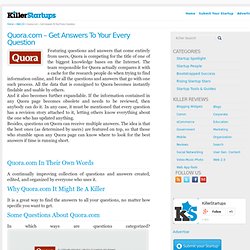 2010 was a huge year at Lifehacker, and we spent the month looking back at the biggest and best posts of the year. Here's one last look back at the best of 2010 in case you missed anything along the way. Most Popular How-To Guides of 2010 We cover a lot ground every day on Lifehacker, but our greatest pleasure comes from putting together in-depth, step-by-step guides, making complicated tasks easy to do yourself. Most Popular Top 10s of 2010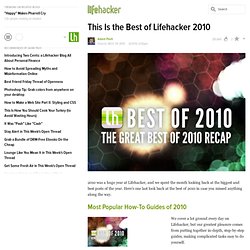 This semester, my students at the School of Information at UC-Berkeley researched the VC system from the perspective of company founders. We prepared a detailed survey; randomly selected 500 companies from a venture database; and set out to contact the founders. Thanks to Reid Hoffman, we were able to get premium access to LinkedIn—which was very helpful and provided a wealth of information.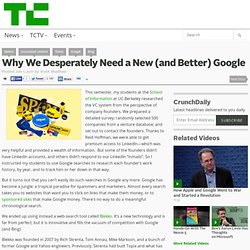 Un nouveau virus menace le système d'exploitation Android de Google en Chine
Un virus s'attaquant aux téléphones mobiles utilisant le système d'exploitation Android de Google a été détecté en Chine . Baptisé Geinimi, il peut s' emparer de nombreuses données personnelles stockées sur le téléphone d'un utilisateur et les envoyer vers des serveurs. "Une fois que ce logiciel malveillant est installé sur un téléphone, il a la capacité d'obéir aux ordres d'un serveur, permettant à l'opérateur de ce serveur de contrôler le téléphone", précise Lookout Mobile Security, un éditeur d'antivirus spécialisé dans les mobiles. Selon l'éditeur, ce virus est extrêmement "sophistiqué" , bien plus que "les précédentes tentatives de logiciels malveillants visant Android" . La société, qui ne connaît pas les finalités de cette attaque, précise que seuls des utilisateurs téléchargeant des applications d'Android en Chine sont susceptibles d'être affectés.
A man observes the scene of the bomb blast from within the Coptic church in Alexandria, Egypt. Photograph: Ben Curtis/AP At least 21 people have been killed and more than 70 injured in Egypt in a suspected suicide bombing outside a church in Alexandria as worshippers left a new year service. It was initially thought a car bomb had caused the explosion just after midnight at the Coptic orthodox al-Qidiseen church. But the interior ministry suggested a foreign-backed suicide bomber may have been responsible. The blast did not originate in any of the cars that were destroyed, a ministry statement said.
Egypt bomb kills new year churchgoers | World news
2011 looks grim for progress on women's rights in Iraq
BAGHDAD — When Iraqi Prime Minister Nouri al Maliki introduced what he called a national partnership government two weeks ago, he included allies and adversaries, Arabs and Kurds, Shiite Muslims and Sunnis. One group, however, was woefully underrepresented. Only one woman was named to Maliki's 42-member cabinet, sparking an outcry in a country that once was a beacon for women's rights in the Arab world and adding to an ongoing struggle over the identity of the new Iraq.
Vice President Joe Biden's use of profanity, a New York congressman's admission of groping and a denial of witchcraft were among the top 10 political quotes of 2010. The healthcare reform debate is featured in several others, ranging from a Texas lawmaker's outburst of "baby killer" to President Obama's admission that he and his party took a "shellacking" in the midterm elections. Democrats were jubilant after they narrowly passed the healthcare bill in March, as evidenced by Biden's comment to Obama that it was "a big f------ deal." While Democrats won that legislative battle, Republicans won the message war on healthcare, capturing control of the House and reducing the Democrats' majority in the Senate in the November elections.
'A big f------ deal' and more: The top 10 political quotes of 2010 - TheHill.com
Skådspelaren Per Oscarsson och hans fru Kia Östling befaras ha omkommit i en brand natten till nyårsaftonen. Det var en anhörig som upptäckte att hela huset brunnit ned på nyårsaftons morgon. Huset ligger ensligt i den lilla orten Bjärka Långöna utanför Skara.
Per Oscarsson befaras död i brand
Sarah Palin's Nomination Chances: A Reassessment