The Source
The Sun, Auroras & Solar Flares
Guantánamo Bay files - live coverage | World news
8am: This morning the Guardian and others have published a cache of files on Guantánamo Bay detainees, which lift the lid on life inside the controversial prison camp in Cuba. The Guantánamo files reveal... • An 89-year-old Afghan villager was detained at Guantánamo Bay despite suffering from dementia, depression and sickness, while a 14-year-old boy, who had been an innocent kidnap victim, was also imprisoned.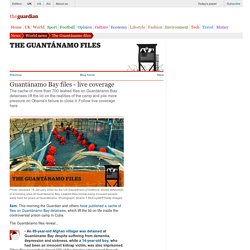 IMF bombshell: Age of America nears end Brett Arends' ROI
By Brett Arends, MarketWatch BOSTON (MarketWatch) — The International Monetary Fund has just dropped a bombshell, and nobody noticed. For the first time, the international organization has set a date for the moment when the "Age of America" will end and the U.S. economy will be overtaken by that of China. IMF sees China topping U.S. in 2016 According to the latest IMF official forecasts, China's economy will surpass that of America in real terms in 2016 — just five years from now.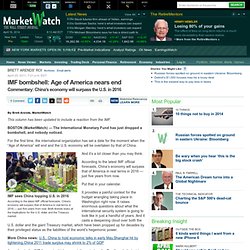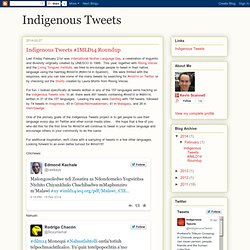 Kapampangan is spoken in Central Luzon, on the main Philippine island of Luzon, north of Manila (see map below). It is the seventh largest language of the Philippines, with about 2.5 million native speakers. According to the Philippine Constitution, regional languages have "auxiliary official" status in the regions, but, despite being the main language of Pampanga Province and one of the two main languages of Tarlac Province, Kapampangan does not have official status, and is not taught in schools. In any case, the promotion of Filipino has taken its toll on the use of Kapampangan and the other indigenous languages of the Philippines. If you look at the Indigenous Tweets pages for Philippine languages like Ilocano, Waray-Waray, or Kapampangan, you'll notice that the percentage of tweets "in language" is on average quite low, reflecting the fact that many speakers of these languages are more accustomed to using Tagalog or English online.
Indigenous Tweets
Vem kan rabbla tyska prepositioner och briljera med kunskaper om svenska regenter idag när är det enda du behöver lära dig utantill är koden till ditt bankomatkort? Det mesta du behöver veta kan du på mindre än en minut kolla upp på nätet. Dagens Kropp & Själ diskuterar vilka krav som ställs på våra moderna hjärnor och om det går att bli smartare.
Bli smartare! - Kropp & Själ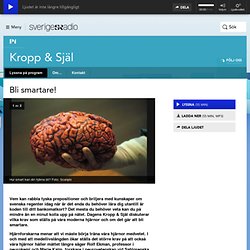 Under våren kommer Christer Perfjell, iniativtagare till konferensen, att hålla föredrag runt om i Sverige. Se mer på www.perfjell.se Träffade du Deepak Chopra i korridoren?
Mind Event – Toward a Science of Consciousness, 1-8 maj, 2011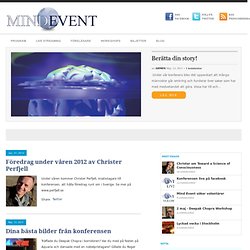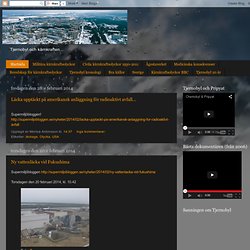 Tjernobyl och Kärnkraftsbloggen
Cirka 40 minuter efter chockerna, nådde tsunamin kraftverket och slog ut de elektriska systemen. Japans kärn Industrial Safety Agency (Nisa) hade varnat Tepco om säkerhet kränkningar och problem vid anläggningen dagar före jordbävningen, de hade blivit varnade om möjligheten av en tsunami slår anläggningen under åren. De avslag började nästan omedelbart. "Det har ingen härdsmälta," regeringens talesman Yukio Edano mässade i dagarna efter den 11 mars.
I'm interrupting my blog hiatus to discuss direct-to-consumer (or DTC) genetic testing, an issue that has recently become a cause célèbre (at least among the relatively small group of people concerned about it) and that I think deserves wider attention, as it's an early indicator of some of the disruption that will occur around health care in the 21st century. In recent years the cost of sequencing human genomes (i.e., the DNA information that makes you you) has been dropping like a rock. While getting your complete personal genomic data is still relatively expensive (thousands of dollars), the cost of getting less complete data is now at the point where it's almost an impulse purchase; for example, the startup company 23andme offers a service for $199 plus $5 per month that provides information on various places where your genome might differ from other peoples ("single nucleotide polymorphisms" or "SNPs", pronounced "snips") and some interpretation on what such differences might mean.
Maryland says, no DTC genetic testing for you « Frank Hecker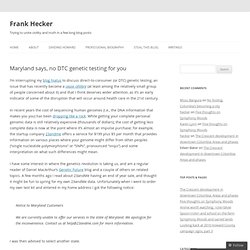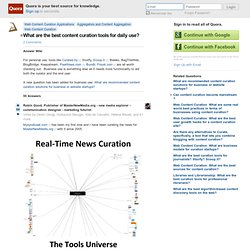 What are the best content curation tools for daily use
Mysyndicaat.com has been my first love and I have been curating the news for MasterNewMedia.org with it since 2005. Amplify.com is a great and simple, free solution that allows you great flexibility, easy clipping, editing and powerful distribution to all your preferred channels.Now: clipboard.com/ Scoop.it is a great and simple real-time news curation tool that I have been experimenting with in the last few days and I find it extremely useful.
Keith Olbermann Details New Show Name and Start Date [VIDEO]
Collaborative Consumption
Energy Tech - Environment