Storify
How Storify's content curation platform works. Advertisement Storify is a new platform for curating social media content.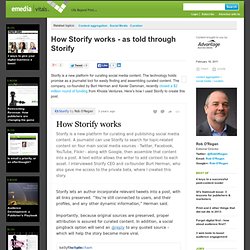 The technology holds promise as a journalist tool for easily finding and assembling curated content. The company, co-founded by Burt Herman and Xavier Damman, recently closed a $2 million round of funding from Khosla Ventures. Storify. The story behind Storify, new real-time curation service. Getting started - storify.com. Who we are and what we can do for you There is a lot of information streaming through the social web.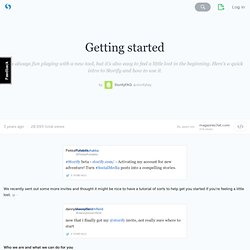 Tens of thousands of Tweets, Flickr photos, YouTube videos and the like are created every day. There's a lot of good out there, compelling photos and unique voices out there that could be relevant to whatever story you're trying to tell.
Storify. Storify (storify) Storination (storination) Xavier Damman (xdamman) Burt Herman (burtherman) Launches public beta - storify.com. We're truly honored by the hunger that we have seen for invites to the Storify private beta.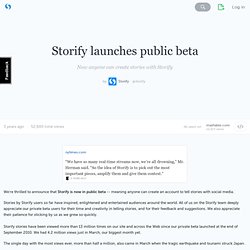 It's also been exciting to see people use our brand name as a verb, asking someone to "Storify" an event or social media conversation. Storify is opening our beta today so many more people have the chance to tell stories in this new form, and join the future of storytelling online. This is still very much the beginning of our journey.
Here at Storify, we have a lot more work ahead of us to realize our vision of a publishing platform built for the social Web. Thank you again for joining us and telling your amazing stories.
---