Saturday 2011-01-15
Did WikiLeaks And Facebook Bring Down Tunisia's Ben Ali? Rwanda: Bloggers take on Stephen Kinzer. An article by Stephen Kinzer criticizing Human Rights Watch's position on Rwanda was not well received in the blogosphere.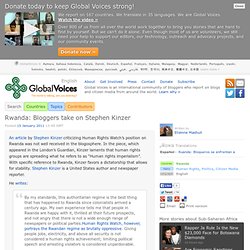 In the piece, which appeared in the London's Guardian, Kinzer laments that human rights groups are spreading what he refers to as "Human rights imperialism". With specific reference to Rwanda, Kinzer favors a dictatorship that allows for stability. Stephen Kinzer is a United States author and newspaper reporter. He writes: Collaborative Consumption. Collaborative consumption. The sharing economy (sometimes also referred to as the share economy, shared economy, mesh, collaborative economy, collaborative consumption) is a socio-economic system built around the sharing of human and physical assets.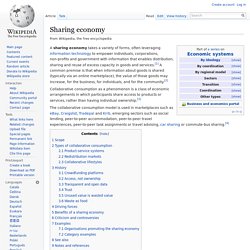 It includes the shared creation, production, distribution, trade and consumption of goods and services by different people and organizations. These systems take a variety of forms, often leveraging information technology to empower individuals, corporations, non-profits and government with information that enables distribution, sharing and reuse of excess capacity in goods and services.[1] A common premise is that when information about goods is shared, the value of those goods may increase, for the business, for individuals, and for the community.[2] Rachel Botsman: The case for collaborative consumption.
OWNI.eu, Digital Journalism. Ultimate CES 2011 Tablet Roundup: 25 Tablets Compared. To say there were a few tablets at the 2011 Consumer Electronics Show would be a vast understatement.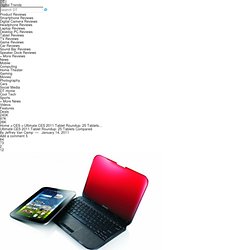 With more than 80 tablet launches in total, there were at least as many Android tablets and devices on the show floor as almost anything else, including 3D devices, which popped up almost everywhere else. There was even a 3D tablet, as a matter of fact. We've boiled down the overflowing list of tablets down to a manageable 25.
There are dozens we missed, no helping that. This is not a technical guide to the tablet world, merely a recap of some of the notable (and some notably bad) tablets we saw at the show. iPad 2 with High Res Screen, SD Card Slot and iPhone 5 with A5 Processor? Take a peek at some high probability rumors coming your way via Engadget, a couple about the iPad 2, iPhone 5, and a next generation Apple TV.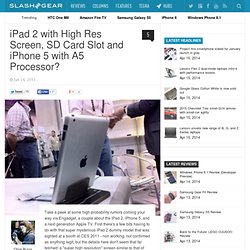 First there's a few bits having to do with that super mysterious iPad 2 dummy model that was sighted at a booth at CES 2011 - non working, not confirmed as anything legit, but the details here don't seem that far fetched: a "super high resolution" screen similar to that of iPhone 4's Retina Display (hotness.) Then there's the notion of an SD card slot - this one I and we are a little bit less confident in, unless Apple plans on marketing the iPad to be more like the easy-open G3 towers of yore, openable and customizable - almost like a computer that was meant to be modified!
The final couple of details on the iPad two are thus - a screen size that's exactly the same as the current model (likely,) and both front and rear cameras (also likely.) The Daily Slash: January 14, 2011. Epic war!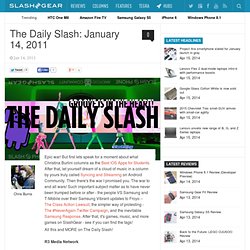 But first lets speak for a moment about what Christina Burlini columns as the Best iOS Apps for Students. After that, let yourself dream of a cloud of music in a column by yours truly called Syncing and Streaming on Android Community. Then there's the war I promised you. Population-wide reduction in salt consumption recommended. The American Heart Association Thursday issued a call to action for the public, health professionals, the food industry and the government to intensify efforts to reduce the amount of sodium (salt) Americans consume daily.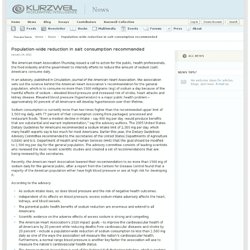 In an advisory, published in Circulation: Journal of the American Heart Association , the association sets out the science behind the American Heart Association's recommendation for the general population, which is to consume no more than 1500 milligrams (mg) of sodium a day because of the harmful effects of sodium – elevated blood pressure and increased risk of stroke, heart attacks and kidney disease. Elevated blood pressure (hypertension) is a major public health problem – approximately 90 percent of all Americans will develop hypertension over their lifetime. Sodium consumption is currently more than two times higher than the recommended upper limit of 1,500 mg daily, with 77 percent of that consumption coming from packaged, processed and restaurant foods.
Google Translate Adds Conversation Mode. Nouvel An: réception en mairie des nouveaux arrivants : Uzès. SICTOMU, DECHETTERIE accueil peu agréable. : Vivre à Uzès. Mémoire: les cuisines de l'Uzège aménagées dans l'ancien abattoir public : Uzès. L'abattoir en 1909.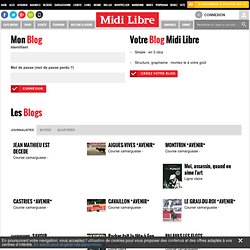 Jusque dans les années cinquante, Uzès possédait un abattoir public, accueillant tout abattage de bestiaux, rue de l'Escalette. Lorsqu'il fut supprimé s'y installa un atelier d'Eminence et, maintenant, depuis peu, viennent d'y être aménagées les cuisines ultra moderne de l'Uzège. Seul le blason en pierre porté par la façade rappelle cette origine. Cet abattoir public avait été confirmé par une ordonnance de Charles X, en 1829, qui précisait sont utilisation:« L'abattage des bœufs, vaches, veaux, moutons et porcs destinés à la consommation des habitants aura lieu exclusivement dans l'abattoir public. Toutes les tueries particulières seront interdites et fermées. » iPhone 5, iPad 2 to follow Motorola Xoom? iPhone 5, iPad 2 to follow Motorola Xoom?
iPhone 5 and iPad 2 will ditch the home button? Motorola Xoom, the forthcoming Android tablet, has no buttons present in most of current Android devices available. Rumor: iPad 2 To Launch On April 2nd or 9th. Although Apple is notoriously tight-lipped about new products in the pipeline, it's pretty easy to predict when they'll refresh one of their devices as long as you know when they last released an update… and this is doubly true for iOS devices, which follow a strict yearly update cycle.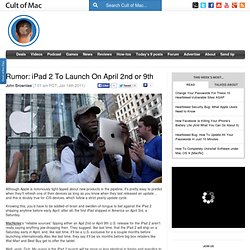 Knowing this, you'd have to be addled-of-brain and swollen-of-tongue to bet against the iPad 2 shipping anytime before early April: after all, the first iPad shipped in America on April 3rd, a Saturday. MacNotes's "reliable sources" tipping either an Apil 2nd or April 9th U.S. release for the iPad 2 aren't really saying anything jaw-dropping then. They suggest, like last time, that the iPad 2 will ship on a Saturday early in April, and, like last time, it'll be a U.S. exclusive for a a couple months before launching internationally.Also like last time, they say it'll be six months before big box retailers like Wal-Mart and Best Buy get to offer the tablet.
Well, yeah. Rumor: iPad 2 and iPhone 5 "have no Home button" By Richi Jennings.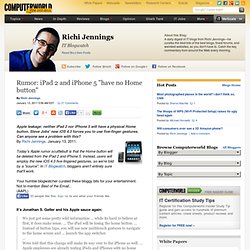 January 13, 2011. Today's Apple rumor scuttlebutt is that the Home button will be deleted from the iPad 2 and iPhone 5. Instead, users will employ the new iOS 4.3 five-fingered gestures, so we're told by a "source". In IT Blogwatch, bloggers aren't entirely sure that'll work. January 14, 2011 iPhone, iPad and iPod touch new releases | Appletell. Sections: iDevice Apps, iPad, iPhone, iPhone/iPod touch/iPad, iPod touch New iPhone, iPod touch and iPad product announcements for January 14, 2011: New iPhone, iPad and iPod touch apps In coordination with Concord Hospital urologist Dr.
Ronald Yap, 9magnets LLC has developed Prostate Pal 1.0, an intuitive iPhone application to help men monitor their prostate health. Twitter for Mac: 'Tweet' from Anywhere in OS X. Just a few days ago everyone (including us) was talking about a simple bookmarklet for Safari that sends the site title and link to Twitter for Mac (Tweetie 2). Last night, I even found a Safari extension that did the same thing but also adds a tweet option in the contextual menu (right click) within Safari. Right after I tweeted the link, @SebastienPeek told me "who needs that when you can highlight anything, right click and it'll show Tweet?"
I had no idea what he was talking about, do you? I asked him if it was Safari only and he went one step more and said that it's system wide, you can do it with a right click and highlight of any text. @BoltClock is credited with pointing me to this discovery. Tweeting tyrants out of Tunisia: the global Internet at its best. Even yesterday, it would have been too much to say that blogger, tweeters, Facebook users, Anonymous, and Wikileaks had "brought down" the Tunisian government, but with today's news that the country's president Zine El Abidine Ben Ali has fled the country, it becomes a more plausible claim to make. Of course there was more to such demonstrations than some new technology. An individual act of desperation set off the last month of rioting, as a college-educated young man set himself on fire after police confiscated his unlicensed fruit and vegetable cart.
Tunisia's high unemployment rate, rampant corruption, and rising food prices added to the anger at Ben Ali's 20+ year rule. People risked their lives in the street, with some getting a bullet for their troubles, but the Internet played a significant role in organizing these protests and in disseminating news and pictures of them to the world. Espionnage chez Renault : ouverture d'une enquête préliminaire. Le parquet de Paris a annoncé, vendredi 14 janvier, l'ouverture d'une enquête préliminaire confiée à la Direction centrale du renseignement intérieur (DCRI) sur l'affaire d'espionnage industriel qui secoue Renault. Le constructeur automobile a déposé plainte jeudi pour l'espionnage industriel dont le constructeur automobile se dit victime. "La plainte vise des faits de vol en bande organisée, d'abus de confiance aggravé et des faits de fourniture d'éléments intéressant le secret économique français à une puissance étrangère", a déclaré le procureur de Paris, Jean-Claude Marin.
Les données volées concernent le programme de voitures électriques du constructeur. Mardi, les trois cadres dirigeants de Renault soupçonnés dans cette affaire d'espionnage avaient été convoqués à des entretiens préalables à un éventuel licenciement. Politique : Hollande pense toujours pouvoir jouer sa carte. À son tour. Après Martine Aubry et Ségolène Royal jeudi, François Hollande présente aujourd'hui ses vœux pour 2011 depuis son fief de Tulle en Corrèze. «Je ne vais pas les instrumentaliser», promet-il dans une critique en creux de ses deux concurrentes pour l'investiture socialiste. En présence du préfet de région et de Bernadette Chirac, François Hollande promet un discours «consensuel». Russian state oil giant takes $7.8bn stake in BP - Business News, Business. Australian floods: Why were we so surprised? | Environment. Technical glitch forces Murdoch to delay iPad newspaper launch - Online, Media. Leading computer expert warns of cyber attack on National Grid - News, Gadgets & Tech.
Links for the 1/14 TRMS. Richard C. Holbrooke Is Remembered With Affection and Humor. Mats Larsson: Det räckte med en enda man för att störta diktatorn - Nyheter - Senaste nytt | Expressen - Nyheter Sport Ekonomi Nöje. Online tool can help seniors quickly determine risk for dementia. German 'action plan' after dioxin food scare. Blood pressure control system found in kidney's structural units. Posterous Cofounder Garry Tan Steps Down, Heads To Y Combinator.
Twitter For Mac's Spectacular Hidden Little Feature: Tweet Anything From Anywhere. Parislemon. Africa: Can white people be Africans? – Part 1. Jordan: Day of Anger Protests. Tunisia: Celebrations Welcome the End of Ben Ali's Rule. Arab World: Where is Ben Ali Headed to? Hur känner man igen en psykopat? Founder of Largest Financial Pyramid Opens a New One Online.
---