News
News - Evri
The Blatant Cynicism Of Cameron's Rhetorical War On Poles -Commentary- WARSAW — British Prime Minister David Cameron's recently announced plan to restrict social benefits for immigrants — in which he pointed at Poles as an example of a migrant group that abuses the system — is a strategy all about saving his career as the wonderful Conservative Party hero. It's un... Adam Leszczyński - GAZETA WYBORCZA
Worldcrunch - All News is Global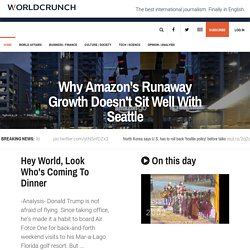 To-day's news, comments and reviews from The Manchester Guardian 1821 Edition
Egypt bomb kills new year churchgoers | World news
At least 21 people have been killed and more than 70 injured in Egypt in a suspected suicide bombing outside a church in Alexandria as worshippers left a new year service. It was initially thought a car bomb had caused the explosion just after midnight at the Coptic orthodox al-Qidiseen church. But the interior ministry suggested a foreign-backed suicide bomber may have been responsible.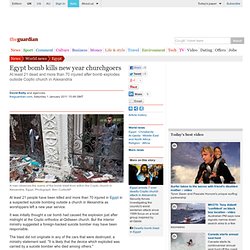 Sigalon's Daylife Soup
Sigalon's WorldNews Soup
Sigalon's News/Views Alternative Soup
Sigalon's Latest TV News Soup
Sigalon's NewsTrust Soup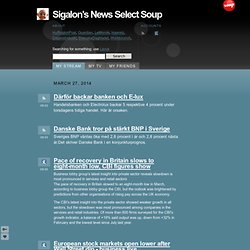 UK firm buys Warsaw-listed Cinema City International for £272m to expand operation in Israel and seven European countries Cineworld will become Europe's second largest cinema chain after Odeon UCI, as it unveiled plans to buy a major central European equivalent. Cineworld, which already earns the biggest box-office revenues in the UK, announced on Friday that it will buy Cinema City International, a Warsaw-listed company operating in seven countries in central and eastern Europe and Israel. Cineworld said it would pay £272m in cash for Cinema City in a deal that allows CCI to keep 24.9% of the shares. Shares in Cineworld rose almost 5% in early trading to 409.5 pence valuing the company at almost £620m.
Sigalon's News Select Soup
Sigalon's HuffingtonPost Soup
The search for the college of your dreams is time consuming, tough and sometimes unsuccessful. But, what if we told you that you didn't have to look anymore? What if we told you that we had in fact found the college of all colleges... the college of your wildest dreams.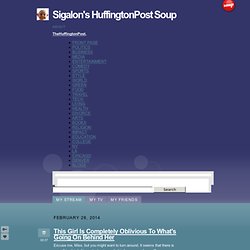 Breaking News and Opinion on The Huffington Post
Sigalon's NewsGoogle Soup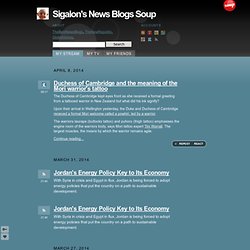 Sigalon's News Blogs Soup
The Navy's endless push to build cheaper ships alarmed Rep. Pete Visclosky, D-Ind., at a House hearing Tuesday. "You mention that we're hitting a cost target," he told the Navy brass about one class of vessels. "But if the ship's not survivable, I don't care if I meet my cost target if it's in the bottom of the ocean." Bingo! That's exactly where the Pentagon is looking to build underwater mini-depots for the U.S.
Sigalon's BBC Soup
Sigalon's News Soup
Sigalon's BP Oil Spill Soup
Gulf Oil Spill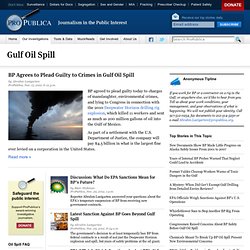 BP agreed to plead guilty today to charges of manslaughter, environmental crimes, and lying to Congress in connection with the 2010 Deepwater Horizon drilling rig explosion, which killed 11 workers and sent as much as 200 million gallons of oil into the Gulf of Mexico. As part of a settlement with the U.S. Department of Justice, the company will pay $4.5 billion in what is the largest fine ever levied on a corporation in the United States.