News
Egypt bomb kills new year churchgoers | World news
A man observes the scene of the bomb blast from within the Coptic church in Alexandria, Egypt. Photograph: Ben Curtis/AP At least 21 people have been killed and more than 70 injured in Egypt in a suspected suicide bombing outside a church in Alexandria as worshippers left a new year service.
Sigalon's Daylife Soup
Sigalon's WorldNews Soup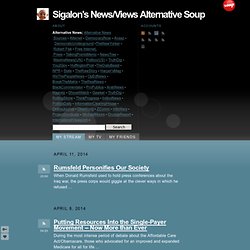 Sigalon's News/Views Alternative Soup
At the precise moment US President Barack Obama's Air Force One touched down at Ben Gurion Airport on March 20, persisting illusions quickly began to shatter. And as he walked on the red carpet, showered with accolades and warm embraces of top Israeli government and military officials, a new/old reality began to sink in: Obama was no different than his predecessors. He never had been.
Sigalon's Latest TV News Soup
Sigalon's NewsTrust Soup
The Guardian - By Glenn Greenwald - Mar. 28 (Advocacy) - A growing hunger strike among detainees is mocked by gullible journalists spouting familiar Potemkin Village propaganda If you're looking for a fun activity-filled resort to take your family for a summer vacation, you simply cannot do better than Club GTMO, according to a new glossy travel guide just published by Robert Johnson, the Defense Editor of Business Insider, under the guise of a news article. Scrumptious meals. Video games galore for the kids.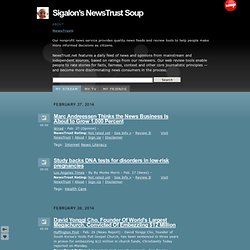 Sigalon's News Select Soup
Sigalon's HuffingtonPost Soup
Actress Francisca Gavilán grew up listening to the music of folksinger Violeta Parra in her home, quietly. Parra's music wasn't exactly forbidden during Augusto Pinochet's military dictatorship, but the authorities frowned upon it. "We sang it silently," Gavilán says.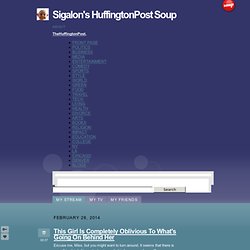 Sigalon's NewsGoogle Soup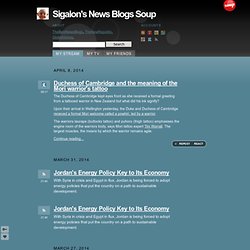 Sigalon's News Blogs Soup
Chris Rock doesn't think so: A reader writes: Your reader who complained about having to pay $500/month in alimony "just because he was a man" might not have told the whole story. If I'm wrong I apologize, but it may also have been because he was bailing on the marriage and the wife did not want to divorce. I suppose it depends on which state that was. I was divorced in California, and the divorce was mutually agreed by my wife and I.
Sigalon's BBC Soup
Sigalon's News Soup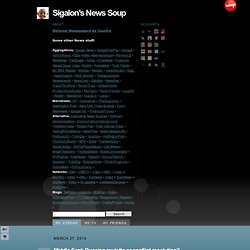 A photo-blogger based in the city of Voronezh, located in central Russia not far from the Ukranian border, has taken a series of striking photographs [ru] (including an animated panorama) of a small, forgotten "slum" hiding in the center of an otherwise modern and populous urban area. The "slum", which turns out to be mainly abandoned buildings, looks like a set for a WWII movie — ironic in a city that was rebuilt after heavy destruction during the war.
Sigalon's BP Oil Spill Soup
Gulf Oil Spill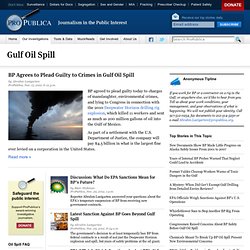 BP agreed to plead guilty today to charges of manslaughter, environmental crimes, and lying to Congress in connection with the 2010 Deepwater Horizon drilling rig explosion , which killed 11 workers and sent as much as 200 million gallons of oil into the Gulf of Mexico. As part of a settlement with the U.S. Department of Justice, the company will pay $4.5 billion in what is the largest fine ever levied on a corporation in the United States. Read more »