News
News - Evri. Worldcrunch - All News is Global. To-day's news, comments and reviews from The Manchester Guardian 1821 Edition.
DemocracyNow!
Egypt bomb kills new year churchgoers | World news. A man observes the scene of the bomb blast from within the Coptic church in Alexandria, Egypt.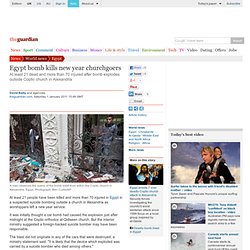 Photograph: Ben Curtis/AP At least 21 people have been killed and more than 70 injured in Egypt in a suspected suicide bombing outside a church in Alexandria as worshippers left a new year service. English. Sigalon's Daylife Soup. Sigalon's WorldNews Soup. Newer posts are loading.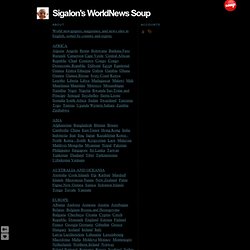 You are at the newest post.Click here to check if anything new just came in. IMF agrees $14-18 billion bailout for Ukraineimg: embedded image China to strengthen Internet security after U.S. spying reportimg: embedded image Six stabbed to death in family dispute in Beijingimg: embedded image. Sigalon's News/Views Alternative Soup. Sigalon's Latest TV News Soup. Sigalon's NewsTrust Soup. Readersupportednews.org - By Carl Gibson - Feb. 24 (News Analysis) - United States foreign policy can be summed up as hard power vs. soft power.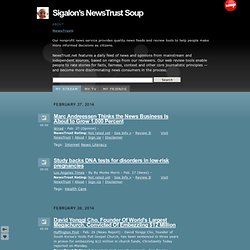 An example of hard power is the US backing the unsuccessful 2002 military coup d'état against Venezuelan president Hugo Chavez, when businessman Pedro Carmona Estanga briefly took power. An example of the US's soft power is the current situation in Venezuela. Sigalon's News Select Soup. 8.19am GMT Meanwhile, the International Monetary Fund has agreed a $14-18bn stand-by agreement with Ukraine, a deal that will unlock further loans to reach a total of $27bn over the next two years.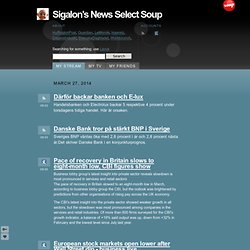 In a sign that the Ukraine crisis is affecting some businesses, Eurasia Drilling Russia's biggest oilfield services company said it expects a fall in 2014 revenues due to the weaker rouble (as well as Rosneft's decision to develop its own servicing business). 8.16am GMT In London, shares in SSE and British Gas owner Centrica fell after Ofgem, the energy regulator, asked the Competition Commission to investigate the Big Six energy suppliers. Sigalon's HuffingtonPost Soup. "Jokes can be noble.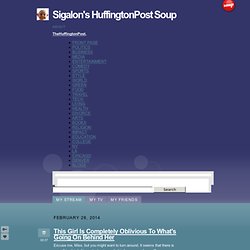 Laughs are exactly as honorable as tears. Laughter and tears are both responses to frustration and exhaustion, to the futility of thinking and striving anymore. Breaking News and Opinion on The Huffington Post. Sigalon's NewsGoogle Soup. Sigalon's News Blogs Soup. The Navy's endless push to build cheaper ships alarmed Rep.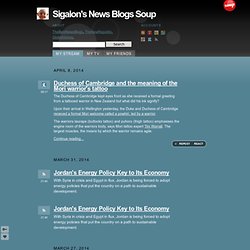 Pete Visclosky, D-Ind., at a House hearing Tuesday. "You mention that we're hitting a cost target," he told the Navy brass about one class of vessels. "But if the ship's not survivable, I don't care if I meet my cost target if it's in the bottom of the ocean." Bingo! That's exactly where the Pentagon is looking to build underwater mini-depots for the U.S.
Sigalon's BBC Soup. Sigalon's News Soup. Sigalon's BP Oil Spill Soup. Gulf Oil Spill. BP agreed to plead guilty today to charges of manslaughter, environmental crimes, and lying to Congress in connection with the 2010 Deepwater Horizon drilling rig explosion, which killed 11 workers and sent as much as 200 million gallons of oil into the Gulf of Mexico.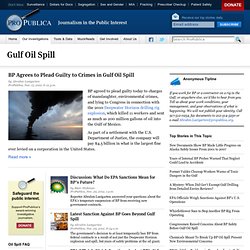 As part of a settlement with the U.S. Department of Justice, the company will pay $4.5 billion in what is the largest fine ever levied on a corporation in the United States.
---