Music All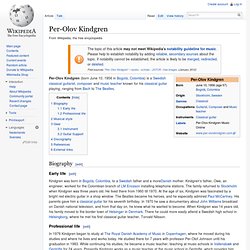 Per-Olov Kindgren (born June 10, 1956 in Bogotá, Colombia) is a Swedish classical guitarist, composer and music teacher known for his classical guitar playing, ranging from Bach to The Beatles. Biography[edit] Early life[edit] Professional life[edit] In 1976 Kindgren began to study at The Royal Danish Academy of Music in Copenhagen, where he moved during his studies and where he lives and works today.
Per-Olov Kindgren
Swedish guitarist Per-Olov KiNDGREN was born in Bogota, Colombia and came to Sweden when he was 4 years old. He studied for 7 years at the Danish Royal Academy of Music with professor Per-Olof Johnson and graduated with a final diploma in 1983. Mr. Kindgren composes and arranges not only works for guitar but for other instruments as well. His soft and melodic and often melancholic pieces, are now being played all over the world and even used as music for independent films. Mr.
per-olov - GuitarTube Channel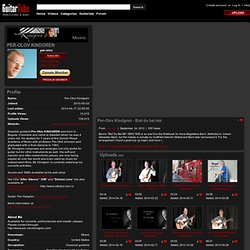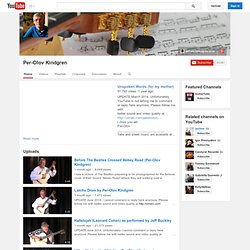 NEW! Per-Olov Kindgren's 3rd solo CD "AIR" is now available from his website. It includes pieces by Bach, Albinoni, Pachelbel, Handel, Dowland and others. "Swedish classical guitarist Per-Olov Kindgren was born in Bogota, Colombia and came to Sweden when he was 4 years old.
AndanteLargo's Channel
Per-Olov Kindgren Classical Guitarist
Spotify
N'en déplaise au Père Noël, aux consuméristes, aux athées ou aux croyants de confession différente, Noël est et restera la fête de la nativité ; autrement dit, une fête Chrétienne. Est-ce à dire qu'il ne faut rien fêter si vous n'y croyez pas ? C'est une vraie question mais une chose est sûre, Jésus n'est la propriété de personne alors qui que vous soyez et quoi que vous en pensiez, tâchez au moins de passer du bon temps, c'est peut être ça le principal ! Pour certains, Noël, c'est avant tout Jésus, et donc forcément Marie. Laissons Michael Jackson chanter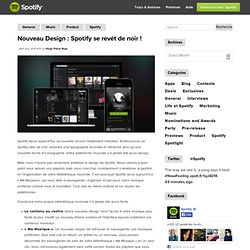 Jazz | JazzReview.com Magazine is your complete guide to Jazz Music on the Web
AccuJazz.com - The future of jazz radio
Swing, jazz and blues - Dance to the music
KJazz 88.1 FM | Listen
We're very sorry, Last.fm's servers are full at the moment. Please try again later. Thanks for your patience.