IT - Blogs
Keep Track of your Favorite Bloggers and Columnists. 17 Jan 2011 uFollow is a free web service that helps you keep track of your favorite bloggers and columnists from one place.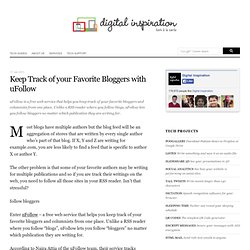 Unlike a RSS reader where you follow blogs, uFollow lets you follow bloggers no matter which publication they are writing for. couch mode print story Most blogs have multiple authors but the blog feed will be an aggregation of stores that are written by every single author who's part of that blog. What Programs are Accessing the Internet? You only have a couple of websites open on your screen and yet the data activity light of the modem / router is constantly blinking indicating that one or more programs are actively uploading or downloading data from the Internet .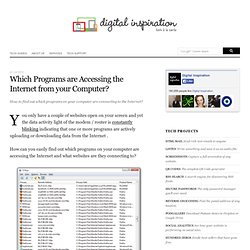 How can you easily find out which programs on your computer are accessing the Internet and what websites are they connecting to? Find Which Programs are Connecting to the Internet You have quite a few options. Geekazine.com Network with Your Host: Jeffrey Powers. Dan Bricklin: The personal web site of the co-creator of VisiCalc. Between the Lines. Mozilla Labs. Lifehacker, tips and downloads for getting things done.
TechBlog | Upgrade your geek with Dwight Silverman | Chron.com - Houston Chronicle. Technology News: Breaking Stories, New Product Reviews, Science, Space. Cranky Geeks. Technology News. Technology - Bits Blog. Professional Online Publishing: New Media Trends, Communication Skills, Online Marketing - Robin Good's MasterNewMedia. Download Squad - Gadgets, Gizmos, Reviews and Downloads.
Pmarca. Last100. ReadWriteWeb - Web Apps, Web Technology Trends, Social Networking and Social Media. Blog Network. The Digital Edge Blog — Just another WordPress site. Webware - Cool Web apps for everyone. Cool Websites, Software and Internet Tips. 606 Tech Forums. Scobleizer — Searching for world-changing technology. GigaOM – Technology News, Analysis and Trends.
---