History General
World Digital Library Home. Timelines of History, Today in History, World History. World History : HyperHistory. People and Places of the Middle Ages - Medieval People and Places. The directories here will help you find biographical information about notable individuals, historical background on cultural groups, and the history of various geographical areas throughout the Middle Ages.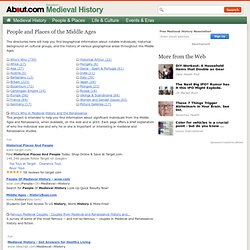 Who's Who in Medieval History and the RenaissanceThis project is intended to help you find information about significant individuals from the Middle Ages and Renaissance, when available, on the web and in print. Each page offers a brief explanation of who the individual was and why he or she is important or interesting in medieval and Renaissance studies. History.com — History Made Every Day — American & World History. About.com: History News Network. Paul Halsall/Fordham University: Internet History Sourcebooks Project. Internet History Sourcebooks Project Paul Halsall, Editor Last Modified: Nov 4 2011 | linked pages may have been updated more recently The Internet History Sourcebooks Project is a collection of public domain and copy-permitted historical texts presented cleanly (without advertising or excessive layout) for educational use.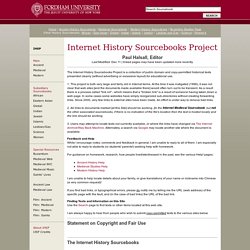 Update Information 2006: In 2006 the Internet History Sourcebooks Project is undergoing a major overhaul to remove bad links and add more documents. 1. Historiography. Historiography refers to both the study of the methodology of historians and the development of "history" as a discipline, and also to a body of historical work on a particular subject.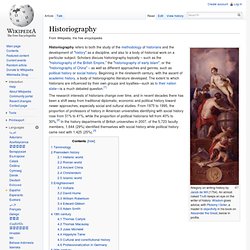 Scholars discuss historiography topically – such as the "historiography of the British Empire," the "historiography of early Islam", or the "historiography of China" – as well as different approaches and genres, such as political history or social history. Beginning in the nineteenth century, with the ascent of academic history, a body of historiographic literature developed.
The extent to which historians are influenced by their own groups and loyalties—such as to their nation state—is a much debated question.[1] World Digital Library Home. History. Those who cannot remember the past are condemned to repeat it.[1] History (from Greek ἱστορία, historia, meaning "inquiry, knowledge acquired by investigation")[2] is the study of the past, specifically how it relates to humans.[3][4] It is an umbrella term that relates to past events as well as the discovery, collection, organization, and presentation of information about these events.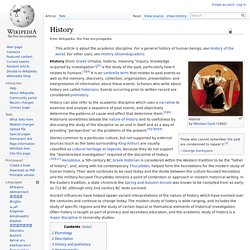 The term includes cosmic, geologic, and organic history, but is often generically implied to mean human history. Scholars who write about history are called historians. Events occurring prior to written record are considered prehistory.
---