Food History/Reference
Get flash to fully experience Pearltrees
January 1, 2009 — A biochemist and cook explains that cooking is all about chemistry and knowing some facts can help chefs understand why recipes go wrong. Because cooking is essentially a series of chemical reactions, it is helpful to know some basics. For example, plunging asparagus into boiling water causes the cells to pop and result in a brighter green.
The Dark Ages The evening meal, in Rome as in Greece of old, was the chief meal of the day, and, on special occasions, whenever dispensing hospitality, the Romans provided some form of entertainment for their guests towards the end of dinner.
Foods from plant sources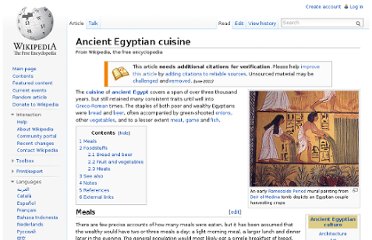 The cuisine of ancient Egypt covers a span of over three thousand years, but still retained many consistent traits until well into Greco-Roman times.