Automotive - Selected Content
The Lito Sora - the biggest, baddest electric motorcycle in Montreal. Montreal's Lito has thrown its hat into the ring with a new electric motorcycle that makes some pretty outrageous claims.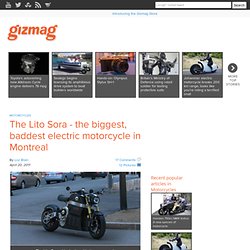 A full 12 kilowatt-hours' worth of onboard lithium polymer batteries gives the Sora a massive 300 km range – that's 185 miles between charges. Or you can choose to wrap the throttle on and scream up to a top speed of 200 km/h (125 mph). With chopper/fighter bad boy looks and some interesting and innovative features like in-dash touch screen GPS and electronically adjustable ergonomics, the Sora looks like an absolute animal of a machine. You can't help but think that if it had an accessible pricetag, it would look very tempting to the average biker. View all. - Elon Musk: all cars sold in 2030 will be electric, boogie woogie woogie optional. Apparently when Elon Musk was talking last week at the Cleantech Investors Summit, the Tesla CEO's prognosticating extended far past 2015.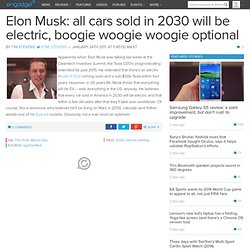 He reiterated that there's an electric Model X SUV coming soon and a sub-$30k Tesla within four years. However, in 20 years Mr. Musk thinks that everything will be EV -- well, everything in the US, anyway. He believes that every car sold in America in 2030 will be electric and that within a few decades after that they'll take over worldwide. Of course, this is someone who believes he'll be living on Mars in 2030, naturally sent thither astride one of his SpaceX rockets. Volvos elbil krockad i Detroit | Motor. Volvo har krocktestat en C30 Electric i frontkrock på samma sätt Euro NCAP gör – förskjuten så att 40 procent av förarsidan träffar barriären.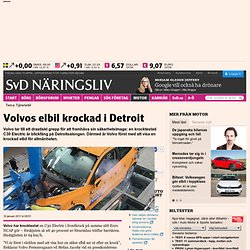 Hastigheten är 64 km/h. "Vi är först i världen med att visa hur en säker elbil ser ut efter en krock", förklarar Volvo Personvagnars vd Stefan Jacoby vid en presskonferens idag måndag, 10:e januari. Med en orangefärgad kraschad C30 Electric vill Volvo visa att det går att bygga eldrivna bilar där både batterier och högvoltskablar är helt intakta även efter en kraftig frontalkrock. Bilen har körts med 40 procent av fronten in i krockbarriären med en hastighet på 64 km/h (45 mph). Resultatet talar för sig självt: alla elektrisk huvudkomponenter som batteri, kraftelektronik och högspänningskablar är oskadade efter krocken.
2011 Detroit auto show - CNET Reviews.
---