Automotive - Selected Content
The Lito Sora - the biggest, baddest electric motorcycle in Montreal
Montreal's Lito has thrown its hat into the ring with a new electric motorcycle that makes some pretty outrageous claims. A full 12 kilowatt-hours' worth of onboard lithium polymer batteries gives the Sora a massive 300 km range – that's 185 miles between charges.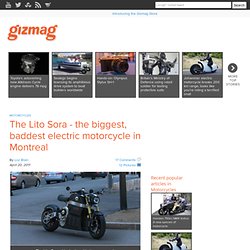 -
Elon Musk: all cars sold in 2030 will be electric, boogie woogie woogie optional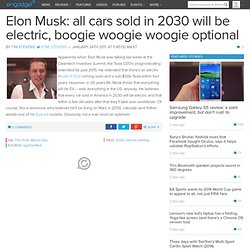 Apparently when Elon Musk was talking last week at the Cleantech Investors Summit, the Tesla CEO's prognosticating extended far past 2015. He reiterated that there's an electric Model X SUV coming soon and a sub-$30k Tesla within four years.
Volvo har krocktestat en C30 Electric i frontkrock på samma sätt Euro NCAP gör – förskjuten så att 40 procent av förarsidan träffar barriären. Hastigheten är 64 km/h.
Volvos elbil krockad i Detroit | Motor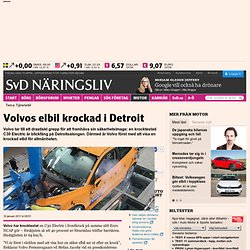 2011 Detroit auto show - CNET Reviews