Android
Get flash to fully experience Pearltrees
The Google-owned Blogger network has released a free app designed to enable people who have built their blogs on the Blogger platform to easily update them from their Android smartphones. Unveiled this week, the program lets people bang out copy, and take photos with their phones, from directly inside the app--and then either publish their words and images straightaway or save a draft for later. Posts and drafts can be viewed directly in the app or, by way of a quickly accessible menu, in a browser. Users can also select their location and include that information with their post, switch between different accounts and blogs, and select photos from their gallery for uploading.
This morning Google held an event to showcase Android Honeycomb, the new version of the mobile OS that is focused on tablets. There wasn't much news around the OS — we've seen it previewed in a few demos — but the team did show off some of Honeycomb's slickest features, like widgets and an improved 3D rendering engine. But what about actually using the tablet OS?
Just when you thought Oracle didn't have a case to sue Google for patent infringement, software patent blog FOSSPatents dug up a shocking-yet-not-so-shocking revelation: 43 source files that were written specifically for Java turn up in Android's source code. The issue here isn't that Google "borrowed" that source code. Nor does the new heft of it give that much more weight to the case in question.
La nouvelle fonctionnalité de Facebook Messenger , permettant de passer des appels gratuits en utilisant sa connexion internet, jusque là réservée au Canada et aux US, est disponible en France . Désormais, lorsque vous cliquerez sur la petite icone « i » d'un contact, un bouton « appel gratuit » apparaîtra. Ce dernier sera grisé si votre contact ne peut pas recevoir d'appel, s'il n'utilise pas l'application sur Android ou iOS, ou s'il est déconnecté.
Here's a glimpse at Android 3.0 Honeycomb, as previewed earlier today at the Consumer Electronics Show in Vegas. The goodies include: ...refined multi-tasking, elegant notifications, access to over 100,000 apps on Android Market, home screen customization with a new 3D experience and redesigned widgets that are richer and more interactive. We've also made some powerful upgrades to the web browser, including tabbed browsing, form auto-fill, syncing with your Google Chrome bookmarks, and incognito mode for private browsing. Honeycomb also features the latest Google Mobile innovations including Google Maps 5 with 3D interactions and offline reliability, access to over 3 million Google eBooks, and Google Talk, which now allows you to video and voice chat with any other Google Talk enabled device (PC, tablet, etc).
Tablets are all the rage at the CES this week, and while some feel Android is not ready for tablets yet my experience with a Samsung Galaxy Tab conflicts with that POV. I grabbed a Galaxy Tab when it first appeared on the market and it has become a powerful tool for me due to an assortment of good apps. The Android Market is growing every day as new apps appear, and it can be difficult to find the good ones. Here is a list of the top 10 Android apps I use daily on my Galaxy Tab. We all use our gadgets uniquely so these apps may not make your list, but they work well for me. Note that these are not specific to the larger screen of the Tab, they work fine on Android phones.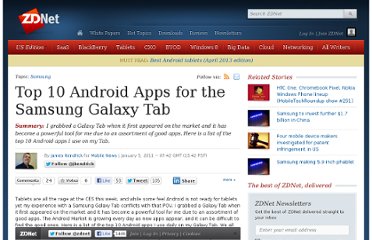 Network World - Google Wednesday released a preview of the software development kit for Android 3.0, which has been designed specifically for mobile devices with larger screens, particularly tablets. The Android SDK also will support new administrative policies aimed at managing and securing enterprise tablet deployments, such as encrypted storage and password expiration. HISTORY LESSON: The Google Android timeline The announcement came in a blog post by Xavier Ducrohet , Android SDK Tech Lead. "We'll be releasing a final SDK in the weeks ahead that you can use to build and publish applications for Android 3.0," Ducrohet writes.