Africa
Get flash to fully experience Pearltrees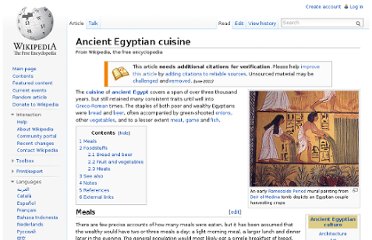 The cuisine of ancient Egypt covers a span of over three thousand years, but still retained many consistent traits until well into Greco-Roman times.
[ edit ] Prehistory There is evidence of rock carvings along the Nile terraces and in desert oases. In the 10th millennium BC , a culture of hunter-gatherers and fishers was replaced by a grain -grinding culture . Climate changes and/or overgrazing around 8000 BC began to desiccate the pastoral lands of Egypt, forming the Sahara . Early tribal peoples migrated to the Nile River where they developed a settled agricultural economy and more centralized society . [ 1 ] By about 6000 BC, a Neolithic culture rooted in the Nile Valley. [ 2 ] During the Neolithic era, several predynastic cultures developed independently in Upper and Lower Egypt .
African States between 500 BCE and 1500 CE The history of Africa begins with the prehistory of Africa and the emergence of Homo sapiens in East Africa , continuing into the present as a patchwork of diverse and politically developing nation states. Some early evidence of agriculture in Africa dates from 16,000 BCE, [ 1 ] and metallurgy from about 4000 BCE.