Musique
Mon arbre à perles s'accorde avec mes centres d'intérêts qui concernent l'actualité de :
- l'économie,
- la géopolitique,
- la littérature principalement francophone et états-usienne,
- le jardinage,
- la pédagogie,
- la musique classique américaine,
- les brocantes et antiquités
- et la mode.
Une Voix Noire Par Serge Lutens | Maryo's Bazaar. « Southern trees bear strange fruit / Blood on the leaves and blood on the root / Black bodies swinging in the southern breeze / Strange fruit hanging from poplar trees.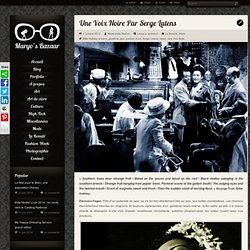 Pastoral scene of the gallant South / The bulging eyes and the twisted mouth / Scent of magnolia sweet and fresh / Then the sudden smell of burning flesh. » Strange Fruit. Billie Holiday. Fantastic Voyage. Extrafly.
---