Vintage
Gentlemans Emporium. NMAH. Ye Olde Fashion. Thestarsonthehorizon asked: I've recently been flipping through your blog and I stumbled upon a post from February 2011 where you posted newspaper clippings from The Times, London, January 19, 1792.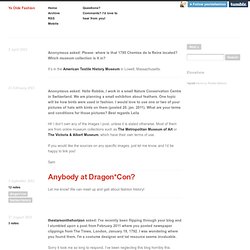 I was wondering where you found them. I'm a costume designer and tat resource seems invaluable. Sorry it took me so long to respond, I've been neglecting this blog horribly this summer as I'm sure people have noticed. The London Times are available to the public through ancestry.com and newspaperarchive.com, both of which are unfortunately pay sites. My actual professional background is in historical research, so I tend to accumulate sources and articles while doing other work.
The Vintage Aviator.
---