Actueel
RePress project. Factropolis. Storyful. Futurity.org. X planes. I've been busy raising an heir, and also plotting what will be the greatest science fiction novel of the new millennium (in my head, of course).
I'll be back soon. oh, ok. this can't really wait until next year.. (via Code One Magazine's Facebook page) the year has escaped me. I'll be back in 2014. goodwill to all of you. Global Terrorism Database. The GTD 2012 WebGL Globe is an interactive geographic visualization, currently in beta, that plots the location and frequency of terrorist attacks worldwide.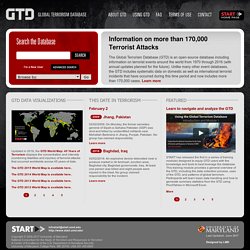 It was developed by START using the WebGL Globe open platform created by the Google Data Arts Team. The GTD 2012 World Map displays the concentration and intensity (combining fatalities and injuries) of terrorist attacks that occurred worldwide in 2012. The GTD Data Rivers is an interactive visual exploratory tool that allows users to investigate temporal trends in terrorism in the Global Terrorism Database (GTD).
The GTD Data Rivers aggregates important variables from the database and visualizes them as a comprehensible stack chart. Web of Stories. Download Graphic Images from the Hillis/Bull Lab. Return to "Download Files" Page You are welcome to download the following graphic image of the Tree of Life for non-commercial, educational purposes: Tree of Life (~3,000 species, based on rRNA sequences) (pdf, 368 KB)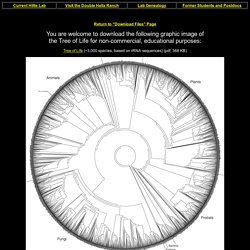 GahetNA. eYouGuide | Europa. Vivos - Underground Shelter Network for Surviving 2012 and Beyond. Vision of Humanity.
---