Technology
February 2002 I was talking recently to a friend who teaches at MIT. His field is hot now and every year he is inundated by applications from would-be graduate students. "A lot of them seem smart," he said.
Taste for Makers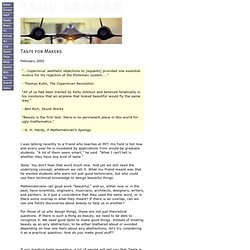 Example of a complete binary max-heap with node keys being integers from 1 to 100 In computer science, a heap is a specialized tree-based data structure that satisfies the heap property: If A is a parent node of B then the key of node A is ordered with respect to the key of node B with the same ordering applying across the heap. Either the keys of parent nodes are always greater than or equal to those of the children and the highest key is in the root node (this kind of heap is called max heap) or the keys of parent nodes are less than or equal to those of the children and the lowest key is in the root node (min heap). Heaps are crucial in several efficient graph algorithms such as Dijkstra's algorithm, and in the sorting algorithm heapsort.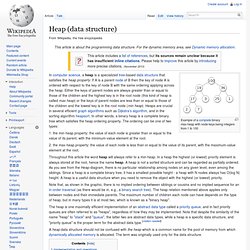 Heap (data structure)
IRC Information..... Quick Reference to mIRC Commands Download here a zip/exe file which runs a program giving you easy access to these commands. Very Kewl!
#Beginner - mIRC Commands Listing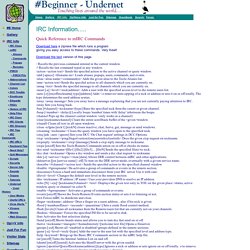 Network Working Group R. Fielding Request for Comments: 2616 UC Irvine Obsoletes: 2068 J. Gettys Category: Standards Track Compaq/W3C J. Mogul Compaq H.
Hypertext Transfer Protocol -- HTTP/1.1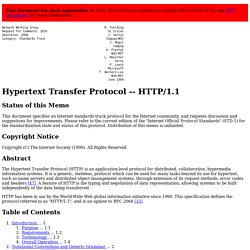 Tracking change and innovation in the enterprise software development community
Publicly Available Standards
ISO Copyright for the freely available standards The following standards are made freely available for standardization purposes. They are protected by copyright and therefore and unless otherwise specified, no part of these publications may be reproduced or utilized in any form or by any means, electronic or mechanical, including photocopying, microfilm, scanning, reproduction in whole or in part to another Internet site, without permission in writing from ISO. Requests should be addressed to the ISO Central Secretariat.