Interview
Asp.net interview questions scott hanselman. ASP.NET Interview Questions. What Great .NET Developers Ought To Know (More .NET Interview Questions) New Interview Questions for Senior Software Engineers. Interview Questions (Scott Hanselman) & Answers (Muhammad Adnan Amanaullah) :) - live wid knowledge :) Let's answer Scott Hanselman interview questions.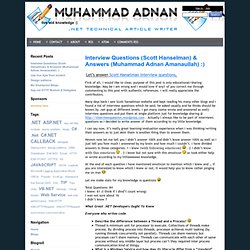 First of all, I would like to clear, purpose of this post is only educational/sharing knowledge. May be i am wrong and i would love if any1 of you correct me through commenting to this post with authentic references. i will really appreciate the contributors. Many days back I saw Scott hanselman website and kept reading his many other blogs and I found a list of interview questions which he said, he asked usually and he thinks should be known by .net guys at different levels.
I got many (some wrote and answered as well) interview questions and put them at single platform just for knowledge sharing @ . Actually I always like to be part of interviews questions so I decided to write answer of them according to my little knowledge.
---