Green Innovation
Framtidens växthus byggs på höjden | Idagsidan. URBAN ODLING - En serie som gräver på djupet.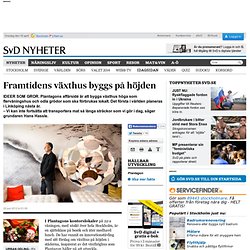 I Plantagons kontorslokaler på 22:a våningen, med utsikt över hela Stockholm, är en sjätteklass på besök och äter medhavd lunch. De har vunnit en innovationstävling med sitt förslag om växthus på höjden i städerna, inspirerat av det växthöghus som Plantagon håller på att utveckla. – De hade en jättebra idé om att byta ut tegeltaken på husen i stan mot glas och odla på vindarna, säger Plantagons vd Hans Hassle entusiastiskt. Det företag han driver håller på att utveckla ett sätt att odla grödor inne i städerna, genom vertikal odling i växthus på höjden.
Det första i världen planeras att byggas i Linköping – just nu väntar man på en detaljplan för att sedan söka bygglov – och Hans Hassle hoppas att det ska stå klart nästa år. Greendiary : Greendiary - Let's go green and save the environment for a sustainable future. Vertical Farming. Algae, like all plants, require carbon dioxide, water with nutrients and sunlight for growth.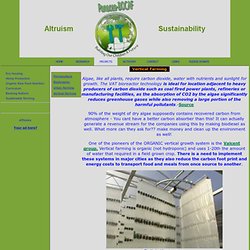 The VAT bioreactor technology is ideal for location adjacent to heavy producers of carbon dioxide such as coal fired power plants, refineries or manufacturing facilities, as the absorption of CO2 by the algae significantly reduces greenhouse gases while also removing a large portion of the harmful pollutants. -Source 90% of the weight of dry algae supposedly contains recovered carbon from atmosphere - You cant have a better carbon absorber than this! It can actually generate a revenue stream for the companies using this by making biodiesel as well.
World's 1st Plantagon Greenhouse for Urban Farming Under Construction (in Sweden) Agriculture Published on February 13th, 2012 | by Zachary Shahan Here's a pretty cool urban farming solution—a Plantagon greenhouse for urban farming.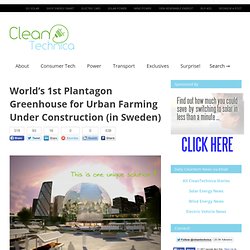 Construction on the first one broke ground in Sweden last week. This unique vertical-farming greenhouse will also be "[part of] an international Centre of Excellence for Urban Agriculture, a demo-plant for Swedish clean-tech and a climate-smart way to use excess heating and CO2 from industries," a news release on the groundbreaking states.
Aside from offering an innovative vertical farming solution, "Plantagon plans to develop integrated solutions for energy, excess heat, waste, CO2 and water" in cooperation with several partners. Energy Farms.
---