Quotes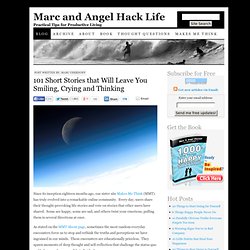 101 Short Stories that Will Leave You Smiling, Crying and Thinking - StumbleUpon
post written by: Marc Chernoff Email Since its inception eighteen months ago, our sister site Makes Me Think (MMT) has truly evolved into a remarkable online community. Every day, users share their thought-provoking life stories and vote on stories that other users have shared.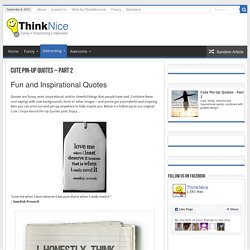 Cute Pin-Up Quotes - Part 2 | Fun Quotes | Famous Quotes& | ThinkNice.com
Quotes are funny, wise, inspirational, and/or cheerful things that people have said. Combine these cool sayings with cute backgrounds, fonts or other images – and you've got a wonderful and inspiring item you can print out and pin-up anywhere to help inspire you. Below is a follow-up to our original Cute / Inspirational Pin-Up Quotes post.
a.y. - my Quotes pt.1 . . .oO° - Polyvore
Some wise and funny quotes from famous and anonymous people. 1. Advertising modern art 2. Ambition
Quotes: Wise quotes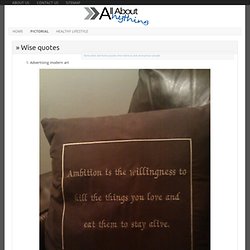 Simply Quotes - StumbleUpon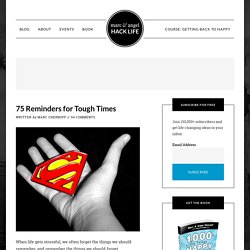 post written by: Marc Chernoff Email When life gets stressful, we often forget the things we should remember, and remember the things we should forget. Here are 75 reminders to help motivate you when you need it most. Tough times never last, but tough people do. - Robert H. Schuller
75 Reminders for Tough Times - StumbleUpon
12:16pm | Jun 20th, 2010 "Love is a temporary madness; it erupts like volcanoes and then subsides. And when it subsides you have to make a decision.
Love is a temporary madness;&8230; | Goodmorning & Goodnight
The Best Quotes - 1 to 10
Board of Wisdom Log In Skip to Content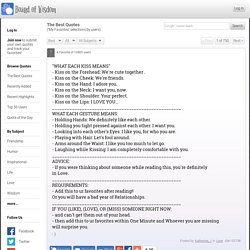 Life Quotes | Cute Quotes