Houuse stufffffffffff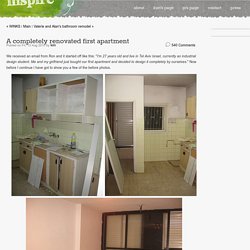 what a makeover! this made me feel 'myownapartamentsick' even more than ever :)bulb-lamp is great, i also made something like that, but there were less bulbs so the effect wasn't that stunning. love the shower, look really great, also the brick wall and, what surprised me, that green tone in the bedroom. you had great ideas and you fortunately put them into effect. the one thing i dislike is a study room. i hate that desk and chair, they just so boring actually. but i adore the red wall and those cat-things, sorry, i have no idea how to call it. ;)
Parlour: Cheery Home
Hello my lovely readers! This past weekend was so crazy! We lost our power Thursday night – I'm so glad I schedule my draft post – The bad part I spend days without power in our house, when you work in your computer that's kind of a vital ingredient hehe. This past storm was pretty big and brought a lot of snow and that caused a lot of trees fall down =[ It was my first time in a storm like this and it was pretty surprising to see a lot of street closed, cars stuck and not being able to cook or have heater (the bad part about having electric stove!) So now that you are all updated in my weekend, I want to share some of my favorite Craft room/Office images, all of them collected via Pinterest! [source]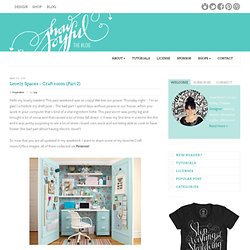 This is the most beautiful felt project we've seen. Strips of felt are wrapped around each other with hot glue to create this amazing swirled effect. What a great project for a snowed-in weekend and a movie marathon with the family.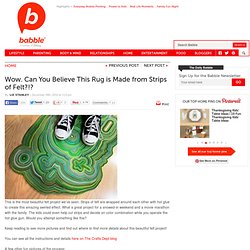 miss, miss design, miss-design, missdesign, design, illustration, interior, interior design, style interior, interior old style, workspace, workplace, creative workspace, veranda, garden, balcony, exterior, photography, studio, 3d, typography, blog, person, architecture, arts, creative, layout, design studio, inspire, inspiration, technology, resources, tools, internet tools, discussions, bridal bouquet, font, free font, digital art, logo, logotype, typographic design, tutorial, tutorials, icon, icon tutorial, how to, industrial design, camera lens, canon, nikon, pentax, olympus, books, bookshelves, cupboard, chair, unique style, unique design, unique interior, before and after, benchmark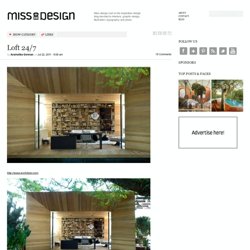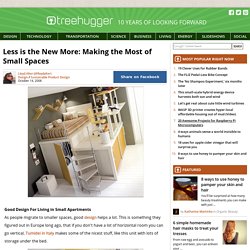 Good Design For Living in Small ApartmentsAs people migrate to smaller spaces, good design helps a lot. This is something they figured out in Europe long ago, that if you don't have a lot of horizontal room you can go vertical. Tumidei in Italy makes some of the nicest stuff, like this unit with lots of storage under the bed. This unit just raises the floor high enough for beds to slide under.
According to TheWeddingReport.com, 'Rustic Weddings' are the new trending wedding theme! It seems that brides-to-be are in love with the charm, vintage feel and simple elegance of barn yard venues and wildflower bouquets that embody this theme. Think natural elements mixed with a western vibe and bring that all together with fun DIY crafting sessions. And in true country style- bring in the entire fam to help you out!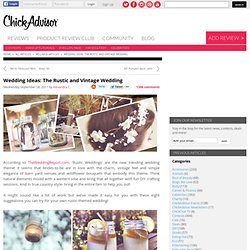 Jessica of Wednesday Inc shows us how to make those gorgeous twine chandeliers from the inspiration shoot she shared with us this morning. Using balloons, glue and twine, you can also make these lanterns for your wedding – and then bring it home and use it as your very own mid century lampshade. What you will need are: balloons, glue, yarn, tray for glue, corn starch 1/2 cup of Corn starch, 1/4 cup of Warm water, clear fast drying spray paint, hanging lamp cord or fishing line (depending on your desired final product), and a lighting kit if you're looking for a fully functional lantern. Jessica recommends using a sharpie to mark on the inflated balloon how much room you need to leave for the lighting cord. She also recommends coating the balloon with vaseline prior to wrapping the yarn coated with glue so it doesn't stick on the balloon once it's dry.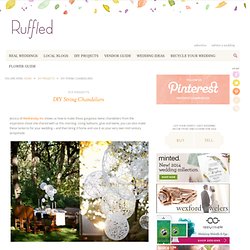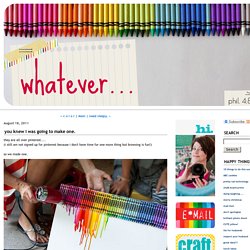 they are all over pinterest....(i still am not signed up for pinterest because i don't have time for one more thing but browsing is fun!) so we made one. i took a box of 64 crayons and took out the blacks and browns.i used another small box and doubled up on the good colors i liked and hot glued them to the top of our canvas. then we turned our blow dryer to hot on high. not long after you set the hair dryer by the crayons they get shiny and then the wax starts to melt!