Movies
Cameos and Special Extras. I had some spare time, so I fiddled with the trilogy, looking for all the cameos and trivias.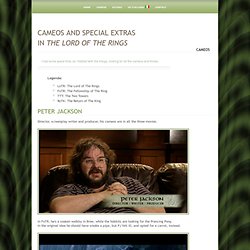 Legenda:LoTR: The Lord of The RingsFoTR: The Fellowship of The RingTTT: The Two TowersRoTK: The Return of The King Director, screenplay writer and producer, his cameos are in all the three movies. In FoTR, he's a soaken walkby in Bree, while the hobbits are looking for the Prancing Pony. In the original idea he should have smoke a pipe, but PJ felt ill, and opted for a carrot, instead. Sintel - Third Open Movie by Blender Foundation. Les Dangereux - A Ninja Love Story. Get Out: A Bizarre French Animation with a Twist. Zombies make the best drinking partners in the full Goon trailer. Watch: Simon Pegg And Nick Frost Attempt To Recreate Star Wars. Tuesday, March 15th, 2011 at 1:00pm Here's the kind of movie promotion I can get behind: Simon Pegg and Nick Frost, stars and co-writers of the sci-fi comedy Paul — opening Friday in the United States!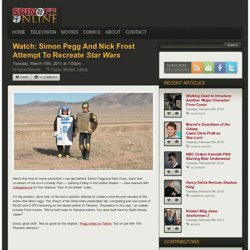 — have teamed with CollegeHumor for this hilarious "Star of the Week" video. The Hobbit Movie – Peter Jackson Production Blog + Official Trailer. NOTCOT.ORG. Flipbook animation video "Vines" is romantic and uplifting - The Feed Blog. (CBS) - I'm going to kick things off with a flipbook animation video.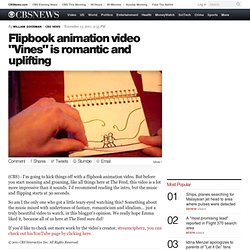 But before you start moaning and groaning, like all things here at The Feed, this video is a lot more impressive than it sounds. I'd recommend reading the intro, but the music and flipping starts at 30 seconds. Le Royaume.
---