Movies
I had some spare time, so I fiddled with the trilogy, looking for all the cameos and trivias. Legenda:LoTR: The Lord of The RingsFoTR: The Fellowship of The RingTTT: The Two TowersRoTK: The Return of The King Director, screenplay writer and producer, his cameos are in all the three movies. In FoTR, he's a soaken walkby in Bree, while the hobbits are looking for the Prancing Pony. In the original idea he should have smoke a pipe, but PJ felt ill, and opted for a carrot, instead.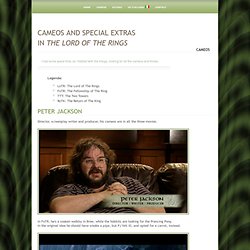 Cameos and Special Extras
Sintel - Third Open Movie by Blender Foundation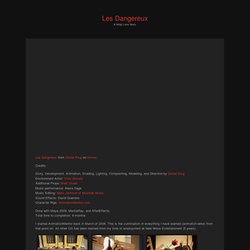 Les Dangereux from Daniel Klug on Vimeo. Credits: Story, Development, Animation, Shading, Lighting, Compositing, Modeling, and Direction by Daniel Klug Environment Artist: Vicki Shively Additional Props: Brett Stuart Music performance: Alexa Sage Music Editing: Marc Jackson of Moonlab Music Sound Effects: David Guerrero Character Rigs: AnimationMentor.com Done with Maya 2009, MentalRay, and AfterEffects. Total time to completion: 9 months.
Les Dangereux - A Ninja Love Story
Zombies make the best drinking partners in the full Goon trailer
Watch: Simon Pegg And Nick Frost Attempt To Recreate Star Wars
Tuesday, March 15th, 2011 at 1:00pm Here's the kind of movie promotion I can get behind: Simon Pegg and Nick Frost, stars and co-writers of the sci-fi comedy Paul — opening Friday in the United States! — have teamed with CollegeHumor for this hilarious "Star of the Week" video.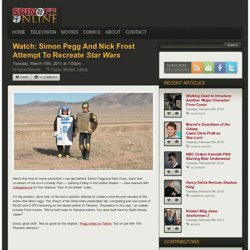 Catch The Film curates and presents quirky, fun and immersive films and video, and does some producing as well. Our passion for curating, presenting and producing, enable us to explore lateral thinking from both sides of the lens. We hope you enjoy visiting our site and value your suggestions and comments.
The Hobbit Movie – Peter Jackson Production Blog + Official Trailer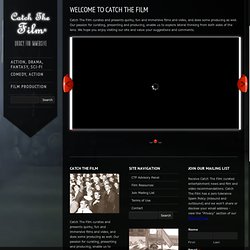 (CBS) - I'm going to kick things off with a flipbook animation video. But before you start moaning and groaning, like all things here at The Feed, this video is a lot more impressive than it sounds. I'd recommend reading the intro, but the music and flipping starts at 30 seconds.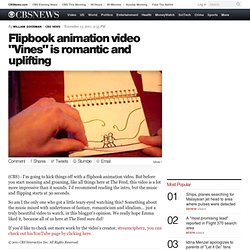 Flipbook animation video "Vines" is romantic and uplifting - The Feed Blog
Le Royaume