Writing
Timothy Hallinan - Writer's Resources
Sometimes a book goes stale. This is not something you notice during one or two writing sessions. This is something that comes up again and again. Over the course of several days, maybe a week or more, it becomes progressively more difficult to summon up the enthusiasm you need to work on your book.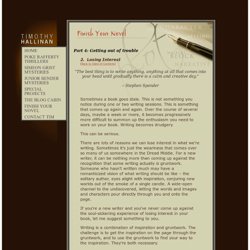 Confusing Words
^ Back to top We use cookies, just to track visits to our website, we store no personal details. ACCEPT COOKIES What are cookies? Login Overcoming Writer's Block Writer's Block can stop your creative efforts in their tracks and overcoming writer's block is a tough task.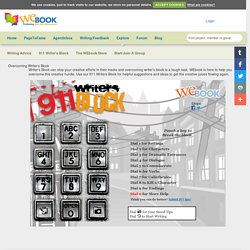 For those who have asked and those who may, this collection of links for writers, researchers and the terminally curious is not, was never intended to be, and will never be the all-inclusive stash of every possible link fitting our slapdash criteria for what belongs here. We select sites with some consideration and thought for usefulness, depth, interest and je ne sais quoi and we try not to offer fifty different links to "manuscript submission." Sometimes we find a really cool site on a subject we already cover and mull over which link to keep and which to set free, sometimes we keep both and add a third. We lean toward linking to cool sites maintained by people we've met in the ether, but don't use a friend's site if there's a better site elsewhere. We don't link to just anybody and seldom link to commercial sites such as "Learn to Write in Five Days" or "We Will Publish Your Book" unless there is some -- no, make that a lot of -- free, useful content.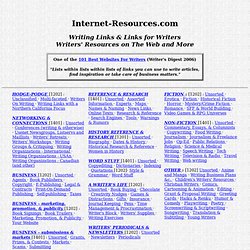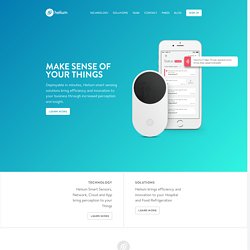 Content marketing services for businesses & brands from experienced industry experts: Helium Content Source offers a range of solutions from editorial strategy to creating blogs, advertorials, white papers and newsletters, as well as search engine optimization and web usability consulting. Resources and publishing opportunities for writers as well as forums to network with peers, and enhance skills: Helium Network provides an abundance of opportunities for writers—publish your work, take advantage of in-depth training, get valuable editorial feedback for building skills and honing your craft. A deep repository of information-based articles on a multitude of topics: Helium Publishing features 27 theme-based platforms that showcase content-rich articles on an incredibly broad range of topics, from pets to poetry.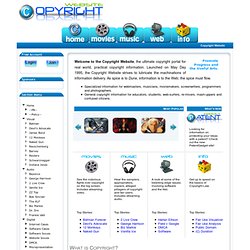 Promote Progress and the Useful Arts. Welcome to the Copyright Website, the ultimate copyright portal for real world, practical copyright information. Launched on May Day 1995, the Copyright Website strives to lubricate the machinations of information delivery. As spice is to Dune, information is to the Web; the spice must flow. Specialized information for webmasters, musicians, moviemakers, screenwriters, programmers and photographers.
Copyright Website
Miss Snark, the literary agent