Crafts
Doctor Who Crafts
Buttons Galore and More
DIY String Art Tutorial
After seeing several projects floating around on Pinterest I decided to try the sharpie method for customizing a pair of his + her mugs ( this set is super cute + this one is particularly beautiful). The directions listed on Pinterest kinda seemed too easy to be true... so I did a little testing.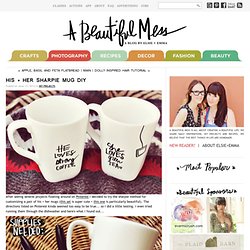 Pumpkin Witch save Average rating of 0 /5. ( 0 Ratings) Decorating pumpkins has never been so festive as with this easy DIY craft. Use this funny witch pumpkin as table decor or wrap in clear cellophane and tie with a bow for a gift or party favor. 1345135933 Butterfly Pumpkin save Average rating of 0 /5. ( 0 Ratings) Turn a mini pumpkin into a Boo-tiful Butterfly with this easy Halloween craft. 1345135231 Friendly Ghost Flag save Average rating of 4 /5. ( 1 Ratings) This friendly ghost flag looks great hanging in a tree or near your front door. Posted by Amanda Formaro 1333641429 Monster Light Jug save Average rating of 0 /5. ( 0 Ratings) This friendly little monster is not only cute during the day, but also lights up the night! Posted by Amanda Formaro 1333658341 Swarm of Bats Pumpkin save Average rating of 0 /5. ( 0 Ratings) Everyone will go batty for this pumpkin that's perfect for adding a festive flare to the porch for Halloween.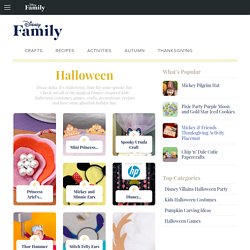 Bat-o'-Lanterns | Halloween Decorations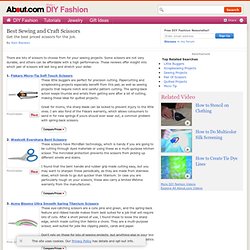 Best Sewing and Craft Scissors
There are lots of scissors to choose from for your sewing projects. Some scissors are not very durable, and others can be affordable with a high performance. These reviews offer insight into which pair of scissors will last long and stretch your dollar.
How to Make a T-Shirt into a Tank Top - DIY Fashion
Learn how to make a t-shirt into a tank top. We all seem to run into the same problem; T-shirts that have our favorite band, Captain Jack Sparrow, or 'I'm With Stupid' printed on them, but are just too big to wear.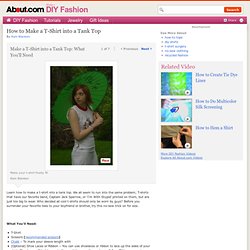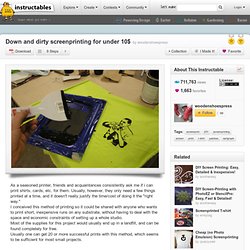 As a seasoned printer, friends and acquaintances consistently ask me if i can print shirts, cards, etc. for them.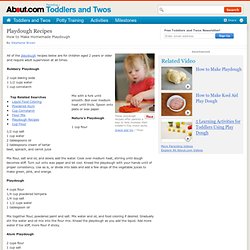 All of the playdough recipes below are for children aged 2 years or older and require adult supervision at all times. Rubbery Playdough 2 cups baking soda 1 1/2 cups water 1 cup cornstarch
Playdough Recipes - How to Make Playdough