Logiciels Tt photos
Formations sur des logiciels de Tt des photos comme LR3, GIMP, photo suite, etc.
Les cours spécifiques, de courte durée et adaptés à vos besoins. « 5 Formation.
Logiciels couleurs
AndreaMosaic Home Page. Fonts. Tutorials. ArtRage Tutorials Please Note: Some of these links lead to external sites.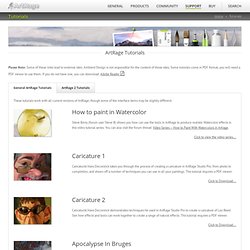 Ambient Design is not responsible for the content of those sites. Some tutorials come in PDF format, you will need a PDF viewer to use them. If you do not have one, you can download: Adobe Reader. Silver efex Pro.
Aide Helicon Focus - Vue d'ensemble. Helicon Focus est un pro­gramme qui sait créer une image com­plè­te­ment nette en combi­nant les zones nettes des images par­tielle­ment foca­lisées.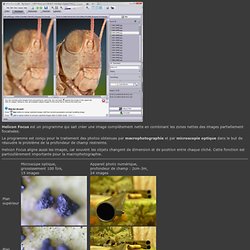 Le programme est conçu pour le traitement des photos obtenues par macro­photo­graphie et par microscopie optique dans le but de résoudre le problème de la profondeur de champ restreinte. Helicon Focus aligne aussi les images, car souvent les objets changent de dimension et de position entre chaque cliché. Cette fonction est particulièrement importante pour la macrophotographie.
Tout sur Final Cut Pro X
Tutoriels gratuits. Indesign - utiliser, les bases, très clair. Mise en pages et PAO - Explication Création d'un nouveau document.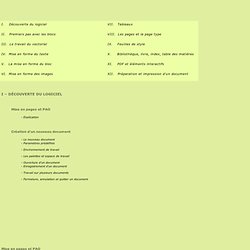 Bon plan photo. Photographer's toolbox - your source for Lightroom Plugins and Web Engines. Tout sur Photoshop. Tout sur GIMP. Tout sur LightRoom. Welcome to the onOne University.
---