Faire de la photo
Brilliant photography from Natgeo archives - StumbleUpon. National Geographic is the source for photos, free desktop wallpapers of places, animals, nature, underwater, travel, and more.It's a long time inspiration for me but now only the time helps me to bring these awesome photographs for your display.I am very happy to bring those "brilliant photography from national geographic archives" here.The following 60 beautiful photographs has beautiful wild life,nature,people and bird photos.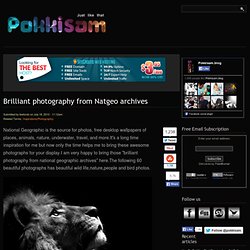 All the credit goes to Nationalgeographic and all the photographers :) About the author.
Agences de photographes
Divers photographie. Apprendre les techniques. Presenter ses photos sur le web. Analyse de la photographie. Organismes officiels pour photographes pro. Vendre ses photos. Librairie spécialisée photo. Quoi photographier. Droits contrats etc. Se faire connaître comme photographe. iRelease: Digital Model Release Forms for iPhone, etc. modeles de droits à image.
Materiel forum. Photographes. Video sur photographes. Apprendre à photographier techniques. Logiciels Tt photos. Photographie. La photographie est née officiellement le lundi 19 août 1839, date à laquelle le savant et député François Arago fit sa célèbre communication devant l'Académie des sciences.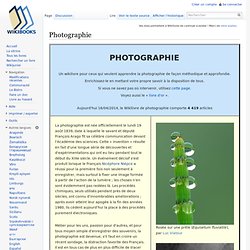 Cette « invention » résulte en fait d'une longue série de découvertes et d'expérimentations qui ont eu lieu pendant tout le début du XIXe siècle. Un événement décisif s'est produit lorsque le Français Nicéphore Niépce a réussi pour la première fois non seulement à enregistrer, mais surtout à fixer une image formée à partir de l'action de la lumière ; les choses n'en sont évidemment pas restées là.
Les procédés chimiques, seuls utilisés pendant près de deux siècles, ont connu d'innombrables améliorations ; après avoir atteint leur apogée à la fin des années 1980, ils cèdent aujourd'hui la place à des procédés purement électroniques. Best Photo Downloads. Liens Photographie - Nouvelle Sélection de Sites Photographiques sur Photoliens.eu.
---