Jesus
David Platt's Secret Church Gathering to Discuss 'Heaven, Hell, and the End of the World' March 28, 2013|10:13 am (Photo: Facebook/Official David Platt Page)Pastor David Platt of The Church at Brook Hills in Birmingham, Ala., is seen in this photo shared on his Facebook page in 2012.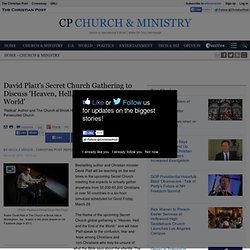 Bestselling author and Christian minister David Platt will be teaching on the end times in the upcoming Secret Church meeting that expects to virtually gather anywhere from 50,000-60,000 Christians in over 50 countries in a six-hour simulcast scheduled for Good Friday, March 29. Seven Assurances the Resurrection Gives. March 30, 2013|11:58 am Auguste Comte, a French philosopher and skeptic, was once belittling English writer, Thomas Carlyle, for his faith in Jesus Christ.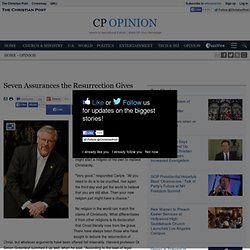 Comte suggested that he might start a religion of his own to replace Christianity. "Very good," responded Carlyle. "All you need to do is to be crucified, rise again the third day and get the world to believe that you are still alive. Welcome To Tree Of Life Messianic Congregation Of Knoxville, TN. The Bible, apologetics, Jesus, and more. Worthy Christian News. Christian News on Christian Today. iBethel.TV // Bethel Church // Home Page. A list of top 50 Christianity blogs by Blog Rank.
---