Jesus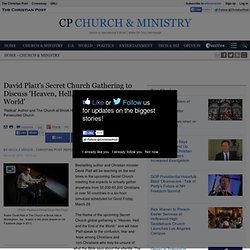 David Platt's Secret Church Gathering to Discuss 'Heaven, Hell, and the End of the World'
March 28, 2013|10:13 am (Photo: Facebook/Official David Platt Page)Pastor David Platt of The Church at Brook Hills in Birmingham, Ala., is seen in this photo shared on his Facebook page in 2012. Bestselling author and Christian minister David Platt will be teaching on the end times in the upcoming Secret Church meeting that expects to virtually gather anywhere from 50,000-60,000 Christians in over 50 countries in a six-hour simulcast scheduled for Good Friday, March 29.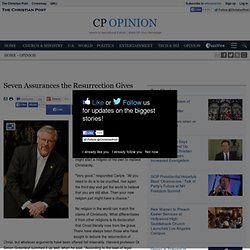 March 30, 2013|11:58 am Auguste Comte, a French philosopher and skeptic, was once belittling English writer, Thomas Carlyle, for his faith in Jesus Christ. Comte suggested that he might start a religion of his own to replace Christianity. "Very good," responded Carlyle. "All you need to do is to be crucified, rise again the third day and get the world to believe that you are still alive.
Seven Assurances the Resurrection Gives
Welcome To Tree Of Life Messianic Congregation Of Knoxville, TN.
The Bible, apologetics, Jesus, and more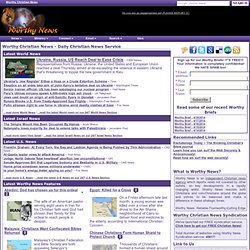 Worthy Christian News
Nigerian soldiers slaughter Christians0 Surviving eyewitnesses to Monday's slaughter of 33 Christians by Muslim Fulani herdsmen in Nigeria's Plateau state said soldiers assigned to protect them instead shot at anyone fleeing the murderous attack. Buddhist monks Vandalize churches in Sri Lanka0 Two churches in Hikkaduwa, Sri Lanka were vandalized Sunday by a mob led by Buddhist monks, according to International Christian Concern. Egypt's Christians Still Support New Constitution0 Although Egypt's Christian leaders are urging the faithful to support the country's new constitution for the sake of national stability, detractors claim that it fosters a medieval Islamic supremacy within the framework of a modern Egyptian society, according to Morning Star News.
Christian News on Christian Today
Sermon of the Week 1 Worship set a week Dozens of Testimonies Download of Free Messages The Free Package PLUS: Sunday Services Morning and Evening services including Worship Friday Services 1-2 a month including Worship BSSM Sessions 1-2 sessions per month Revival Chats with Bethel Senior Staff and Guest Speakers Live & On-Demand Video 30% Discount Discount applies to any conference Bethel.TV Media which Never Expires! The Essentials Package PLUS: Conferences Access to all future Conferences on Bethel.TV, ~ 8 year. Special Events Access to all future Events on Bethel.TV You Get Everything! Access to All Media on Bethel.TV released during your subscription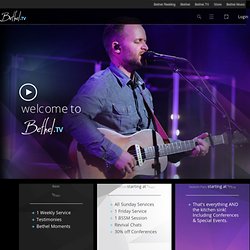 iBethel.TV // Bethel Church // Home Page
A list of top 50 Christianity blogs by Blog Rank