FOOD
The Cook Abides. Caramel Banana French Toast. Peanut Butter Cup S'mores Bars. Peanut Butter Cup S'mores Bars Ingredients 1/2 cup butter, softened 1/2 cup packed brown sugar 1/4 cup sugar 1 egg 1 teaspoon vanilla 1 1/4 cups flour 1 teaspoon baking powder 1/4 teaspoon salt 1 cup graham cracker crumbs 16 peanut butter cups, regular size 1 1/2 cups marshmallow fluff* *Fluff is pretty impossible to measure, so this doesn't have to be an exact amount, just kind of eyeball it.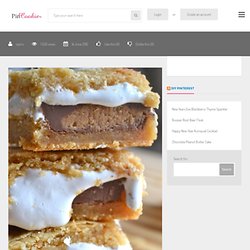 As long as you have enough to cover the PB cups, you're good to go. Directions. Most gawked all-time. Death By Oreo Cupcakes. They are probably the best Oreo cakes I have ever tried.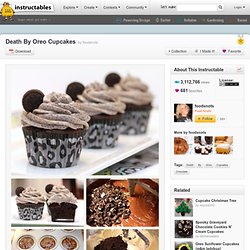 A lot of cake's that I have experimented with before are like a vanilla cake with bits of Oreo in them, which didn't really give them enough Oreo flavor. But these were a lot better. I used a dark chocolate fudge cake mix instead of just a regular chocolate cake mix, which went really well with the cookies and gave the cakes just a little more flavor. So, in this recipe there is Oreo's in the cake, in the frosting, and at the bottom is a Oreo surprise. That's right, you put a whole Oreo at the bottom of the cake. Grilled S'more Brownie. The Motherlode Layered Cookie Bars! Good Thursday folks!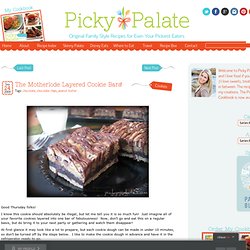 I know this cookie should absolutely be illegal, but let me tell you it is so much fun! Just imagine all of your favorite cookies layered into one bar of fabulousness! Now, don't go and eat this on a regular basis, but do bring it to your next party or gathering and watch them disappear! At first glance it may look like a lot to prepare, but each cookie dough can be made in under 10 minutes, so don't be turned off by the steps below. Mingmakescupcakes.yolasite. Things to Grill in Foil : Recipes and Cooking. 100 Ways to Cook… Strawberry Fudge Pie Recipe from Betty Crocker. Jason's Everlasting Recipes: Cheesecake Stuffed Strawberries. Ingredients:-1 lb large strawberries-8 oz. cream cheese, softened (can use 1/3 less fat)-3-4 tbsp powdered sugar (4 tbsp for a sweeter filling)-1 tsp vanilla extract-graham cracker crumbs Directions:1.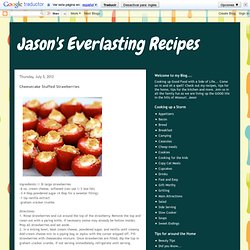 Rinse strawberries and cut around the top of the strawberry. Remove the top and clean out with a paring knife, if necessary (some may already be hollow inside). 50 of the World's Best Breakfasts from Around the World. - Written by Victoria Philpott Salivating.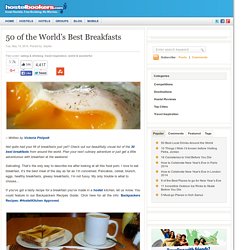 That's the only way to describe me after looking at all this food porn. I love to eat breakfast, it's the best meal of the day as far as I'm concerned. Pancakes, cereal, brunch, eggs, healthy breakfasts, greasy breakfasts, I'm not fussy. My only trouble is what to choose… Drinking and Eating.
---