funny
Get flash to fully experience Pearltrees
Newest Cheezburger Content Share: Favorite Graph by: heyyali
"He has all the virtues I dislike and none of the vices I admire." Winston Churchill "A modest little person, with much to be modest about."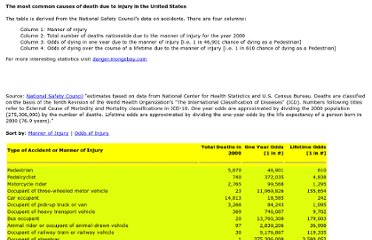 The table is derived from the National Safety Council's data on accidents. There are four columns: For more interesting statistics visit danger.mongabay.com Source: National Safety Council "estimates based on data from National Center for Health Statistics and U.S. Census Bureau. Deaths are classified on the basis of the Tenth Revision of the World Health Organization's "The International Classification of Diseases" (ICD).
This is our future here people! Be afraid! they are truely amazing :D Hey, at least most of them have good imaginations!