Chicken
Basil Chicken in Coconut Curry Sauce. I happen to be a huge fan of curry.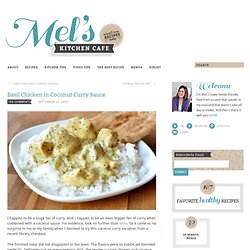 And I happen to be an even bigger fan of curry when combined with a coconut sauce. For evidence, look no further than here. So it came as no surprise to me or my family when I decided to try this coconut curry variation from a recent library checkout. The finished meal did not disappoint in the least. The flavors were so subtle yet blended perfectly. A Tasty Recipe: Butter Chicken & Tasty Kitchen Blog. Note: By popular demand, we're featuring this recipe again.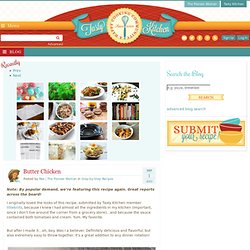 Great reports across the board! I originally loved the looks of this recipe, submitted by Tasty Kitchen member lillieknits, because I knew I had almost all the ingredients in my kitchen (important, since I don't live around the corner from a grocery store)…and because the sauce contained both tomatoes and cream. Yum. My favorite. Broccoli and Cheese Stuffed Chicken | Ginas Skinny Recipes. Although I wish I was still away on vacation in sunny Florida, I am happy to be home cooking my own healthy meals again.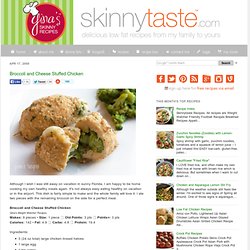 It's not always easy eating healthy on vacation or in the airport. This dish is fairly simple to make and the whole family will love it. I ate two pieces with the remaining broccoli on the side for a perfect meal. Broccoli and Cheese Stuffed ChickenGina's Weight Watcher RecipesMakes: 9 pieces • Size: 1 piece • Old Points: 3 pts • Points+: 3 ptsCalories: 142 • Fat: 4.9 • Carbs: 4.8 • Protein: 19.4.
Chicken Tikka Masala. Chicken Tikka Masala?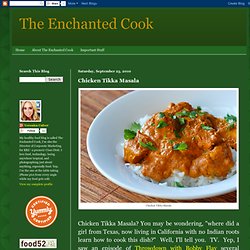 You may be wondering, "where did a girl from Texas, now living in California with no Indian roots learn how to cook this dish? " Well, I'll tell you. Chicken with Pesto Mushroom Cream Sauce. The weather has cooled down quite a bit and it's put me in a comfort food mood.
One comfort food I love is pasta. Who doesn't like pasta? Chicken Stuffed with Goat Cheese and Sundried Tomatoes « askGeorgie.com. Tasty, easy, chicken recipes are like your favorite blue jeans.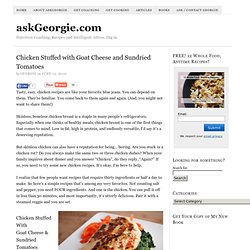 You can depend on them. They're familiar. You come back to them again and again. (And, you might not want to share them!) Skinless, boneless chicken breast is a staple in many people's refrigerators. Stuffed Chicken Marsala. Have you ever made a recipe for the first time and surprised yourself?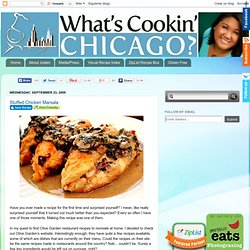 I mean, like really surprised yourself that it turned out much better than you expected? Every so often I have one of those moments. Making this recipe was one of them. In my quest to find Olive Garden restaurant recipes to recreate at home, I decided to check out Olive Garden's website.
---