E-commerce
Zoom sur le futur de la distribution et les magasins de demain. Mardi 8 juin 2010 2 08 /06 /Juin /2010 05:47 Voici la synthèse d'une étude de PFSK qui passe en revue les innovations qui vont envahir, influencer ou différencier nos magasins comme : la visites virtuelle ou guidée par mobile la dématérialisation des cartes de fidélité et des coupons les paiements mobiles simplifiés les décors dynamiques et renouvelables l'achat de produits à partir des moteurs de recherche avec l'assistance de la réalité augmentée le marketing local et la relation clients à distance Un futur où Internet, mobilité, réseaux sociaux et innovations technologiques vont enrichir l'expérience en magasin et rendre plus interactives les relations clients, enseignes et marques.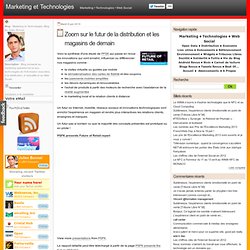 Un futur pas si lointain vu que la majorité des concepts présentés est prototypé ou en pilote ! PSFK presents Future of Retail report. Online holiday shopping bumps up | Digital Media. The amount of money spent shopping online during the holiday season increased this year compared with last, say two recent reports, another sign of the Internet's continuing permeation of American life.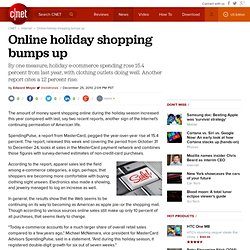 SpendingPulse, a report from MasterCard, pegged the year-over-year rise at 15.4 percent. The report, released this week and covering the period from October 31 to December 24, looks at sales in the MasterCard payment network and combines those figures with survey-derived estimates of non-credit-card purchases. According to the report, apparel sales led the field among e-commerce categories, a sign, perhaps, that shoppers are becoming more comfortable with buying clothing sight unseen.
Facebook Ramps Up Big E-Commerce Drive. Facebook is ramping up efforts to entice companies such as Delta Air Lines (DAL) and J.C.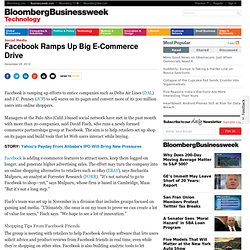 Penney (JCP) to sell wares on its pages and convert more of its 500 million users into online shoppers. Managers at the Palo Alto (Calif.) -based social network have met in the past month with more than 20 companies, said David Fisch, who runs a newly formed commerce partnerships group at Facebook. The aim is to help retailers set up shop on its pages and build tools that let Web users interact while buying. Les 4 prédictions Internet pour 2011. C'est l'expert blogueur Jeremy Liew qui a pris sa boule de cristal pour faire ces prédictions destinées à l'origine aux lecteurs du magazine de Fast Company (voir mon post d'hier...). 1- Irruption du divertissement dans le e-Commerce : au moment de la création d'amazon, en 1995 (15 ans déjà !)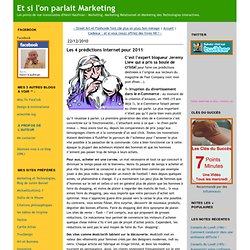 , le e-Commerce faisait penser au chien qui parle. Le plus important n'était pas qu'il parle bien mais plutôt qu'il réussisse à parler. La première génération des sites de e-Commerce s'est concentrée sur la fonctionnalité… s'attachant ainsi à ce que « le chien parle mieux ». Nous avons tout eu, depuis les comparateurs de prix jusqu'aux témoignages clients et à la commande d'un seul click.
---