Components
Eagle Tree – R/C Telemetry OSD RC FPV First Person View diversity tracking NTSC PAL RC Aircraft data logger RC Model Airplane Telemetry On Screen Display Wireless Telemetry RC data logger Flight Data Recorder Model Boat Recorder Telemetry Boat Data Record. RC Flying Saucer UFO Aircraft Mini Quadcopter Multicopter Helicopter with IR Remote Control $37.70 Free Shipping. Three Axis Synchronous Belt Drive Aerial PTZ Glass Fiber Pan/Tilt/Zoom Camera Mount $122.79 Free Shipping. Aluminum Brushless Motor 2212 2822 Mount for 12mm Fiber Glass Tube $5.74 Free Shipping.
FunFly Controller Naze 32 [AFRO_NAZE32] - ¥5,500 : abusemark web store. Mini Flight Controller 「なぜ」 (pronounced "Naze"). 36x36 mm 5.3 grams (no headers, 7.3 grams with)2000 degrees/second 3-axis MEMS gyro + accelerometer (MPU6050)3-axis magnetometer (HMC5883L)Pressure sensor (MS5611)Flexible motor outputs, support various airframe types - Quad/Hexa/Tri/Bi/Y4/Y6/Octo/Camera Gimbal.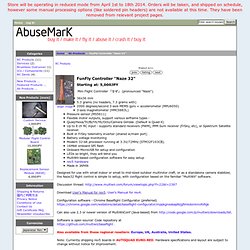 (Default is Quad-X)Up to 8 ch RC input - supports standard receivers (PWM), PPM Sum receiver (FrSky, etc), or Spektrum Satellite receiver.Built in FrSky telemetry inverter (shared w/main port)Battery voltage monitoringModern 32-bit processor running at 3.3V/72MHz (STM32F103CB). 16Mbit onboard SPI flashOnboard MicroUSB for setup and configurationLEDs so bright, they will blind youMultiWii-based configuration software for easy setup rev5 hardwareMade in JAPANDesigned for use with small indoor or small to mid-sized outdoor multirotor craft, or as a standalone camera stabilizer, the Naze32 flight control is simple to setup, with configuration based on the familiar "MultiWii" software. NX-4005-650kv Brushless Quadcopter Motor. Is there any experience with driving the props from the very first electrical R/C flyers?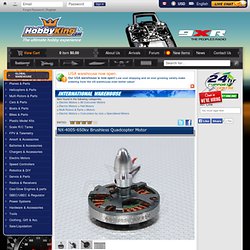 The props are made with the knowledge of the wakefield models: the D/P ratio is about 1:1, the rpms are quite below 2000/min (MPX E-1, Graupner Hi-Fly, both from '73, two motors in the wing). The Mosquito's prop from '75 is the same like Hi-Fly's with a bigger center piece: about 14.5"x15.5", originally 1700/min. Those from Robbe, Carrera are quite similar, Astro Flight/Bob Boucher didn't use a gear. Is it possible to use this motor instead of the old Mabuchi 540 RS with 1:6? Frame Plates. Vertical Limits Aerial Photography UAV Store | Vertical Limits Aerial Photography.
Feeds Home Latest Aerial Photos.
MOD-GSM Module from Cool Components. Wi-Fly. Quad copters. Import duty & taxes calculation result. KK MultiCopter Worldwide Shop. Aeroplanes - A2208 2900KV 3.17mm Shaft Diameter Brushless Outrunner Motor for RC Ai... (Free Shipping) for sale in Turkey (ID:72989079) Items will be shipped from our suppliers located different parts of the world.Free shipping with tracking number: Please be aware of that, free shipping can take up to 30 working days.Speed delivery with tracking number: Usually takes 5-8 working days but not able to deliver PO box.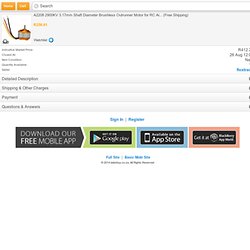 Please check your postal code from this link to learn if you are in a remote area or not: if you are in a remote area additional fees (which depends on your location) will be applied.There is always a small risk to have customs fees. In case of any fee, buyer will be responsible. Free Shipping Free shipping. Fi Products: Compare WiFi Cards: the Pro X2, Mobile X2, and the Connect X2. Canon 60D 550D Wireless Digital Viewfinder Review Gigtube « photo tips-photo accessories view. The Canon 60D 550D Gigtube Wireless Digital Viewfinder gives you live view display and remote control of your camera from a distance, using the latest 2.4G signal transfer technology.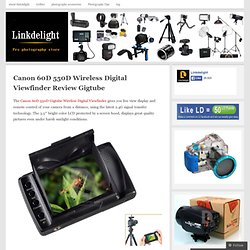 The 3.5″ bright color LCD protected by a screen hood, displays great quality pictures even under harsh sunlight conditions. Features: Live-view Wireless Display and RemoteWorking Distance up to 100 Meters3.5″, 230.000 Pixels TFT LCDEasy Mounting Screen HoodStrong Resistance to Interference. Flight Controllers. See definitions at the bottom of the page.Filters: Show All | Open Source | Self Leveling | Care Free | Altitude Hold | Position Hold | Return Home | Waypoints Price: Low / Medium / High Flying capabilities Gyro Stabilization - the ability to easily keep the copter stable and level under the pilot's control.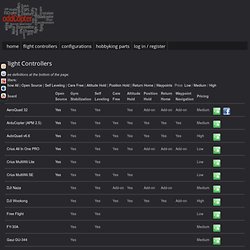 This is a standard feature of all flight control boards. YS Controllers.
---