Resources
The 1 percent have long had smartphones from Porsche and Vertu to quench their high-end thirst, but when it comes to dual-SIM handsets, the elite have had to settle for something a little more ordinary. For those in need, Gresso created Azimuth, the first dual-SIM luxury handset. Starting at $2,000, the phone is made of titanium, with both the keys and logo crafted out of 18K or white gold.
Over the last several years working in IT for various companies as a Systems Administrator, Network Administrator, and Help Desk professional, I've written and learned about many ways to increase the performance of not only my PC, but also of the many PCs on my networks ranging from Windows 98 to Windows Vista. In this article, I hope to compile a complete list of all the different methods and tricks that I've used to get the last bit of juice out of a slow PC. Whether you are using an old PC or the latest and greatest in hardware, you can still use some of these to make your PC run faster. Note that since I write two blogs, Help Desk Geek and Online Tech Tips, I have previously written about many performance tips already which I will link back to throughout.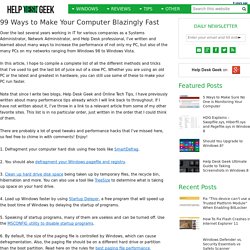 At Maximum PC, computer hardware is our bread and butter. We review it, preview it, and just generally love to talk about it. Unfortunately, hardware becomes less important with each passing day, as more and more software moves onto the internet. We're not looking forward to the day that our PC's become Chrome OS-style thin client, but we have to admit, some web apps are pretty awesome. So to help you prepare for a future in the cloud, we've put together a list of 30 of our favorite web apps and services. We've tried to keep them on the lesser-known side, but a few of the classic have snuck their way in.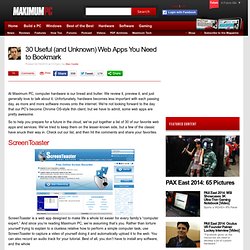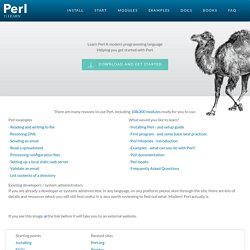 Learn Perl learn.perl.org Learning Perl Helping you get started with Perl 5.... There are many reasons to use Perl, including 108,000 modules ready for you to use.