I.T.
Hacking. 70 Things Every Computer Geek Should Know. | Arrow Webzine. The term 'geek', once used to label a circus freak, has morphed in meaning over the years.
What was once an unusual profession transferred into a word indicating social awkwardness. As time has gone on, the word has yet again morphed to indicate a new type of individual: someone who is obsessive over one (or more) particular subjects, whether it be science, photography, electronics, computers, media, or any other field. A geek is one who isn't satisfied knowing only the surface facts, but instead has a visceral desire to learn everything possible about a particular subject. A techie geek is usually one who knows a little about everything, and is thus the person family and friends turn to whenever they have a question. Top 6 Underground Search Engines You Never Knew About. In order to do that, you really need access to those underground search engines that may not be quite as well known, but they dig much more deeply into specialized areas of the Internet than the general search engines are capable of.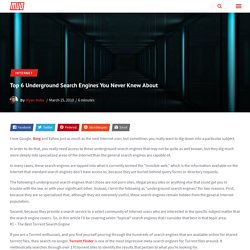 In many cases, these search engines are tapped into what is currently termed the "invisible web," which is the information available on the Internet that standard search engines don't have access to, because they are buried behind query forms or directory requests. The following 6 underground search engines that I chose are not porn sites, illegal piracy sites or anything else that could get you in trouble with the law, or with your significant other. Instead, I term the following as "underground search engines" for two reasons. Free Software | bigBrains.com. The Best Hacking Tutorial Sites - Learn Legal Hacking. Written by: Daniel Robson•edited by: Aaron R.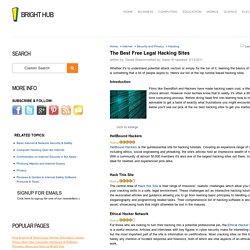 •updated: 2/13/2011 Whether it's to understand potential attack vectors or simply for the fun of it, learning the basics of hacking is something that a lot of people aspire to. Here's our list of the top tutorial based hacking sites. Introduction Films like Swordfish and Hackers have made hacking seem cool, a lifestyle choice almost. Hack This Site! Top 10 Web hacking techniques of 2010 revealed.
Network World - A Web hack that can endanger online banking transactions is ranked the No. 1 new Web hacking technique for 2010 in a top 10 list selected by a panel of experts and open voting.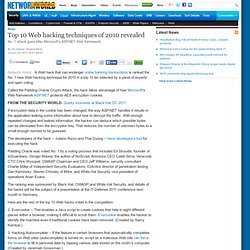 Called the Padding Oracle Crypto Attack, the hack takes advantage of how Microsoft's Web framework ASP.NET protects AES encryption cookies. FROM THE SECURITY WORLD: Quirky moments at Black Hat DC 2011 If encryption data in the cookie has been changed, the way ASP.NET handles it results in the application leaking some information about how to decrypt the traffic. Free login to any site. Top 10 Harmless Geek Pranks. I was thinking it would be cool to find the command line equivalents of a bunch of crap, throw them all into a .bat file, then stick them on a thumb drive.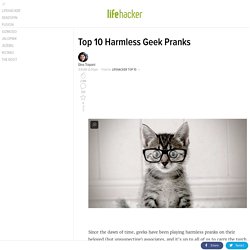 When you're victim is away from their computer, place it on their computer somewhere, then change a well-used link on their desktop to point to that bat file. One click on the .bat file, and a bunch of crap changes. But I can't find commands for changing wallpaper, screen configs, mouse pointers, volume, all that crap. Top 10 Gaming Hacks and DIY Projects. Free online hacking game - Slave hack, hack computers, banks and servers. Programming. Programming Forum. Cloud Computing.
Networking
Web Development. Php mySQL. Xampp. Online Web Tutorials. Standards. W3C standards define an Open Web Platform for application development that has the unprecedented potential to enable developers to build rich interactive experiences, powered by vast data stores, that are available on any device.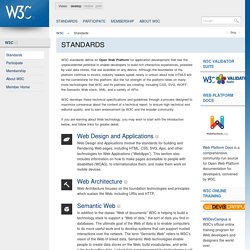 Although the boundaries of the platform continue to evolve, industry leaders speak nearly in unison about how HTML5 will be the cornerstone for this platform. But the full strength of the platform relies on many more technologies that W3C and its partners are creating, including CSS, SVG, WOFF, the Semantic Web stack, XML, and a variety of APIs. W3C develops these technical specifications and guidelines through a process designed to maximize consensus about the content of a technical report, to ensure high technical and editorial quality, and to earn endorsement by W3C and the broader community.
---