Styles
Hair Tutorial: braided 'do. I know I said I would post this hair tutorial yesterday, but obviously I'm a no good liar because today is not yesterday, it's today.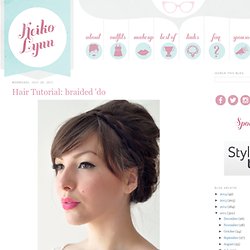 This hairstyle is basically the same thing as milkmaid braids, only modified to up the volume and lessen the big part in the back. Pigtails or regular milkmaid braids make me look like I'm balding, as I have a wicked scar in the back of my head. I would recommend doing this in a mirror and checking the back to make sure it's all neat and tidy as you go, because I did not and it's a little (or a lot) messy in the back. I redid it before heading out and it looked much better, so make sure you use a mirror! Triple Max Tons: Easy Holiday Hair. Side Chignon 1.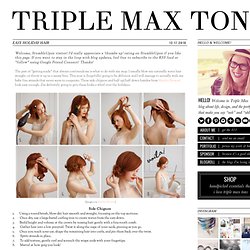 Using a round brush, blow-dry hair smooth and straight, focusing on the top sections. 2. Once dry, use a large-barrel curling iron to create waves from the ears down. 3. Hairstyles, Haircuts and Hair Colors | Hairstyles by TheHairStyler.com. 4 Pin-Up Girl Hair Tutorials for Medium to Short Hair.
I love "old" hair.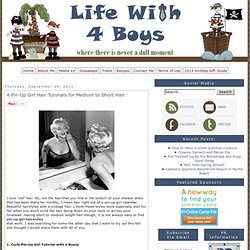 No, not the hair that you find in the bottom of your shower drain that has been there for months, I mean hair right out of a pin-up girl calendar. Beautiful hairstyles with a vintage flair. I think these styles work especially well for fall when you won't mind the hair being down on your neck or across your forehead.
---