Recruiting firms
Executive Search Firms News. Associations for Executive Recruiters & Search Firms. Agilium Worldwide, LLCAgilium Worldwide, LLC is an international strategic group of independent, owner managed retained executive search firms with members in virtually every market.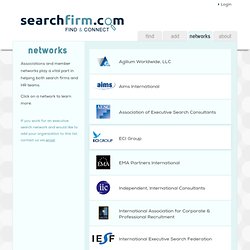 Founded as the World Search Group in 1984, Agilium now has 27 members in 26 countries worldwide and is still growing. www.agiliumworldwide.com Aims InternationalAIMS International's primary focus is to improve its clients business results. AIMS International achieves this by understanding its clients' needs and then working with them to attract retain and develop their people globally. www.aims-international.netAssociation of Executive Search ConsultantsThe AESC is the voice of the industry for retained executive search. The AESC's mission is to promote the highest professional standards in retained executive search and leadership consulting, broaden public understanding of the executive search process, and serve as an advocate for the interests of its member firms.
Headhunters, Executive Recruiters and Employment agencies in and around Geneva, Switzerland. Something about History and Geography Geneva is the second largest city in Switzerland and the largest in the French speaking part of Switzerland.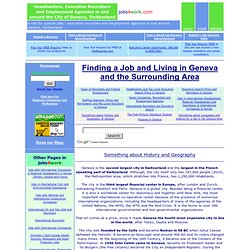 Although, the city itself only has 187,000 people (2010), the Metropolitan area, which stretches into France, has 1,250,000 inhabitants. The city is the third largest financial center in Europe, after London and Zurich, outranking Frankfurt and Paris. Geneva is a global city. The Riley Guide: Employment Opportunities and Job Resources on the Internet. Executive Recruiter & Search Firm Directory. Kennedy Information. Workforce Management - Human Resources Management Talent Management Development Training Policy Jobs Workforce Management.
---