Online Shopping
LOVE CULTURE . - CLOTHES. Sign up for sale alerts at ShopStyle. Dresses at Nectar Clothing. Dresses: Nothing can make a girl feel more feminine than slipping on a flowy floral print dress.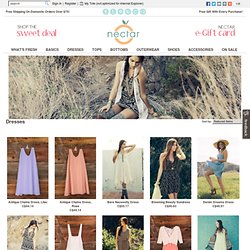 Whether your style is bohemian, chic, retro, indie, or the all American girl-next-door, Nectar has dresses to suit any style. Try branching out of your comfort zone too. With the array of trends hitting the streets these days, you never know if that mullet high-low hemline you've feared works unless you give it a shot. Don't shy away from color this season. Those eye-popping neon's gives everyone's skin that sun kissed summer glow we are all after. Shop Refined Retro : Features at ShopRuche.com, Vintage Inspired Clothing, Affordable Clothes, Eco friendly Fashion.
Women's Shoes - Shoes for Women at Free People.
---